7 Things You Must Do While Tapering To Have Your Best Race
One runner shares her tried-and-true taper advice to get you to your goal.
Heading out the door? Read this article on the new Outside+ app available now on iOS devices for members! Download the app.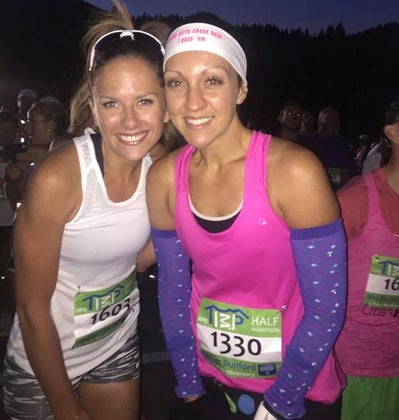 I have just 13 days until my marathon! I was never able to make it to the starting line of my last marathon because I was pretty darn sick—so I am even more excited to get another chance in just a few more days. I am one of those people that loves to have some control in life (aren't we all?) and while there are plenty of things leading up to and on race day that we can't control, I really like to do the things that I do have control over that I know will help me over these 26.2 miles in Tucson coming up.
Plug your phone in on the other side of the room at night!
This might just be me, but I can get into bed at a good time and tell myself I will just look at Instagram for 15 minutes and then somehow 1.5 hours later still be scrolling through who knows what trying to read the whole internet. Getting plenty of sleep leading up to a big race is one of the most important things that you can do. Getting rid of the temptation to scroll or watch TV late at night will help you with that one!
Read!
You have some extra time during the taper because you are running less, so pick up a running book that can help you with your mental game. My current favorites are How Bad Do You Want It and Mind Gym.
DON'T YOU DARE be tempted to push the limits.
I sometimes fall into the trap of thinking that I'll just do one more really hard workout in order to prove to myself that I can hit the paces and one more hard workout will get me physically ready. Nope. Not the case. The work has been done in the previous weeks and your job during the taper is to let your body rest and recover so that you are ready on race day. Follow your plan.
PS: I'm not talking about avoiding the shorter/less intense fast stuff that you may have planned for the final two weeks to keep your legs fresh—just none of the crazy hard stuff! Save your race legs for race day.
Trust your training.
Look back over your training plan and running journal/log and think about the different workouts you have done along the way. Remind yourself of the great ones and the hard ones and what you did to push yourself when the going got tough. Trust the miles that got you to the starting line and view the race as a celebration of all of the hard work that you have done over the previous months.
Stay calm. 
I think being a little bit nervous for a race will help you on race day because of all of the adrenaline, but if you are super nervous then let's work on that. Whenever I get super nervous leading up to a race I remind myself that my race results do not define me. I remember that my 3 year old, family and friends will all love me no matter what time the clock says (and even if I don't finish at all)! Running is something that I do to help relieve stress, so I make sure to reevaluate my thinking anytime that a race starts to stress me out!
Make an incredible playlist.
Spend time on this one finding songs that have meaning to you and lyrics that will help you through the tough parts. I even love to start out the playlist with songs that have a little bit slower beat in order to help me to not go out too fast and fill up the middle and end of the playlist with faster and faster songs to help me to finish strong!
Take my mother's advice.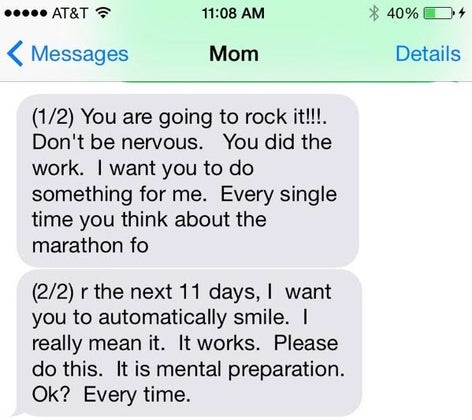 My favorite thing to do leading up to a big race is something that my mom taught me. She sent this advice to me leading up to my last marathon in a text and I took a screenshot of it and reread it all of the time. "You are going to rock it!!! Don't be nervous. You did the work. I want you to do something for me. Every single time you think about the marathon for the next 11 days, I want you to automatically smile. I really mean it. It works. Please do this. It is mental preparation. Ok? Every time." Simply smiling whenever you think about your next race will help your brain to associate the race with positivity and good things happening. Try it. My mom told you to.
Good luck at your next race! Focus on the things that you can control and let go of the things that you can't!
Read More:
11 Fears You Experience While Tapering For A Marathon
The Do's And Don'ts Of Tapering