6 Benefits Of Having A Bedtime Routine For Runners
Here are a few reasons that a bedtime routine will not only keep you rested for the day, but make your workouts that much better!
Heading out the door? Read this article on the new Outside+ app available now on iOS devices for members! Download the app.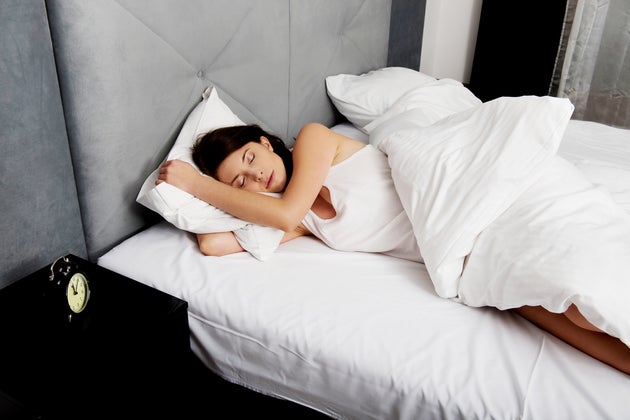 This morning, I woke up at 4.45 a.m., with a 6-mile speed workout on my Tokyo Marathon training plan. I left the house at 5 a.m., was in the shower by 6.05 a.m. and on the train into London by 6.36 a.m. feeling amazing (and very smug). I had coffee and overnight oats on the train while I prepared for a presentation—life was good.
However, it's now 3.05 p.m. and I feel ready to pass out with exhaustion.
The problem? I faffed around before going to bed and didn't end up falling asleep until close to 11 p.m., gaining far fewer than the recommended 7-9 hours of shut eye.
I recently wrote an article about How to Maintain an Active Lifestyle with a Long Commute and what was key was the need to get up early, however, what is crucial to a pre-dawn alarm is a sensible bedtime.
How many of you are guilty of beginning to get ready for bed a good hour before you finally turn out the light? Creating a bedtime routine could help avoid this.
Heart Health
Although going to bed (and waking up) at the same time every night might not be possible (or very appealing), a study by Northwestern University has shown that those that have a stable bedtime routine helps the heart to filter out stress hormones and properly rejuvenate.
Better Workouts
Just because you're a badass that runs marathons, does not mean you should feel badass by logging minimal sleep—trust me, that does not deserve bragging rights. If you want your running to improve, you need to prioritize your sleep (Shalane Flanagan and Deena Kastor reportedly often aim for 10 hours a night). It's during our hours of deep sleep that the pituitary gland releases human growth hormone to repair muscles and bones, ready for another quality run!
Lower Stress
Anyone else spent the first 20 minutes of the day in a flap trying to find a pair of socks/sports bra/headphones without waking up the rest of your house, only to discover as you head out the door that your watch isn't charged? Getting into the habit of laying out your kit, preparing your breakfast and checking your electronics before bed will lower stress levels in the morning. It will help you focus more quickly on your workout first thing.
Hydration
Skip the evening coffee for a herbal tea or a glass of water pre-bedtime to refresh and replenish after a long day. It'll also help keep you hydrated if you have a run or workout planned first thing without needing to chug a gallon in the AM.
Improved Sleep
Creating a routine that limits electronics and involves some relaxation, meditation and mindfulness can help you get to sleep more quickly (and fall into a deeper sleep during the night), reducing that 'busy mind' feeling. Focus on winding down for that last waking hour, so that you've already done the hard work by the time you get into bed.
Quality Time
I've already mentioned mindfulness and relaxation, but utilizing your bedtime routine for a 15 minute stretch, writing down your worries, or more importantly, your hopes and aspirations. Introduce a full body skincare routine—don't neglect your feet! You could use it as a chance to read in bed—perhaps something motivating like My Pace or Yours (the choice of my running book club in January, free for all to join!).