5 Unique Recipes That Include Roasted Asparagus
Here's a seasonal veggie that fits into just about any meal you can dish up.
Heading out the door? Read this article on the new Outside+ app available now on iOS devices for members! Download the app.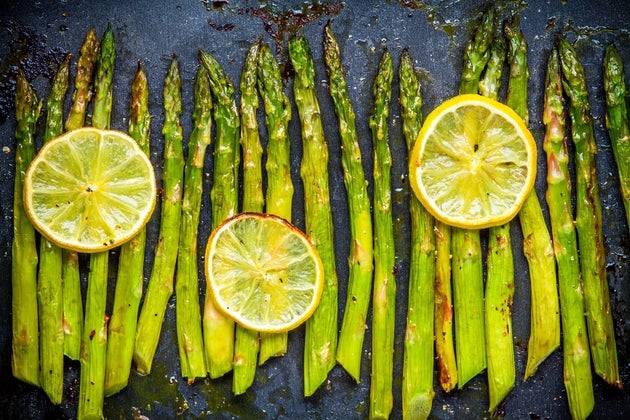 First…
Preheat oven to 425 degrees. Snap off the woody ends of asparagus spears and place the tender parts on a baking sheet lined with parchment paper. Drizzle with olive oil, season with salt and pepper and add any flavor-boosters you enjoy (like lemon slices and rosemary sprigs). Roast until soft but not mushy, about 12 minutes.
Then…
Add it to pasta:
Chop roasted spears into one-inch sticks and they are the perfect mix-in for pasta. The bite-size pieces look like ziti and soak up the sauce, so they work as a stand-in when you don't want the extra carbs. I like to toss with just a little olive oil, red pepper flakes and a few twists of black pepper. Grate some Parmesan on top and invite me over for dinner, please! —Jessie Sebor, editor in chief
Use it in Spring Rolls:
Cold spring rolls are one of my favorite peanut-sauce delivery devices. The rice paper wrappers are surprisingly easy to work with, and I like to mix up the ingredients based on what I have on hand. A spear or two of roasted asparagus is a hearty complement to julienned cukes and carrots, lettuce and some fresh cilantro. —Nicki Miller, managing editor
Add it to your breakfast scramble:
I'm an eggs enthusiast. When it comes to breakfast after my run—I can't get enough of them! But one other must is something green, and asparagus is one of my favorite add-ins. Chop it up, mix it in the bowl with the rest of your ingredients, throw it in the pan, and make the critical decision: Is it going to be a scramble or an omelet? —Caitlyn Pilkington, web editor
Spice up your salad:
For a refreshingly tangy twist on a salad, splash cooled roasted asparagus spears with balsamic vinegar and top with grated lemon zest and a bit of freshly ground black pepper. Serve chilled or at room temperature, on a bed of arugula—or not. To make an easy (yet impressive!) meal, serve with a piece of roasted or smoked salmon. —Allison Pattillo, contributing gear editor
Make a hearty soup:
I make this cream of roasted asparagus soup in my Vitamix— just a few simple ingredients, less than 10 minutes and it's ready. For about 1 1/2 pounds asparagus, add 1 1/2 cups stock and slowly increase the speed and blend for 6 minutes. Lower speed and add in 1/2 cup heavy cream or half-and-half. Blend for 30 seconds just to incorporate the dairy. —Erin Douglas, art director