5 Tips For Cold Weather Running (It's Coming!)
Because winter is rapidly approaching, and it's going to be another freezing one.
Heading out the door? Read this article on the new Outside+ app available now on iOS devices for members! Download the app.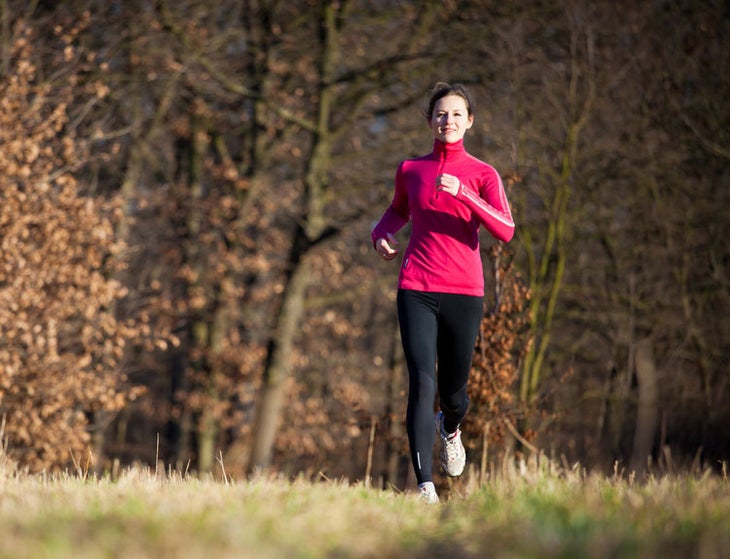 Published with permission from Rock 'n' Blogger Michelle/Running With Attitude.
With temps quickly dropping as much as 40 degrees in a day in some areas as winter quickly approaches, Courtney, Mar and Cynthia's link-up topic of "Cold Weather Running Tips" couldn't be more appropriate!
Layer, layer, layer! Surviving and thriving in cold weather running is all about layering. I think at minimum you'll want to consider three layers: a base layer, an insulating layer and an outer layer. Depending on the weather and your tolerance for the cold, you may want to use more than one insulating layer. And, layering isn't just for your upper body. Start with a good pair of running tights, and if you find that one layer isn't enough, add wind-proof track pants over your tights for extra protection.
Wicking still matters. Just as with running in the summer heat, this is no time for cotton! Make sure your base layer is made of a wicking material to keep sweat away from your body and to help keep your skin warm and dry.
Protect you extremities. Did you know that you can lose as much as 40 percent of your body heat through your head? Wearing a fleece or wool hat can go a long way to keeping you warm during your runs. You can also lose a fair amount of body heat through your hands so you'll want to keep them covered with moisture-wicking gloves or mittens.
Change quickly post-run. Chills can quickly set in as your body's core temperature drops post-run. Quickly change out of your running clothes and jump into a hot shower or, my favorite, a warm Epsom salt bath.
Be willing to hit the 'mill.  Some days it may just be too cold to run outdoors, so be willing to head for a treadmill or do some form of cross-training.
How do you manage cold weather running? Tweet @WomensRunning and @RunAttitude with your tips!

Related: