5 Reasons Runners Should Eat Cheese
Celebrate National Cheese Lover's Day with a few slices of your favorite.
Heading out the door? Read this article on the new Outside+ app available now on iOS devices for members! Download the app.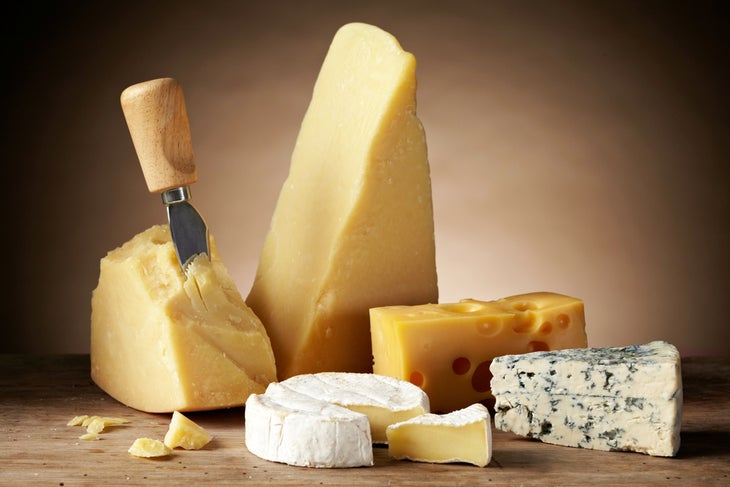 Happy #NationalCheeseLoversDay! Our favorite dairy product (well, besides ice cream) often gets a bad rap for being unhealthy. Well we have some good news. Runners can and should incorporate a little into their diet. So grab your favorite variety and read on to see why runners should eat cheese.
1. It can be eaten with every meal. Are there many foods out there that can be consumed at any moment during the day? Okay, okay—fruits & veggies should be, but cheese is the good stuff! Sprinkle some onto your morning eggs. Make a grilled cheese for lunch. Top a healthy pizza off with your favorite for dinner. Even have cheesecake for dessert. The possibilities are endless.
2. It makes a great post-run snack. Sorry—we are not saying you can eat a whole block of cheese or an entire plate of nachos. But a few slices can be a great source of protein, calcium and Vitamin D. Include a bit into your healthy post-run meals and snacks. Combine your favorite cheese with lean turkey on a whole wheat wrap or throw some fruit on top of cottage cheese. The combination of carbs and protein helps repair muscles.
3. Even those who don't or cannot eat dairy can participate. Runners who have a dairy-free diet can celebrate the holiday in non-traditional ways. There are brands of quality vegan cheese that have the same texture and similar taste of the real stuff. Many recipes can also reproduce that cheese-y flavor with other ingredients. Our blogger Running On Veggies makes a great nacho cheese dip—sans cheese. (Now if only she would reveal the recipe to this cheese-less cheesy quinoa!)
4. There are so many varieties to choose from. There is really a cheese for everyone's taste. You can enjoy a sharp cheddar, a pungent bleu, a spicy Parmesan, a melty fontina or a smooth brie—often on the same plate. And that does not even crack the surface of the different tastes, textures and types that exist.
5. It is delicious. Step away from the processed slices. If that is what you call cheese, you are not experiencing the true joy it can bring. The best part is that it isn't difficult to find quality offerings. Go to the cheese counter of your local grocery store, test out a few samples and pick something completely new to you. We couldn't think of a better way to celebrate today.