5 Mental Side Effects Of Injury Recovery
These 5 emotions (some less flattering than others) are completely normal to have during an injury.
Heading out the door? Read this article on the new Outside+ app available now on iOS devices for members! Download the app.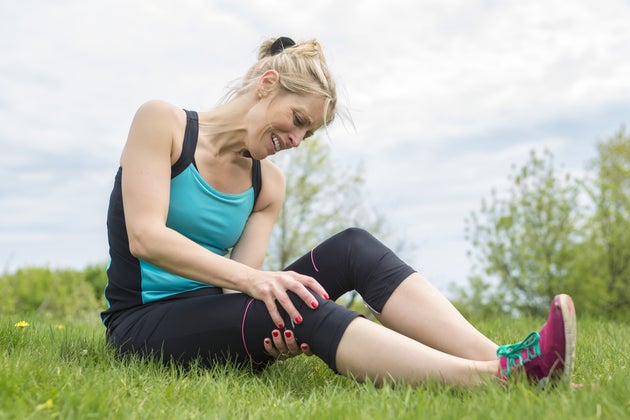 I know I'm not alone when I say that the worst side of injury is the mental aspect. I'm currently coming back from a recurring IT band issue, and have just been put on limited running by the physiotherapist due to a niggling shin—there's a medical term, but I know I'll massacre the explanation so let's just leave it there—that I'm trying to avoid becoming shin splints.
Not only have these injuries derailed my New York Marathon training somewhat, but it is playing havoc with my mental health. These are five completely normal emotional reactions to have about an injury.
Anger…
…with yourself and with the world for getting injured.
I'm mostly angry with myself. I know that warming up, stretching, proper recovery, etc. is just as important to training as the runs themselves, and yet they are the first things to get abandoned when I'm busy. I'd prefer to get another mile in than spend the 8 mins stretching post-run, to my detriment. I should have learned my lesson from the recurring IT band injury, but each time I 'recover' and am able to run again, ignoring everything I've learned during my time off.
RELATED: 5 Things You Should Never Do During Injury Recovery
Frustration…
…that you can't run.
When running takes up a lot of your time it's hard to know what to do with yourself when you can't run. It's frustrating to think that the gains you've been making might be reversed; that the miles you were clocking up might have been for nothing. I'm frustrated that I seem to keep getting injured (even though it's my own fault), and annoyed that I'm missing out on some fun group runs, races and events because I'm rehabbing in the gym or doing short, slow miles alone.
Jealousy…
…that other people can run.
Reading running blogs, magazines, following other runners on social media—it can seem that everyone is running except you. It's probably not the case but it seems that way when you're not out there with your sneakers on.
Anxiety…
…when wondering, how much fitness are you losing? What pace or distance will you be able to run when you get back? Are you missing too much of your training plan?
These are the types of question that play over and over in my mind when I can't run, or am not on schedule for marathon/half marathon training. My anxiety is through the roof—they say running is free therapy and I'm beginning to see what they mean. Without the endorphins, the escape, the fresh air that I usually get on my runs…I've got too much time to concentrate on other worries and fears, let alone the running related concerns.
RELATED: The Right And Wrong Ways To Handle Injury
Determination…
…that you'll come back better, stronger, faster.
If you can only run short and slow, use your injury time to build your base. Can't run? Hit the gym for strength/core training, spin, swim, cycle, yoga…do what you need to do to keep your cardio fitness up and your head in the game. Your running will get back to where it was (and beyond!).