5 Beauty Fixes To Common Workout Woes
If your hair, nails or skin seem under attack as you swim, bike and yoga, we have solutions for you.
Heading out the door? Read this article on the new Outside+ app available now on iOS devices for members! Download the app.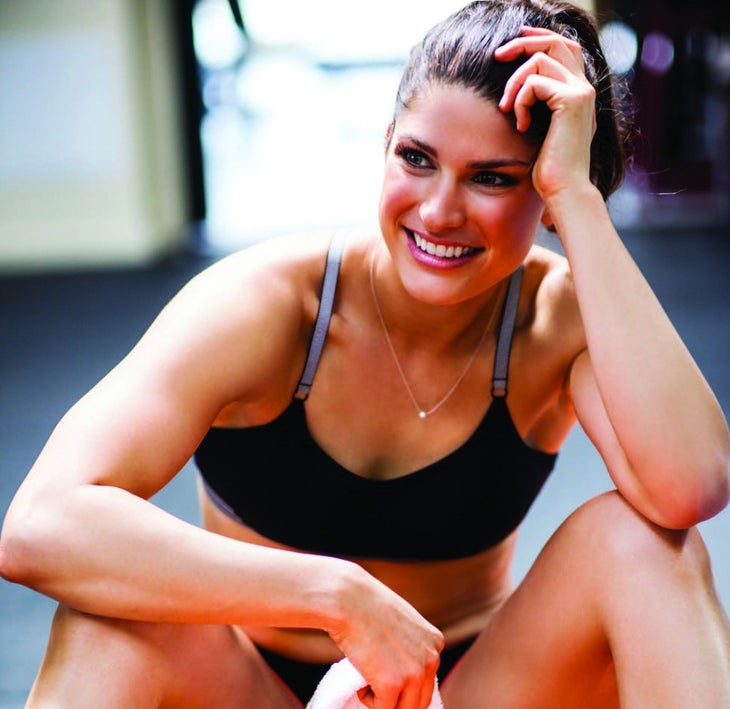 Cross-training is essential for runners. It builds strength and endurance and can reduce your likelihood of developing overuse injuries. But swimming, biking and gym workouts can wreak havoc on your hair, nails and skin. Here's how to protect your good looks when you train
in beast mode.
Healthy Hair
Cross-training conundrum: Chlorinated pool water leaves your hair dry, brittle or green.
Prevention: Protect your tresses before you hit the water. Work some conditioner through your hair, then slip on a silicone swim cap. Not into caps? Saturate your hair with a pre-swim shower. Moist hair absorbs less chlorine, says stylist Jennifer Jahanbigloo, co-owner of Beverly Hills salon Juan Juan.
Rx: If it's too late and your hair is already green, dry or brittle, see your stylist—pronto. A pro can color-correct your hair, but if your locks are damaged: "You will have to have it cut at least to the point where the hair is healthy," says Jahanbigloo. Follow up with weekly deep-conditioning treatments.
Strong Nails
Cross-training conundrum: Your nails are brittle and peeling, and your cuticles are dry and irritated. Thanks, chlorine!
Prevention: Best news ever: Mani-pedis are the cure. "The nail is like a sponge," says Dr. Dana Stern, a New York City–based dermatologist. "Nail polish provides a waterproof protective membrane for the nail." Revive your cuticles by applying a post-swim moisture cream, like Burt's Bees Lemon Butter Cuticle Cream ($6, burtsbees.com).
Rx: "Gel polish doesn't chip, so a gel manicure or pedicure would provide an effective and chip-resistant barrier for someone with excessive water exposure, in contrast to basic polish that, as we know, inevitably chips," says Dr. Stern.
Anti Acne
Cross-training conundrum: Boot camp and Bikram yoga have brought on back-ne, butt-ne and other acne-related indignities.
Prevention: Combine sweat, friction and tight-fitting technical fabric, and you've got the recipe for clogged pores, says Dr. Sarah Gee, clinical assistant professor of dermatology at UCLA's School of Medicine. Don't linger in your sweaty workout clothes. Hit the shower with a glycolic- or salicylic-acid-based cleanser, such as Murad Acne Body Wash ($40, murad.com). They slough off dead skin and aid in cell turnover.
Rx: For inflamed acne or folliculitis ("butt pimples" that are actually infected hair follicles), use a cleanser with benzoyl peroxide like Clean & Clear Continuous Control Acne Cleanser ($7, cleanandclear.com). For especially tough cases, Dr. Gee recommends seeing your derm for prescription-strength options.
Bikini Ready
Cross-training conundrum: Long bike rides are wreaking havoc on your bikini region.
Prevention: Extended saddle time in bike shorts contributes to ingrown hair, hair breakage, bumps and irritation. The best prevention is a comprehensive waxing regimen, says Alaa Abbassi, co-founder of Toronto-based Allure Body Bar. First, book the right bikini line for your sport. "A bikini wax should 'sit' a certain way so that it is deep enough so the areas causing friction do not have hair on them. We suggest a deep bikini, or even better, a Brazilian wax," Abbassi says. Once you're bare, ward off congested pores and follicles by exfoliating three or four times a week. Abbassi recommends an exfoliating glove and a mild, sugar-based scrub (avoid formulas with pore-blocking glycerin or oil). Post-shower, slip into cotton undies to give your skin a break from constricting tech fabrics. Maintain your grooming with waxes every four to six weeks.
Rx: For existing bumps and ingrown hairs, follow the routine above, applying a lactic- or glycolic-acid-based cream or serum, such as Garnier Skin Renew Dark Spot Overnight Peel ($17, garnierusa.com) after showering. Do this daily and you should find relief within a few weeks, says Abbassi.
Smooth Skin
Cross-training conundrum: You've been getting weird rashes since joining the gym.
Prevention: Causes of gym-induced skin irritations include pool chemicals and—less commonly, but more disturbingly—bacterial, viral or fungal infections passed via hot tubs, gym equipment and other dirty surfaces. Cut your risk by cleaning the leg press before sitting down (most gyms provide disinfecting spray or wipes), swapping the hot tub for the steam room and showering after working out.
Rx: If extra showers or swimming have left your skin dry and rashy, "apply a hypoallergenic, ceramide-containing moisturizer [like CeraVe x ($14, cerave.com)] within two minutes of bathing to trap in moisture," says Dr. Gee. If you suspect you have a skin infection, see your doc for treatment, which may include topical or oral antibiotics.