4 Tips To Make Running Through Pregnancy More Comfortable
Pregnancy is full of uncomfortable moments, but running while pregnant doesn't have to be one of them thanks to these tips.
Heading out the door? Read this article on the new Outside+ app available now on iOS devices for members! Download the app.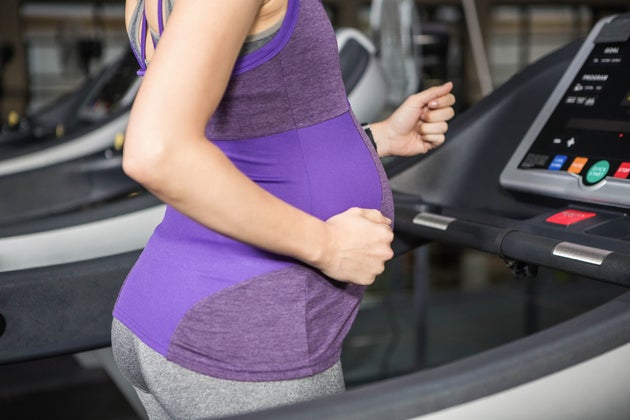 Pregnancy is a lot of things, but comfortable is usually not one of them. Between the weight gain, nausea, and overall aches and pains, being pregnant can sometimes mean forty weeks of feeling uncomfortable in your own skin. Even things you're used to doing every day can feel completely different—including going for your daily run. Getting through that first trimester fatigue and actually getting off the couch to run is arguably the hardest part, but there are a few other pregnancy problems that can make your normally relaxing run feel anything but. To keep up with your workouts and stay healthy for both you and your little one, try some of these tips to make running as comfortable as possible for all nine months.
Go Big
One unexpected side effect of pregnancy is that your feet can swell a half to a whole size bigger. To keep your feet comfortable, consider purchasing a pair of running shoes in the next size up. It may seem like an unnecessary expense, but an ill-fitting pair of shoes can completely throw off your stride and cause you pain. And since your feet may end up staying the bigger size even after the baby arrives, it can't hurt to have a new pair of sneakers ready to go once you start running again.
Don't Forget The Girls
Since your cup size can increase quite a bit over the course of your pregnancy, you're likely going to need to change bra sizes at least once. But don't forget to do the same with your sports bras; just because they're stretchy doesn't mean the same size can accommodate you the whole time. If you go for a bra fitting, make note of your measurements and pick up a couple sports bras in your new size. Or if you don't have time to go for a fitting, just pay attention to how your bras fit as you progress and head for the running store for a bigger size whenever the bands feel too tight or are leaving red marks on your skin post-run. To save a little money, consider buying a sports bra with an adjustable back band so you can let it out as you grow.
Dress The Part
When it comes to your apparel, you may feel better in looser clothes as your body begins to expand, while you might find that fitted tops are more comfortable later on because they hold everything in. Whatever you wear, be sure to choose light, moisture-wicking fabrics to stay cool, and look for shorts or pants with lower waistbands to accommodate your belly. In the later months of pregnancy, you might benefit from wearing a pregnancy support band. There are lots of options that can provide support to your belly and lower back, as well as moderate compression to help stabilize your loosening hip ligaments.
Take It Easy
While some women have seemingly no trouble keeping up with their usual mileage right up until they give birth, it's totally normal to need to slow down when you're pregnant. Switching to a slightly slower pace, an easy jog, or just a power walk is nothing to be ashamed of and can be just as effective as your usual run. You can even try running with a flotation belt in the pool to take some of the weight off your joints. The best thing is to listen to your body and make sure to scale back or rest when you need to. As you figure out what time of day you have the most energy in each trimester, do your best to fit your workouts into that window. Also, even if you're cutting back on caffeine, if you still indulge in a daily cup of coffee, it can be helpful to time your run soon afterwards to take advantage of the energy boost. Most importantly, always consult your doctor right away if you experience pain, dizziness, or any symptom that doesn't feel right.