4 Skincare Issues—And How To Fix Them
Dermatologists weigh in on how running helps (and hurts!) skin ailments—plus what skincare routine you can use to prevent them.
Heading out the door? Read this article on the new Outside+ app available now on iOS devices for members! Download the app.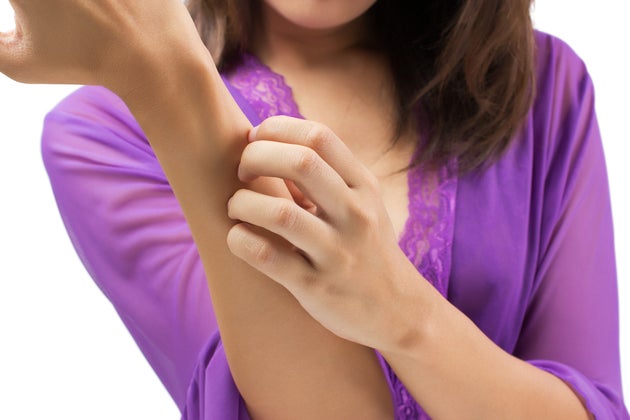 Blisters, chafing and sunburns—runners know that these annoying skin problems are side effects of our sport. But could cellulite and spider veins belong on that list too? Believe it or not, experts say, yes.
Running boosts oxygen and blood flow to the skin (that runner's glow!), but it also causes wear and tear due to sun, wind, friction and impact. This can worsen the appearance of common skin conditions, such as body acne, spider veins, keratosis and cellulite. Go on the defense with these tips from dermatologists!
Body Acne
"Running, per se, doesn't cause acne," says Dr. Joyce Davis of Beth Israel Medical Center in New York City. "In fact, runners sometimes have less acne because the hormones causing acne become regulated. But your habits associated with running might encourage acne to form."
Lounging around in your sweaty clothes after a run allows excess sweat and oils on your skin to absorb into your pores, which can become trapped and cause pimples to pop up on your back, chest, shoulders and buttocks. It's not just unsightly—body acne can become painful!
Skin Fix: Wear moisture-wicking clothing during your workout, which draws sweat away from the body. As soon as you hit "stop" on your watch, Davis recommends, "Get right to the shower."
Spider Veins
These little webs of red and purple are actually enlarged capillaries, inefficient at transporting blood, says Dr. Luis Navarro, director of the Vein Treatment Center in New York City. Running can help reduce their appearance by increasing circulation (yay!), but only if the blood can travel properly. Navarro says poorly fitting running footwear can put pressure on the vein walls, causing them to swell.
Skin Fix: Shop for running shoes in the evening. Your feet swell as the day goes on, just as they do during a long run. Select a pair of shoes that fit well and have proper arch support to allow maximum blood flow.
Keratosis
This condition usually appears in the form of a scaly lesion on the skin. If left untreated, lesions may gradually get thicker and develop warts—yuck! Friction while running (caused by skin-to-skin or skin-to-clothing contact) can exacerbate its appearance. Though keratosis spots sometimes look similar to skin cancer, they are usually benign and easily removed.
Skin Fix: Though only a doctor's treatment can eliminate keratosis, you can minimize aggravation by wearing the right clothing. Look for synthetic materials and flat seams. Apply a body lubricant, such as Aquaphor Healing Ointment ($14, drugstore.com), to areas prone to chafing.
Cellulite
Every girl's got it. Lisa Donofrio of Yale University School of Medicine in Connecticut says this condition, caused by fat deposits under the skin, affects almost all women to some degree.
On one hand, running reduces the appearance of cellulite by increasing underlying muscle tone and decreasing body fat. However, logging miles in the sunshine may have a negative effect. "UV rays can decrease skin's elasticity, worsening the appearance of cellulite," says Donofrio. "It's also possible that the downward force, or 'jiggling,' may have an effect on skin elasticity."
Skin Fix: Donofrio suggests that runners wear supportive clothing with built-in UV protection—look for UPF, or Ultraviolet Protective Factor, on the label. For areas of exposed skin, don't skimp on the sunscreen!