12 Ways To Skip The Low-Fat Option And Still Eat Healthy
Another food term bites the dust—low-fat isn't so lovely after all.
Heading out the door? Read this article on the new Outside+ app available now on iOS devices for members! Download the app.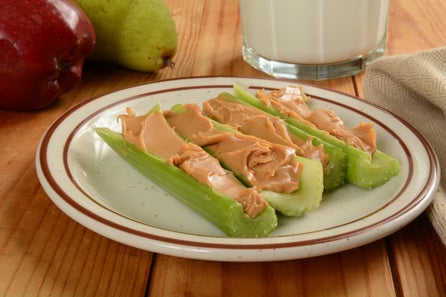 Let's face it, not all fats are created equal. In fact, for the past umpteenth years we've been told to avoid it! Newsflash: Avoiding fats is so 1992.
For years nutritional experts implied a healthy diet is low in fat, but with a low-fat, or zero-fat diet, you're missing key nutrients that can fuel your performance and keep your waistline down. This doesn't mean to go indulge in that chocolate cake or bag of potato chips. Understanding the type of fats and which are good for you will help you create healthy eating habits.
Related: This Is How You Can Avoid Mindless Snacking
Types of Fats
The good: monounsaturated fats, polyunsaturated fats, omega-3 fats
Good fats are healthy for you heart, cholesterol, brain health, moods, energy and joints.
The bad: trans fats and saturated fats
Bad fats can increase your risk for many diseases (obesity, diabetes, heart disease, etc.) and cholesterol.
Monounsaturated Fats
Fat molecules that have one unsaturated carbon bond in the molecule, monounsaturated fats are simple and found in plant-based oils (olive oil, canola oil, peanut oil, safflower oil, sesame oil), nuts, seeds, olives and avocados. This kind of fat can help reduce bad cholesterol, reduce your risk for heart disease, prevent stokes, and maintain your body's cells.
Polyunsaturated Fats
Polyunsaturated fats have more than one unsaturated carbon bond in the molecule and, similar to mono fats, are mainly found in plant-based oils and foods: leafy greens, fish oil, soybean oil, flax seed oil, sunflower oil, nuts, seeds, avocado, olives and peanut butter. This kind of fat can also help reduce your risk of stroke and heart disease while maintaining your body's cells and overall health.
Omega-3 Fats
Omega-3 fats are essential fats that the body must get from food: fish, tofu, vegetable oils, nuts—especially walnuts—flax seed and oil, and leafy greens and veggies. Omega-3 fats reduce inflammation, heart disease and arthritis, while increasing memory and brain functionality, blood vessel function and energy.
Trans and Saturated Fats
Saturated fats are mainly from high-fat animal products, while trans fats are usually processed (hydrogen is chemically added to liquid vegetable oils to make the food more solid). These fats raise your bad cholesterol levels (LDL) and lower your good cholesterol levels(HDL), which can increase your risk of heart disease. Some foods that might contain these fat devils:
High-fat cuts of meat (beef, lamb, pork)
Chicken with the skin
Whole-fat dairy products (milk and cream)
Butter/stick of margarine/vegetable shortening
Cheese
Ice cream
Palm and coconut oil
Lard
Commercially baked pastries: cookies, doughnuts, muffins, cakes, pizza dough
Packaged/processed snack foods: crackers, microwave popcorn, chips
Fried food
Candy
When you read a food label and see the total fat section, look directly below that line for saturated fat. If a package reads zero grams of trans fat, it still may have trans fat. Look in the ingredient list. If you see "partially hydrogenated oil," game over.
So Why Skip Low-Fat Foods?
Fat isn't necessarily the bad guy. Just because a label says low-fat or fat-free doesn't mean it's the best option. Reduced-fat ice cream, low-fat chips and fat-fat cookies all have one thing in common: processed. Most low-fat items have to go through a system to eliminate the fats, which means all the good taste is omitted. So in order to replenish some good taste, food makers add ingredients (sugar, salt, thickeners, etc.) to make it taste like the original item. This means something fat-free could have a great deal of sugar, sodium and other artificial ingredients in it—which is not healthy at all.
So How Do I Make The Swap? 
With a little food preparation and planning, you can stick to a healthy-fat diet and reap the benefits.
Stick to the outside aisles when shopping. Processed options tend to linger in the middle ones.
Cook with plant-based oils (olive) instead of butter.
Use olive oil and seasonings for salad dressings and marinades instead of store-bought sauces.
Use canola oil when baking.
Snack on nuts and seeds instead of chips or crackers.
Swap avocado for cheese on sandwiches or salads if you want that creamy base.
Eat lean-cut meats.
Cook fish twice a week instead of meat.
Bake, broil or grill food instead of frying it.
Avoid cream and cheese sauces (or have them served on the side).
Try peanut butter or other nut butters on celery or apples as a snack.
Always read the food label to see if there are added sugars, additives and/or hydrogen oils.