10 Things That Breast Cancer Taught Me About Running
After defeating breast cancer, our managing editor shares everything she learned along the way and how we can help find a cure.
Heading out the door? Read this article on the new Outside+ app available now on iOS devices for members! Download the app.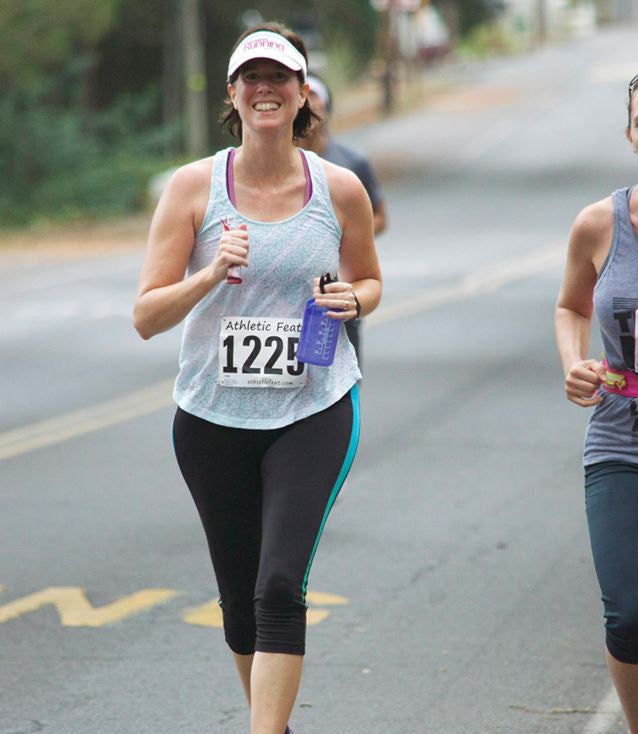 Just about one year ago I started running again. After being diagnosed with breast cancer in July 2013, I finished up my radiation treatments in October, which ended with a wicked rash—beyond the usual sunburn-type of reaction—so I had to wait for that to clear up before I could lace up and hit the pavement.
Now as I look back on the past year, I'm thankful for being a runner. Here are 10 reasons why…
I can "jog the breast." That's how the surgeon wanted me to think of activities—running jogs the breast, so that was a no-no for a while—and frankly I didn't want to because of the pain. But once I got to the point where the discomfort was reasonable, I had a new appreciation for that jiggle.
Sports bras are awesome. I had never paid much attention to them before, but now I know just how necessary they can be.
The running community is so supportive. Granted I work with a lot of runners, but even outside of the office, the well wishes are heart warming and pain easing.
Running helps keep my weight in check. Maintaining a healthy weight is one of the main things my doctor has told me will reduce my chance of a recurrence.
Pain happens. Every runner knows your body can hurt any and everywhere, which is actually nice—to have pain somewhere besides my right breast.
My breast pain is mostly gone. It took almost a year but since I "jog the breast" regularly, it's been easier to track the healing. When I went for my one-year surgical follow-up this summer, the pain wasn't gone—but closer to a year out from radiation and it's exciting to feel so much better.
I'm mentally tougher. The physical pain is only part of the cancer experience, and running and racing is a mental game that reverberates beyond the spandex.
Slow works. For the first half of 2014, I worked a lot on building mileage and speed, but then I settled into a groove where I prefer to enjoy my runs for what they are, at whatever pace.
I like other exercises, too. To be a strong runner, I've found I need to cross-train. Since I started doing weight training and core work, I've noticed a big difference in how strong I feel. And I have a weakness for my new mountain bike!
I can support the fight to find a cure. I'm running the Rock 'n' Roll Las Vegas Half Marathon to help raise funds for the Edith Sanford Breast Cancer Foundation.