10 Moments That Make Female Runners Cringe (Part II)
Here's round two of 10 best worst things about being a runner.
Heading out the door? Read this article on the new Outside+ app available now on iOS devices for members! Download the app.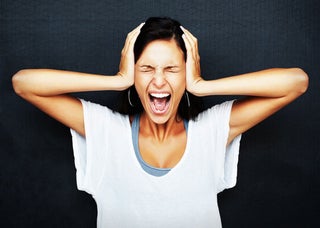 Since so many of our readers raised their hand with other female-not-friendly runner moments, here is a sequel to our sequel, featuring some moments applicable to any runner:
1. Those awkward sweat marks. And for this reason, we will agree with one reader that "black is forgiving." Orange is definitely the new black, but at least the ol' plain darks hide those glistening stains of perspiration that highlight areas that don't need extra attention. Being engulfed in the inflammatory bowel disease community and having colitis myself, I will also add: black is a safe choice for bottoms when GI functions are questionable.
2. Aunt Flo leakage. You know what I'm talking about, and this is also an excellent time of the month (literally) to grab a dark pair of bottoms. There's nothing worse than the mid-run panic when you feel an extra…"gush"…and immediately realize you're suffering from #1 on last week's list: forgetting extra tampons. But what about that Diva Cup thing? We admit this was a new concept to us!
3. The dreaded incontinence. This is a topic that our blogger, Stephanie Bruce, has addressed in the past. Whether it's post-baby or simply due to age, there's that lingering anticipation of when the big "leak" will start…continue…and ultimately make an official bathroom trip a moot point. In the words of my mother, "There it is…oop…there it is again…oop…don't have to go anymore."
4. When there's a rumble in your tummy. Perhaps a mere side effect of the sport, an angry gut that calls for immediate relief is always a race against the clock. My personal antidote for this dreadful situation is to a) know where all the bathrooms are ahead of time along the route b) take an Imodium, should that be an option for you (ALWAYS CONSULT A DOCTOR FIRST.) and c) attempt to be comfortable with the potential of ducking behind that bush over there if need be.
Related: 7 Advantages To Running With A Bad Gut
5. The unfortunate race photo. The crowd is split on this one—some of us care, some of us do not. Regardless of where you fall, it can be slightly humorous (albeit terrifying) to peruse the race site days after crossing the finish line, only to find that one perfectly timed shot of you. And by perfect, I mean: approaching snot rocket status, taking a heaving breath of desperation, awkwardly stepping around a pothole, bug eyes that only just realized the paparazzi doom sitting in front of you and skin as white as a ghost. (I swear race photos change the shade of your complexion.) Just be prepared next time.
6. When you're underestimated next to the guys. Note to the running community: There will always be someone faster than you, and there will always be someone slower than. There will always be someone who loves hitting target pace, and there will always be someone who simply loves finishing the race. No runner was created the same, but we were all created worthy to share a starting line. Men beat women, and women beat men. But perhaps society has made it fun to do a little internal happy dance when you do pass that dude that's been huffing his way to stay ahead of you.
7. When the only color is pink. I appreciate pink—I own pink apparel and shoes. Pink is great, and it represents a cause close to my heart every October. But let us deem the other colors acceptable hues for the "women's line" of any brand too. My favorite color is actually green.
8. Untangling the gnarls after an unexpected rain run. Remember that time you went out, didn't wear a hat, and let your long locks flow freely in a pony holder? It's all fun and games until those first 1,000 drops of water puff that perfect mane and cluster every strand together. There aren't enough combs or conditioner in the world. Thankfully, there's a hair style for that.
9. When friends question your cause. On a much more serious note, charity runners are faced with the task of explaining their cause and reasoning to at least one person in their life. Where do the fundraising dollars actually go? How do you know you're making a difference? Why do you have to run and raise money? It's not a matter of "have to" a lot of time—it's a matter of "want to." Unfortunately, many people will experience a close one lose their battle with cancer or another illness. Combining running—a common form of stress relief and soul searching—with dedicating dollars and time to a cause close to home can be a very healing experience for the participant, while also honoring and remembering their special person. Nonprofit politics and personal opinions aside, chances are that the charity runner you know how an intimate reason for choosing to run in honor of something bigger then themselves. It doesn't mean you have to contribute, but it does mean you have to respect it.
Related: How Do I Raise Money While Training For A Race?
10. The cheeseball cat calls. Some are harmless, others can be extremely concerning and deserve to be addressed. But all of them are attention we can live without. While it can be a slight ego boost to be hollered at while on the run, most of the time we want what most runners want: a little peace, quiet, and time for ourselves or with our favorite running buddies.