A Runner's Review Of The New Charge 2 From Fitbit
We put the new Fitbit Charge 2 to the test. Here's what runners will love about the activity tracker and how to use it on the run.
Heading out the door? Read this article on the new Outside+ app available now on iOS devices for members! Download the app.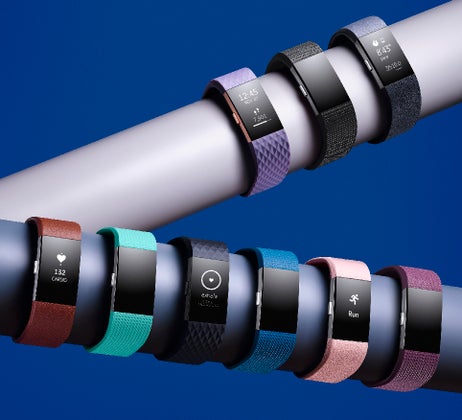 When Fitbit announced the release of the Fitbit Charge 2 in September, activity-tracker fanatics everywhere wondered if the new device would live up to the hype. Essentially an update to the Fitbit Charge HR, the new version looks much sleeker and performs more seamlessly—but is it a good investment for runners? We've broken down the good, the bad and the "Holy, Fitbit!" to give you to scoop on what runners might think of the Charge 2.
What's It's All About
First, let's focus on what we're working with. The Fitbit Charge 2 is a relatively affordable ($150) tracker that captures your activity 24-7, while measuring your heart rate and monitoring your sleep. Wear the Charge 2 around the clock, and you get a pretty accurate look at your general health when it comes to sweating it out and catching some zzz's. It records your approximate calories burned, flights of steps climbed, hours slept, steps taken—and your resting heart rate, too.
Related: Fitbit Launches Stylish Updates To Two Popular Trackers
The Charge 2 connects with your phone to push call, text and email alerts to your wrist. The workout function allows users to measure runs, hikes, cycling sessions, etc., while delivering immediate heart-rate feedback while this mode is on. Connect the device to the GPS on your phone, and you'll also see your distance and pace reflected on the screen. (Because there's no internal GPS, the Charge 2 will track this on its own, but the results are much less accurate).
A new "relax" function takes you through on-screen breathing exercises, tailored to your specific heartbeat. A get-up-and-move buzzer reminds you to move off of your keister when you've been sitting too long. The interval workout function acts as a timer to take you through a quick strength routine. Plus, the platform offers a "cardio fitness score" that functions as a VO2 max rating—a key indicator of both potential running performance and current health.
What We Love
After testing for a few weeks, we deemed the Fitbit Charge 2 an excellent tool for runner's to have in their gadget-arsenal. As runners, we too often think that by getting in our 30 minutes of sweat time in the morning, we are set for the day. The Charge 2 was a great reminder that fitness is a full-day pursuit.
For example, on a Tuesday, I did a 13-mile run before work and then had a long day sitting in front of my computer at work. On a Sunday, I went for a quick 5-mile run, but spent the day out and about doing errands. Without the Charge 2, I would have assumed that Tuesday was a bigger "fitness day," but I was shocked to see that my activity level was about the same on both days. Coupled with the get-up-and-move reminders, the Charge 2 is very helpful for keeping you activity-level honest.
The heart-rate functionality also helps monitor fitness. When I started marathon training, I noticed my resting rate tick down from 61 to 56, a visible indicator that all those miles were helping me get in shape. Sleep tracking also helps you ensure that you're getting enough, especially during big training cycles. I could see the positive difference in my workout performance during weeks when I was regularly clocking seven hours or more.
A surprise favorite function was the "relax" tool. Any moment, I was feeling a little frazzled or scattered, the quick 3-minute breathing exercise helped bring me back to center, stay energized and clear my mind.
What We Don't
While the Charge 2 is great for monitoring your fitness, it can't beat a device with internal GPS when it comes to measuring your run. Without linking the band to your phone, the distance and pace in workout mode were so inaccurate that it would have been better do to without. A 5-mile run for example was measured to be 2.7 miles. Fitbit allows that this will improve the more you use it and that an update to the device's software may help correct this issue. However,  if you're the kind of runner who obsesses over every tenth of a mile have  another better way to measure your runs, it's probably best to stick with that.
Connecting the device to your phone makes the pace and distance much more accurate. The issue I found here was that if you use another app (I am partial to Strava), it can be cumbersome to pause both when you come to a stoplight or pause at a water fountain.
The only other issue I noticed was that, occasionally, the reminders to move went off when I was trying to fall asleep. This only happened a small handful of times, but when you're about to fall asleep and your Fitbit wakes you up, it can be a bit grating. (Note: You can set "Reminder to Move" preferences for specific days and times to help avoid being awoken by a buzz).
Why We Still Think It's Great
Despite imperfections, by the time I was through testing the Charge 2, I was basically married to the device. The benefits far outweigh any drawbacks. Just use the Fitbit Charge 2 as your activity tracker and a GPS device to record your runs!