Jaybird Introduces RUN Bluetooth Wireless Headphones
No pesky wires with these ones.
Heading out the door? Read this article on the new Outside+ app available now on iOS devices for members! Download the app.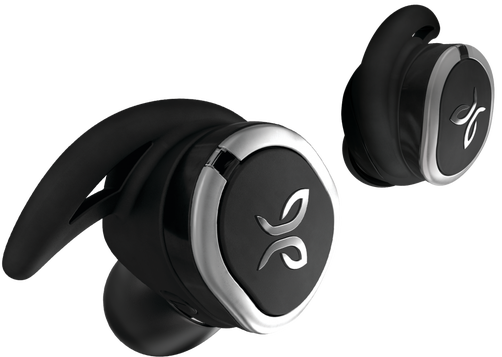 Jaybird just announced the RUN True Wireless Sport Headphones, its first pair of wire-free Bluetooth buds, designed specifically for running. One of our editors gave them a whirl and shares the pros of going wireless with Jaybird:
Don't forget to enter our Cover Runner Contest powered by Jaybird!
No wires!
Obviously what makes these headphones unique is that they're the first from this sports headphone brand to not have wires at all—they're just two small, sleek-looking buds, each with a button for controlling music, taking calls and even accessing Siri. They come in a compact pod, which is how you recharge them.
Simple setup
The out-of-the-box experience was seamless—you open the box, and as soon as you open up the charging case, the headphones turn on and prompt you to connect them via Bluetooth to your phone. They also come pre-charged, so you can literally open them up and go within minutes.
Single-ear listening
One of my biggest concerns when running outdoors with music is safety, which is one of the reasons I generally don't run with headphones at all. Single-ear listening with regular Bluetooth or wired headphones is an option, but what do you do with the other headphone flopping around while you run? These individual earbuds solve that problem—you can listen to just the right one and leave the left one at home, and you're still able to do everything you would with both (listen to music, take calls, etc.).
Sweatproof and water-resistant
Especially a must on humid summer runs and wet winter workouts, it's important to have this feature in a pair of running headphones. Sweatproof is a more difficult feature to have in headphones (from the manufacturer's perspective, as compared to water resistance) because it has to take into account different bodies' pH levels.
Easy charging
One of the biggest complaints about wireless headphones is one more thing to charge (I already have to charge everything from my phone, to my watch, to my toothbrush—not my headphones too!). But Jaybird tried to make it as easy as possible on users—the headphones hold four hours of listening on one charge, then the portable charging pod holds up to another eight hours when it's fully charged, so you can get essentially 12 hours of battery life without ever plugging it into an outlet. But what if you forget to charge it? The headphones feature a five-minute "quick charge" that gives you one hour of battery life, so even if you forgot to plan ahead, they can be charged up by the time you lace up your shoes for your run.
The app
These headphones are compatible with the Jaybird App, which allows you to customize your music (like adjusting the bass or treble, and then save your equalizer settings), and is also integrated with Spotify. Also, since these tiny guys can be tricky to keep track of, when you turn on the "Find My Buds" feature within the app, you can locate them!
However, our editor did run into two challenges while using the headphones…                                                                                                    
Finding the right fit
The headphones come with multiple fin size and tip size and shape (both oval and round) options, so you can find the right combination to fit your ears. Unfortunately, I apparently have extremely small ears for an adult, and I've never found the perfect fit with any headphones. Even after a couple runs with these headphones, I'm still trying to dial in that perfect fit (failed attempts have involved retrieving a headphone from under a parked car). But while I was wearing them, I was surprised at how lightweight they felt, and the sound quality was awesome.
Background noise on calls
I loved that you were able to take calls using just the buttons on the phone; however, the mic picked up quite a bit of background noise—in addition to hearing me clearly, people calling me could also hear the sound of me walking on the gravel trail while talking.
Overall, they're an awesome investment—Jaybird has thought of everything from quick recharging to losing your buds and accommodating single-ear listening. If you want to put a premium set of headphones on your holiday wish list this year, these are a solid pick.
Available in black and white, $180, jaybirdsport.com