REVIEW: ASICS SuperBlast
ASIC's new mega-stack training shoe has cushioning for days. Welcome to the SuperBlast
Heading out the door? Read this article on the new Outside+ app available now on iOS devices for members! Download the app.
ASICS SuperBlast $250
A dozen years ago, when the running shoe industry was caught up in a minimalist revolution, the shoe design ethos suddenly turned on a dime with the advent of maximalism brought about by Hoka. While a true running shoe geek might argue that Nike should be given credit for the first maximally cushioned shoes with the original Air Max shoes in 1987, a more prominent debate for 2022 is tied to the question of how big can maximal cushioning go.
A compelling answer might be found in the new ASICS SuperBlast training shoe with an enormous midsole, high-off-the-ground design geometry and smooth and responsive ride. The shoe launched on November 3 and will initially be available at the New York City Marathon expo before becoming available universally in early December.
While it's not the highest-ever stack height in a running shoe, the SuperBlast definitely has  a thicker midsole than most. A lot thicker! For comparison, its stack heights are considerably higher than the Hoka Bondi 8 (39/35) and On Cloudmonster (33/27) and Altra's new ViaOlympus (33/33). But after running in it for a while, I've found it's less about the massive size, but much more about the buoyant sensation produced by the complementary effects of the soft FF Blast Plus and energetic FF Blast Turbo cushioning foams.
Legal or Illegal?
So how did we get here? A year ago, Adidas gained a bit of notoriety when Ethiopian runner Derara Hurisa was disqualified after winning the Vienna Marathon after he wore a pair of Adizero Prime X shoes. Those kicks were deemed illegal because the total stack height—the height from the bottom of the outsole of a shoe to the top of the interior footbed—surpassed the 40mm regulation set by the World Athletics governing body of running. 
Does that mean the ASICS SuperBlast are illegal? In theory, yes, at least when it comes to racing in a sanctioned running race. But no, not at all because it's not a racing shoe and, well, there are no regulations for training shoes. As a training shoe, I found it something to be admired and certainly a hint at what is to come in the future.
Weight:

7.5 oz. (women's size 8), 8.4 oz. (men's size 9)

Heel-Toe Offset:

8mm (45.5mm in the heel, 37.5mm in the forefoot)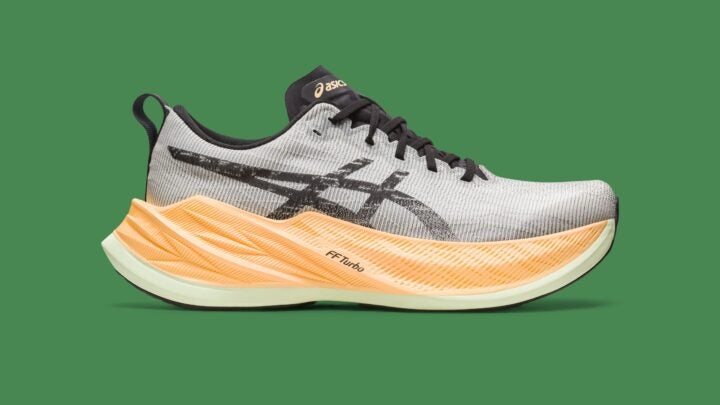 Why It's Great
So why did ASICS create such a thickly cushioned shoe? Just as runners realized during the minimalist shoe revolution when "barely there" shoes were all the rage, most runners really appreciate cushioning. As midsoles got thicker in the mid-2010s, shoe brands, ASICS included, began searching high and low for new materials to make cushioning lighter, bouncier and more responsive. While a lot of the focus was on combining those new foams with carbon-fiber propulsion plates to create fast marathon racing shoes, many runners, physical therapists,  biomechanists and shoe brands began to recognize that if cushy foam is a good thing, then more of a good thing could be better.
And generally speaking, that's entirely true. It's both the thickness of the midsole and the dual-density composition of premium materials that are extremely effective at absorbing shock and returning energy that makes the design of the SuperBlast so effective. And it's not only surprisingly light, it's extremely light for its mass. For comparison, its spec weights are lighter than the ASICS NovaBlast 3 and ASICS GEL-Kayano 29. 
Putting The ASICS SuperBlast to the Test
I, Brian, ran about 45 miles in it over six days and found it best for long runs and recovery runs at slower to moderate-paced efforts. The best attribute to the super-cushy SuperBlast is that it provides a soft, stable and very consistent ride, not to mention being surprisingly stable. There are certainly tradeoffs with such a thick design, most notably that there's much less ability to have a proprioceptive feel for the ground. But that's less of an issue running at moderate paces or running for longer durations of time. 
Melanie, Brand Director here at Women's Running has had two weeks testing the shoe in a heavy training cycle and had this to report. 
"As a runner who leans to cushioned shoes for long training runs, the SuperBlast immediately buzzed my attention radar with the cushion quotient. It might be illegally stacked for the racing elite, but I am only racing myself on long weekend training runs. Bring on the stack police and arrest me on the local trail. If I can walk with spring in my step on a Monday morning following a Sunday long run, then I give credit to the shoes over my inability to stretch for a time that correlates with the number of years I've been running. 
Having run in most other maximally cushioned shoes, the SuperBlast has boldly joined my ranks of firm favorites."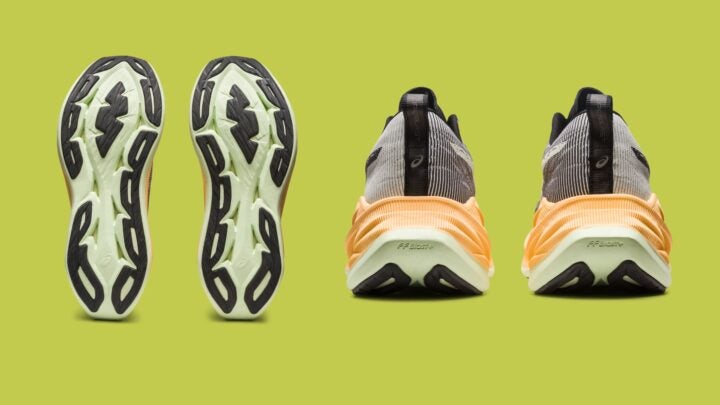 Pros and Cons
Pros
The SuperBlast serves up a significant trampoline effect in every stride, especially when running with a heel-striking gait. It's not hyper-bouncy like some modern marathon racing shoes, but more of a consistent flowy shock-absorbing sensation that transitions nicely into a modest boost of forward propulsion. 

Although there's no plate embedded in the midsole, the SuperBlast has a semi-firm design created, in part, by a textile Stroebl board just below the soft, medium-thick sockliner. That relatively inflexible vibe seems to help keep the shoe from being too soft and mushy and adds a bit of liveliness that I appreciate in the latter miles of long runs.

The asymmetric woven design of the upper, combined with the soft, thin semi-gusseted tongue, really locks down a runner's foot to the chassis of the shoe. It's soft, pliable and a little bit stretchy, not to mention very breathable.
Cons
Unlike the thickly cushioned ASICS MetaSpeed Sky+ and MetasSpeed Edge+ racing models (that also feature FF Blast Turbo foam), the SuperBlast shoe lacks agility necessary for quick-cadence running and up-tempo running. Those shoes are more than 1.5 ounces lighter and have a much narrower profile.

The Superblast is a light shoe and extremely light for its size, but the sizable mass seems to provide a challenge to quick stride turnover. No doubt it's a lot of shoe and sometimes the bigger things are, even though still relatively light—think cell phones, digital cameras kitchen knives, a chunky bar of bath soap—they can become slightly more cumbersome, even if effective in different ways.
Bottom Line
The ASICS SuperBlast tells a very compelling story about modern running shoe design and seems to offer an indication that max-cushioned train shoes are about to get even bigger. As an everyday training shoe, I found it to be refreshing, resilient and sometimes relaxing, depending on my pace, mood and level of general fatigue. 
My biggest reaction after running in this shoe is that lighter and bouncier isn't always better. I have run in a lot of other maximally cushioned shoes that are slightly lower, lighter and bouncier than the SuperBlast, but what I appreciated most about the mass of this shoe is that it seemed to sufficiently meet the demands of my modestly fit physique. I'm not a super lean, featherweight runner, but instead a very average, 5-foot-11, 170-pound dude who runs five or six days a week. I was left with the impression that the thickness and composition of the midsole would be ideal for other committed runners who might not be as svelte as the fitter and faster runners but still log 30 to 50 miles every week.
Is it the shoe for you? It certainly might be, especially if you like copious amounts of cushioning underfoot during long runs. It isn't a shoe I'd choose to run tempo-pace or faster, but I had fun ramping up my pace during long runs, bombing dowhills and going up for easy recovery runs. One of my biggest scratch tests for new running shoes I wear-test is whether or not I'd continue to wear a shoe after the initial test period. Yes, absolutely I'll wear the SuperBlast again, especially on long runs for my next marathon training block.