One Piece Of Protective Gear Many Runners Forget About
Find out which piece of essential protection gear many runners—and people—neglect to consider.
Heading out the door? Read this article on the new Outside+ app available now on iOS devices for members! Download the app.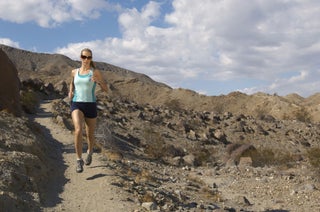 Getting ready for a run often involves setting out your clothes, shoes, gels, water bottle and headphones the night before. But according to The Vision Council, one in four adults may be forgetting an important piece of gear when they step outside: sunglasses. When it comes to the sun, we often think about protecting our skin from UV rays with sunscreen and hats, but the eyes need that same protection.
Eyes are most susceptible to UV ray exposure from 8 a.m. to 10 a.m. and 2 p.m. to 4 p.m., both peak times for runners to be out on the roads and trails. This exposure comes from the angle of the sun and how the UV rays reflect off of surfaces. The Vision Council reports that sand and asphalt can reflect up to 25 percent of the UV rays.
Dr. Dora Adamopoulos, medical advisor to The Vision Council, says it is never too early to start protecting your eyes.
"There is no specific age to start thinking about this—it really is a cumulative effect," she explains. "Just like you don't want to start wearing sunscreen when there is a skin tag or signs of a condition, you don't want to only start wearing sunglasses when it is too late." Because sunglass use is the lowest among millennials, it is important to encourage teenagers and college athletes to wear sunglasses when running.
Related: 6 Trendy Shades For The Summer
Dr. Adamopoulos says that some of her patients complain that sunglasses add a certain tint or color to their background, so she suggests looking for curved lenses that block out the rays and things that may pop up into your eyes from the roads, all without changing the landscape.
The most important part of sunglasses? "The label should read UVA and UVB as they both protect different parts of the eye." The Vision Council also says to buy from a reputable retailer so that your sunglasses meet frame and lens safety criteria set by industry standards.
Just because the sun isn't out doesn't mean that sunglasses and a hat are not a necessity as well. The rain reflects 100 percent of UV rays off the ground, so it is especially important to protect your eyes in any type of weather.
Related: Sun Protection 101 For The Runner
Though UV rays aren't all harmful—as ultraviolet light helps create Vitamin D which strengthens our bones—the suntan, sunburn and freckling that can lead to skin cancer and cancer or cataracts in the eyes, is what runners should be concerned about, just as you would a pulled muscle or getting the right nutrition.