The Best Sunscreens to Wear During Sweaty Summer Runs in 2022
Now is the time to stock up on editor-tested sunscreens to keep your skin protected on summer runs.
Heading out the door? Read this article on the new Outside+ app available now on iOS devices for members! Download the app.
If it's not your mother's voice in the back of your head when you step out into the sun telling you to put on sunscreen, let it be ours, or the Olympic medalist, Deena Kastor's. "I think it's important to take these measures: Having a great sunscreen, wearing a hat when you're out there to protect your face, and also being very thoughtful about the clothing you're wearing," she says. 
Sunscreen is a way to help prevent skin cancer, something Kastor is—unfortunately—well-versed in. She has had melanoma three times and non-melanoma skin cancer countless others. Because of her diligence, all have been caught in the early stages. 
It is especially important for runners to use precautions for the hours of training and racing spent in the sun. 
When Do Sunscreens Expire?
Sunscreen does expire and there are some key indicators to knowing when. Firstly, many sunscreens have expiry dates stamped on the tube, albeit not the easiest to find at first glance. This takes most of the doubt out of the equation when you've stashed a near-full tube over winter and wondering if you can still use it the following summer.
However, what if you are almost at expiry date? A few tips to consider for mineral (zinc) based and chemical (oxybenzone etc.) based sunscreens are as follows:
Mineral based sunscreen: If the ingredients have separated then it's time to move on to a new tube. The goal of any sunscreen is even coverage and if the ingredients are not consistent, you're not going to achieve that goal.
Chemical-based sunscreen: Ingredients such as oxybezone oxidize and reduces their efficacy. If it changes color and/or smells abnormal, then it's time to retire the bottle and move on to a new one.
Sage advice from the sun care pros at Zealios, is to commit to storing sunscreen in a cool place to prolong its lifespan. While that might seem like an oxymoron in the heat of summer, if you can avoid baking the bottle in your car, your skin will thank you.
Sweat-Tested Sun Care for Runners
While we might be mindful of wearing sunscreen while we're out training and racing, sunscreen is not limited to only when we're running–or even just for summer. It's for every day use. With that in mind, we have recommended the sunscreens below that reach the high demands of our sweatiest moments, but also selected some that are lighter and therefore perfect for everyday use outside of the sweat zone.  After all, prevention is the best cure when it comes to skin health.
RELATED: 360 YOU: The Secret to Summer Running
For ease of decision making, we've noted which are mineral-based and which are chemical-based and the percentage of each.
The Best Facial Sunscreens For Runners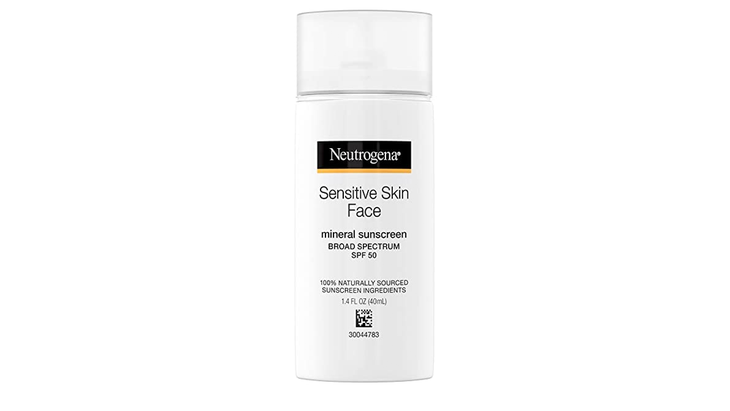 Neutrogena Sensitive Skin Face Liquid Sunscreen SPF 50 |$15.49
A super-light, easy to apply formula for quick and full face coverage. It's easier to apply than a stick formula and absorbs to a shine-free finish, which can be rare for zinc-based sunscreen. We love this for every day or a heavy application for running, racing, and water sports.
Mineral-based sunscreen
Active Ingredient: Titanium Dioxide 4.9%, Zinc Oxide 2.9%
Size: 1.4 fl oz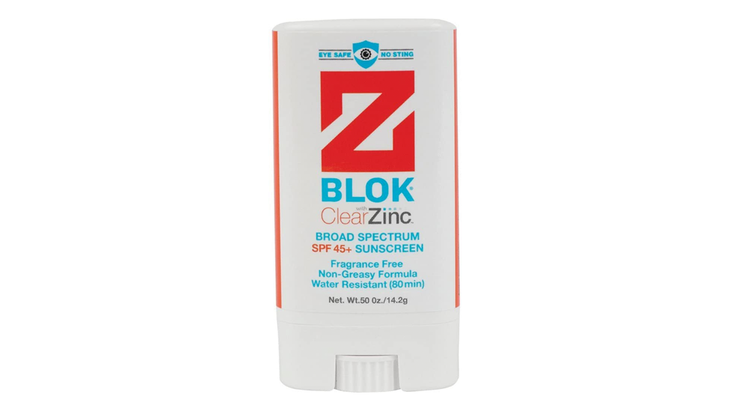 Z Blok Clear Zinc Facial Stick | $12.95
A solid stick for a solid, non-greasy facial coverage for training and racing. The formula will not burn eyes and is sweat-resistant, critical for hot, summer running. We loved the solid formula and relatively clear application for a zinc-based product.
Mineral-based sunscreen
Active ingredient: Zinc oxide 4.7%, titanium oxide 6%
Size: .50 oz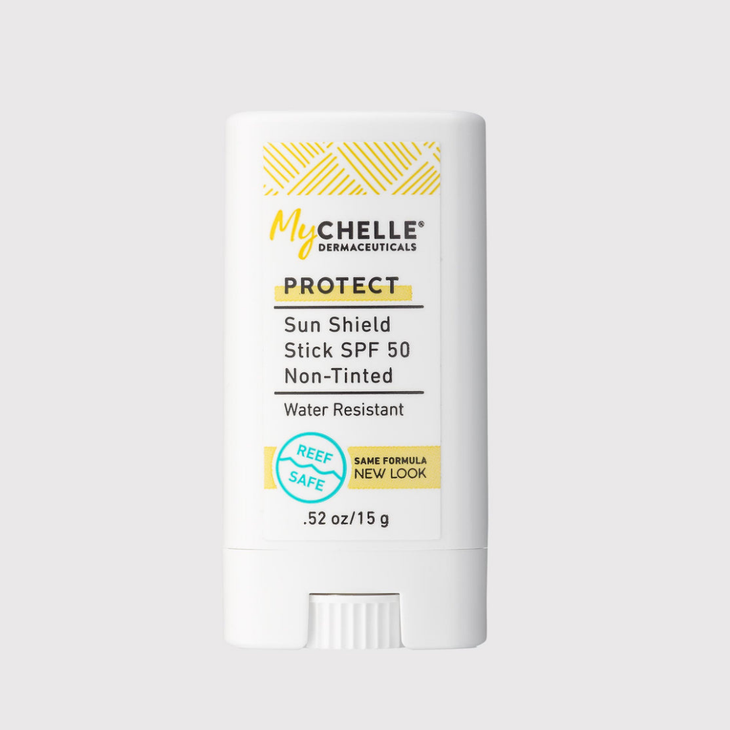 Mychelle Protect Sun Shield Stick SPF 50 | $14.99
A sunscreen stick is always a solid choice for runners. The Mychelle Sun Shield Stick is 17 percent zinc oxide offering mineral based defense for the longest of training runs or racing. Added to the protection are avocado, jojoba, and vitamin E oils to help keep the skin moisturized.  The Sun Shield Stick also comes in a lightly tinted formula and both are stamped Reef Safe for ocean adventures.
Mineral-based sunscreen
Active Ingredient: Zinc Oxide 17%
Size: .52 oz
---
Best Sunscreens for Full Body Coverage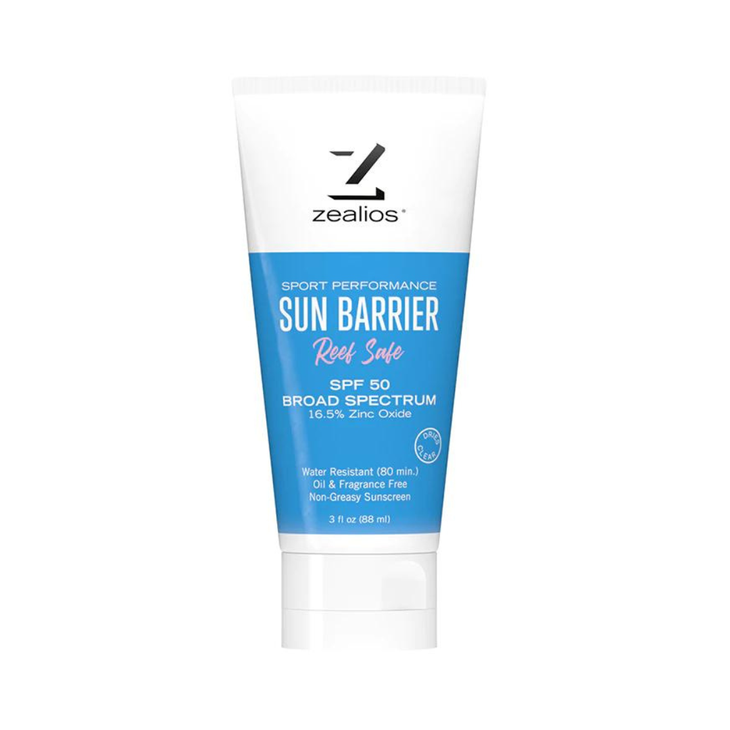 Zealios Reef-Safe Sun Barrier SPF 50 | $15
A reviewer favorite for full protection when logging miles. This cream features zinc oxide at 16.5 percent that dries completely clear with no chalky residue. For those who also like to take a dip, it has the FDA's highest water-resistance rating at 80 minutes and a lot of sweat equity time for your longest runs.
Mineral-based sunscreen
Active Ingredients:
Size: 3 fl oz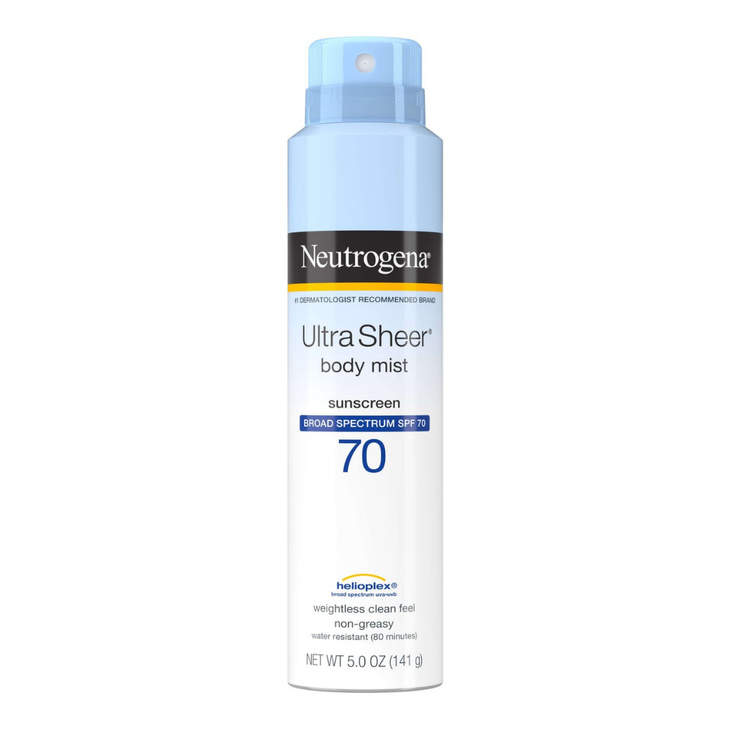 Neutrogena Ultra Sheer Body Mist SPF 70 | $32.50 (pack of 2)
Winning the 'best coverage in the least amount of time' award, the Ultra Sheer Body Mist from Neutrogena is on point. It delivers what it needs quickly, then only needs a quick rub and you're done. The spray also eases application to the back and shoulder blades without having to resort to contortion. It's non-greasy and oil free. Given the intensity of the spray, it's recommended to apply this outdoors in a ventilated area, but that is a small price to pay for one of our favorites for full-body coverage.
Chemical-based sunscreen
Active ingredients: Avobenzone 3%, Homosalate 15%, Octisalate 5%, Octocrylene 4%
Size: 5 oz
RELATED: Splits: When Running Towns Go Up in Smoke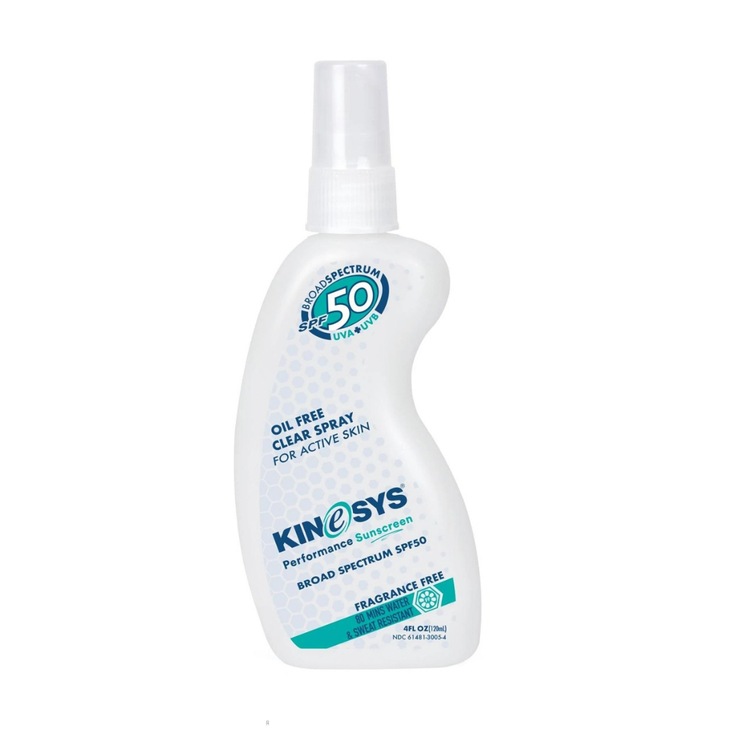 Kinesys Fragrance Free Spray Sunscreen SPF 50 | $24.99
This is a non-zinc based spray sunscreen that is fast to apply in a pump spray form. It's oil- and fragrance-free making it a good option for those with sensitive skin. Since it is chemical-based, it dries quickly, so a great choice for those short on time who need to sunscreen up and get on the run.
Chemical-based sunscreen
Active ingredients: Avobenzone 3.00%, Homosalate 7.50%, Octinoxate 7.50%, Octisalate 5.00%, Octocrylene 10.00%
Size: 4 oz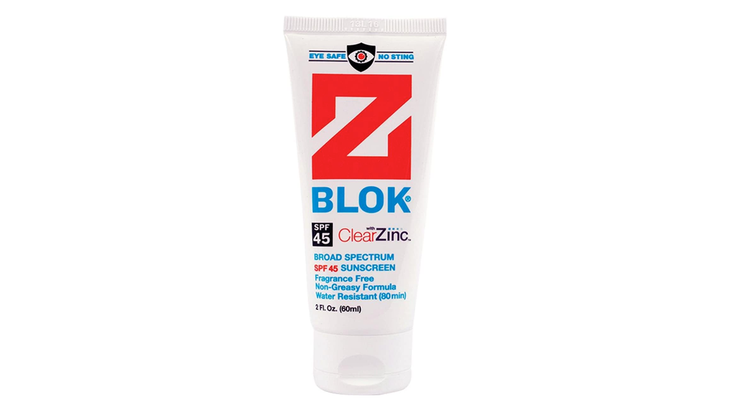 Z Blok Sunscreen with Clear Zinc SPF 45 | $16.00
Z Block lotion is quick and easy to apply offering solid protection in a mineral form. The lotion formula offers broad spectrum coverage with 10 percent zinc oxide coverage.
Mineral-based sunscreen
Active ingredient: Zinc Oxide 10%
Size: 4 oz
---
Best Sunscreen for Lips and Hair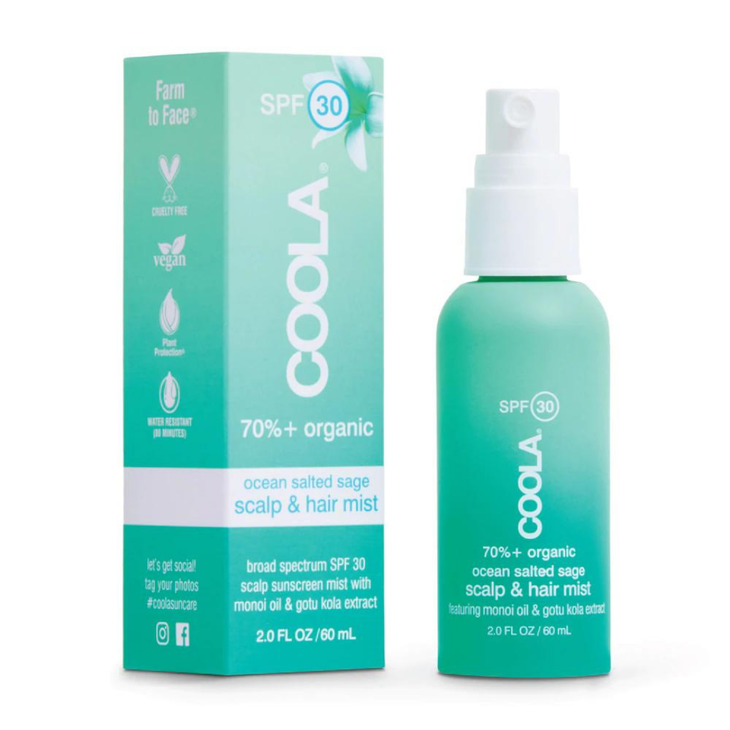 Coola 30SPF Scalp & Hair Mist | $26
Burned scalps are no fun, but neither is trying to put greasy sunscreen into your part. This hair mist is designed specifically to protect any part of your scalp that's visible and is fortified with Monoi oil that nourishes hair without making it greasy.
Chemical based
Active ingredients: Avobenzone: 2.5%, Homosalate: 6.0%, Octisalate: 5.0%, Octocrylene: 7.0%
Size: 2 oz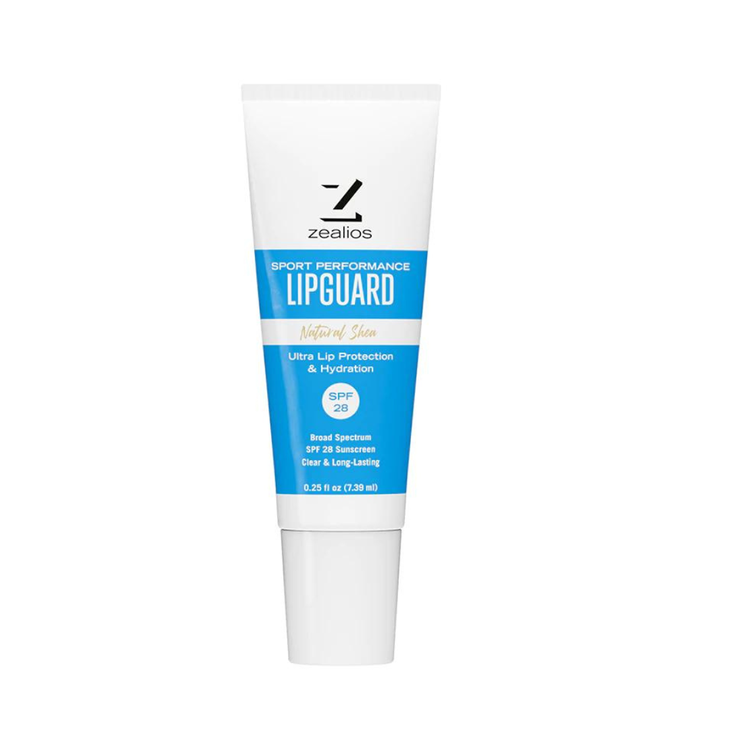 Zealios Lip Barrier SPF 28 | $7
Usually lip balm with sunscreen hovers around a SPF of 15. Zealios adds some more to that number, coming in a SPF 28. For a daily, long lasting lip coverage, this one hits the mark with sunscreen plus shea butter, coconut, and jojoba oils for moisture as well as protection.
Chemical-based sunscreen
Active Ingredients: Octyl Salicylate: 5%, Avobenzone 3%
Size: 0.25 fl oz
---
Best Every Day Sunscreens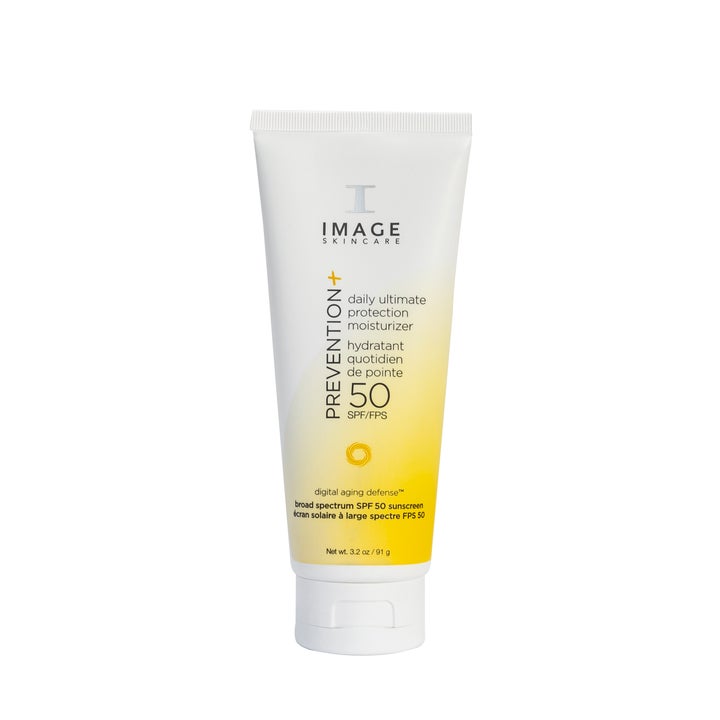 Image Prevention+ Daily Hydrating Sunscreen Moisturizer | $50
This lotion is oh so moisturizing. It's great for the body or face and also has blue light digital defense—perfect for runners who are bound to a computer for a good portion of their day. It's light citrus smell is pleasing to the nose and does not have the classic sunscreen smell or feel. At 17.1 percent zinc oxide, this is one of the top percentages we tested. So while light enough for everyday, you are also guaranteed a good barrier defense.
Mineral-based sunscreen
Active Ingredient: Zinc Oxide 17.1%
Size: 3.2 oz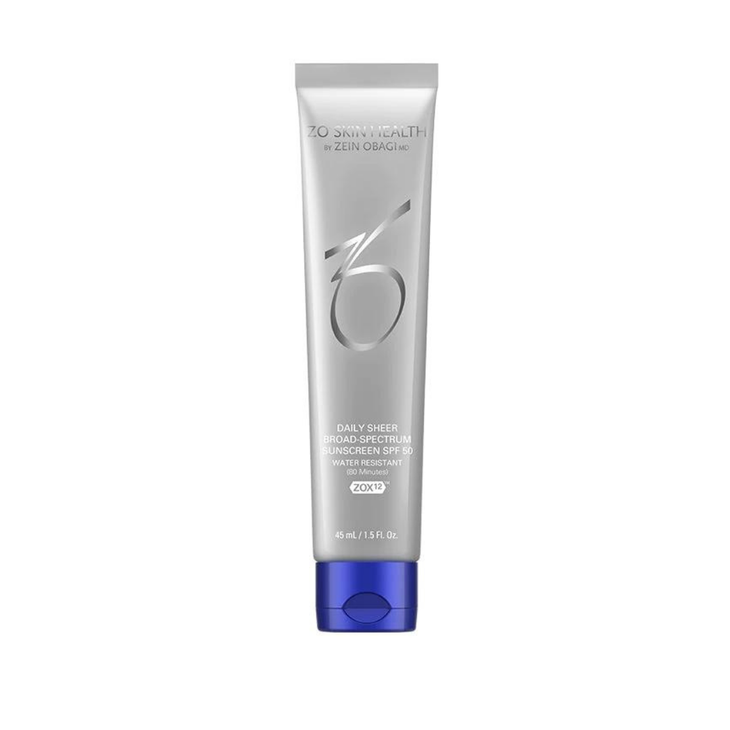 ZO® Daily Sheer Sunscreen SPF 50 | $70
This dermatologist-crafted sunscreen may be on the pricey side, but it delivers by offering UV and blue light protection. It also provides a good amount of moisture to the skin, all while staying put even on a sweaty summer run.
Chemical-based sunscreen
Active Ingredients: Avobenzone 3%, Homosalate 10%, Octinoxate 5%, Octisalate 5%, Octocrylene 3%
Size: 1.5 fl oz