What In The World Is The Cinch Tummy Wrap?
Heading out the door? Read this article on the new Outside+ app available now on iOS devices for members! Download the app.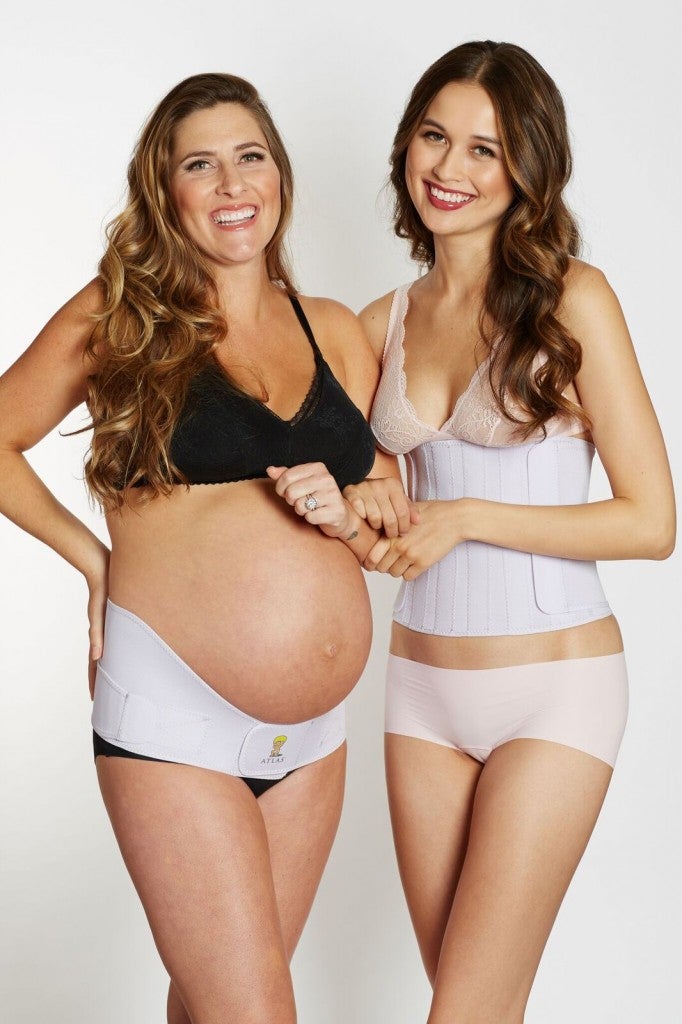 For many women, running is a major source of confidence. It makes you feel strong, capable, and proud of what your body can do. The same goes for motherhood—bringing a baby into the world can make you feel like an absolute warrior. But the weeks after giving birth can leave you feeling vulnerable, not only emotionally but also physically as you adjust to your new body. While a healthy diet and slow transition back into your workouts is the best way to get your strength and confidence back, a product called the Cinch Tummy Wrap can help give you an extra edge to regain your pre-pregnancy body and running form. Charlene Williams, the creator and founder of the Cinch Tummy Wrap, spoke with Women's Running about her product, the science behind postpartum recovery, and the body-positive results the Wrap can deliver.
Women's Running: Who is the Cinch Tummy Wrap intended for?
Charlene Williams: The Cinch Tummy Wrap can help new moms after giving birth, whether they have had a C-section or natural birth. It is intended for any mom who wants to get a head start on recovering from pregnancy, before they can even start working out. This is especially positive for runners and active women who would like to be proactive about losing their baby weight and getting back to their pre-pregnancy size as soon as possible. For runners specifically, the Cinch Tummy Wrap supports the core/abdomen as women are recovering from pregnancy, which can help encourage proper running form as they return to their workouts.
WR: Tell us about how the product works—when should you start and stop using it, how often do you wear it, and how does it work once it's on?
CW: For best results, Cinch Tummy Wrap should be worn all day and evening with breaks in between during the first 4-8 weeks after natural and C-section delivery. After 3 months, women can taper down to 6-8 hours a day. The Cinch should be removed when bathing/showering.
To get a perfect fit, lay the product on a flat surface and open the front panel. Moms can set their current size by adjusting the left and right Velcro panels. Then, they will zip up the cinch on the right side around the narrowest part of their waist. Center the Cinch and feel free to adjust it to the lower tummy or belly button, depending on the target area. Then, use both hands to hold and stretch the elastic wings and fasten to the back. The Cinch can also be lowered to a mom's lower abdomen and hip area to use as a hip shaper while sleeping. As a woman starts to slim down, she can readjust the Cinch by following these steps to continually get a perfect fit. A step-by-step guide is included with all purchases, and the Cinch Tummy Wrap does not roll up when fitted properly. A cold/warm compress is also available and can be used to help relieve cramps.
WR: What benefits does the Cinch deliver specifically for runners?
CW: As a runner, better posture during running, especially as it relates to your core, can result in better form and maximize running economy. Cinch Tummy Wrap can help runners to have better posture while they run. It gives them the support they need to have stamina. The Cinch will also help them sweat it out in their abdominal area, shrinking those unwanted fat cells and reduce air and fluid space, to help new moms get back to their pre-pregnancy shape (and pre-pregnancy running form).
As with running, mind over matter is the key, and seeing results can be a huge motivator. The Cinch Tummy Wrap helps with posture/support, and it features a measuring device, allowing her to see her progress as her waistline slims down. This, in turn, propels and motivates her to look forward to her workouts.
WR: How do the results from using the Cinch differ from regular workouts and ab exercises?
CW: What most new moms don't know is that the 8-10 weeks following childbirth are absolutely critical in their ability to effectively recover as pregnancy hormones, namely Relaxin, are still present during this time. Relaxin is the hormone that allows hips and skin to stretch during pregnancy in preparation for childbirth. Post-delivery, Relaxin can be utilized to encourage hips and skin to retract to their pre-pregnancy size and shape.
However, by the time women start exercising again after having a baby, let alone running or doing abdominal-specific workouts, the time to utilize this has shrunk drastically, which is where the Cinch Tummy Wrap comes in. The Cinch Tummy Wrap can be used as soon as 4 weeks postpartum, to take full advantage of the natural hormones available before returning to an exercise regimen. Add that to the benefits of compression, and Cinch can help kick start a woman's full recovery, allowing her to potentially recover from pregnancy more efficiently. It is also utilized as an adjunct to enhance how a new mom feels, in addition to helping support her posture during runs and ab exercises, once she resumes her workout routine.
Additionally, according to WebMD, nearly two thirds of pregnant women have diastasis recti, or a gap in the abdominal muscles, after pregnancy. The result is often what is known as the "mommy pooch," which many women try to correct with abdominal exercises. Not only can these exercises actually exacerbate the problem, but as an article from Greatist highlights, spot toning mainly results in making specific muscle groups stronger (rather than more defined). Plus, it is traditionally not recommended to exercise until after the 6 week postpartum mark, leaving little time to utilize the hormones that can help a woman's recovery. By helping the muscles and skin regain their tone naturally, Cinch can help alleviate diastasis recti, helping women regain their pre-pregnancy shape.
WR: What kind of results can women expect?
CW: Women can expect Cinch to help encourage posture and support. New moms who just had their baby within 3 months will see their waistline shrink one to two inches every month until they are able to get back to their pre-pregnancy jeans. Afterwards, Cinch Tummy Wrap will act as an enhancer and toner for their abdominal region. Cinch is a proactive wrap that is breathable, which is great for mother runners who are sweating it out during their workouts. Studies have shown that heat can also shrink fat cells.
The post-pregnancy tummy is also filled with air and fluid, and it is very malleable. Cinch Tummy Wrap is the only scientifically proven wrap that contains 360 degrees of even compression that does not lose its shape. The beauty here is this will evenly compress the abdomen region gradually/in a controlled manner, allowing a natural shrinkage of the abdominal region. Again, this can be aided by those hormones that are still present before women can start exercising. Muscles and skin will regain their tone in a natural and consistent manner to achieve a successful result that is unlikely to relapse.