This Hands-Free Leash was a Game Changer for Running with My Dogs
Holding two leashes while running is just too much of an arm workout.
Heading out the door? Read this article on the new Outside+ app available now on iOS devices for members! Download the app.
Let me tell you about what it's like running with my two dogs. They're pretty well-behaved, but surely not angels. Being Australian Shepherds they have a lot of energy and love to run—a near perfect match for me. 
But they're also competitive, constantly switching sides between one another to be closer to me or the good sniffs as we start to transition from warm-up to workout. One also tends to keep a faster pace than the other. And that boils down to a set of criss-crossed leashes that I have to stop and detangle every five minutes or so. 
I carry the leashes in my hand while I run; I've always been slightly afraid of those waist belt leash systems for running with either of my two dogs, even though I see people running with them all the time. I trust my dogs, but even among the well-trained, one can't rule out that at the end of the day, they're still animals. It would take just one exceptionally fascinating squirrel to lure my dog in an opposite direction and take me down. But maybe I just don't have faith in my core strength.
Dog trainer Kathy Santo shared my sentiment: "It's an option for a well-trained or well-behaved dog, but my concern is that the dog will pull or lunge and catch their owner off guard," she says.
RELATED: 5 Tips to Make Your Dog a Great Running Companion
According to Retrievist, a website run by the American Kennel Club, "hands-free leashes are safe in general, but if you have an exceptionally strong dog that pulls on the leash, you could get pulled over and hurt yourself." They go on to recommend leashes with a bungee component to them to help with shock absorption while running. But really, "hands-free leashes are best used with dogs that are properly leash trained already."
So, I've always opted for running leash in hand, which is quite the forearm workout but also makes me feel more in control if something unexpected were to happen. 
But a good hands-free leash can make running with your dog so much easier. They also make dog walking a more accessible activity for parents with strollers or people with injuries or disabilities that make holding a leash a challenge or not possible.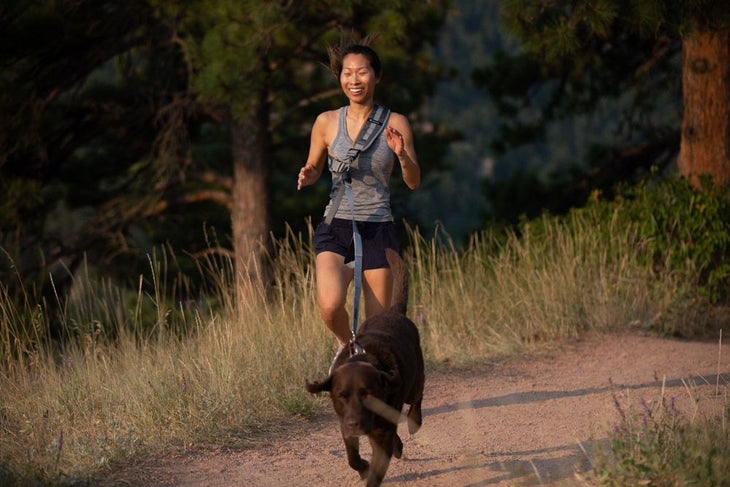 I recently tried a product from a relatively new start-up called LifeHandle that really worked for hitting the pavement with my pups. Its Hands-Free Comfort Leash is a system where the leash secures to a cross-body sling, designed to evenly distribute the force of the dog.
I love it if I want to take my dogs out one at a time and be truly hands-free and care-free on the run. It's also a game changer just hooking one dog to it and holding the other the old-fashioned way. It gives me more control to keep the two separated. And I can let the faster dog go out front with a longer leash while keeping the slower dog behind with me. 
The cross-body strap is cushiony, albeit a bit warm (but when you're already sweating, what difference does it make?). And the leash itself has two handles at various lengths if you need to keep your dog closer while crossing a street or in a crowded area. 
Santo recommends all dogs go through basic obedience training before you begin running with them. While the dog is in training, choose a shorter leash that won't allow the dog to get distance or momentum to be yanked from your hand. 
If you're running with multiple dogs like me, Santo also gave this training advice: "Multiple dogs should be taught to run with you individually and then bring them together for short 'test' runs in order for you to decide the best way to handle the group."