Empowering Women Through Stylish Activewear
Strongbody is launching a women's activewear line, and the message behind the brand goes beyond their leggings' breathable fabric.
Heading out the door? Read this article on the new Outside+ app available now on iOS devices for members! Download the app.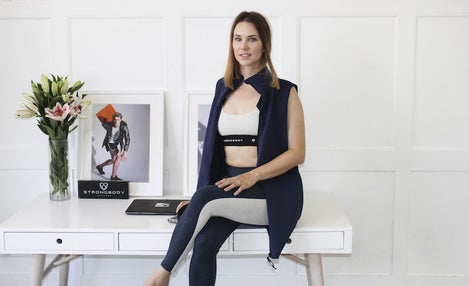 Strongbody Apparel's New Women's Line
Meghan Conyers launched a Kickstarter campaign for Strongbody Apparel, a men's activewear line, in 2014, and four years later she is starting a women's line so she can finally wear her own creations. "I want to wear my own brand," says Conyers, 31. "It's my style. I'm always wearing activewear, and I want to be able to represent myself."
Conyers started Strongbody in Vancouver, B.C., solely as a men's line. She noticed that all of the big name brands she is now competing with didn't produce the sleek style she imagined people could be wearing—especially for men, whose options were even more limited than women's. The men's designs she created were vastly different than what she had seen on the market, and after prototyping for a couple of years, she successfully launched Strongbody in 2014.
"It had really good feedback," Conyers says. "Guys were like, 'Oh my god, I've never seen anything like this before.' We use eco-friendly technology. It had a good story. It was a really solid product, even from the beginning. Our best-selling tee and shorts are still the first ones that I prototyped in 2012."
After the success of the men's line, Conyers is ready to launch one for women this November. "I really want it to be for women—strong women—living their dreams, doing what they want to do," Conyers says. "There's nothing out there for that woman right now."
She's designed the women's activewear with the same idea behind it as the men's: clothes you can (and should) wear to the gym but can also look great tailored and clean. Before the line's official launch date, Strongbody is giving away 1,000 free pairs of leggings to enable women to try the product before it goes on sale. Interested customers can sign up to receive a pair on the Strongbody website; but since the company expects numbers to far surpass the 1,000 pairs they're giving away, the remaining women on the list will receive discounts on the clothes, so they too can try the product at a reduced rate. Conyers is confident that women will enjoy testing the product and wants to give every customer the opportunity to talk to each other about Strongbody.
"As women, we are so dynamic," Conyers says. "One day, maybe we're a runner and maybe the next day we do yoga, and the next day we drink a bottle of wine. That's just how we are now, and I think most companies are marketing to women in such a one-directional way that it doesn't resonate with me. I want something that's true to women these days."
The sleek, minimalist look will be fitting for 2018's streetwear trend, but the material is also ideal for running. The leggings are wicking, compressive and breathable, so runners can go straight from a run to work or a lunch without feeling like they're skimping on style.
Strongbody's women's line will be available in their retail stores in Canada by January, but for U.S.-based consumers, it's easiest to buy online starting when the line launches in November—and all shipping will be free.
Conyers is looking to focus on the women's line in the immediate future. She plans to keep bringing sophistication into the active world while keeping the clothes functional. Her goal is to drop a new collection every six weeks after the initial launch.
"My passion is empowering women to be strong, but being strong doesn't necessarily mean lifting a lot of weight or running super far," Conyers says. "It can mean a million different things to different women, and that's something that I really want to express, and I want people to understand. I mean, it's our time, man. It's our time."
Related:
6 Running Brands From The Future
Running Gear Coming At You In 2017 From Outdoor Retailer