Bras for Girls Gears Up to Equip and Empower More Girls Than Ever
Formerly a Oiselle donation program, Bras for Girls is now its own 501(c)(3) and is expanding to get thousands more bras into the hands of girls who need them.
Heading out the door? Read this article on the new Outside+ app available now on iOS devices for members! Download the app.
A lack of sports bras often stops girls from getting involved in sports. Though more research is needed, Sarah Lesko estimates that breast concerns "seem to be an important factor affecting exercise for 25-50 percent of girls."
Lesko is the executive director and board president of Bras for Girls, a donation program that was originally started by athletic apparel company Oiselle in 2017 to address that need. The program distributed new sports bras to girls in need, ages 8 to 18, typically through schools and community centers.
Now, Bras for Girls is its own 501(c)(3) nonprofit organization, which opens doors to more corporate partners and individual donors and will allow Bras for Girls to distribute far more bras than it has been able to in its first five years. It has donated more than 17,000 bras so far, but demand has been outpacing supply.
So far this year alone, Bras for Girls has received more than 15,000 requests for bras. "With the program growing the way it is, Oiselle can't provide all of the bra inventory. They just don't have that capacity as a small company," says Lesko. Before becoming a stand-alone nonprofit, 99.5 percent of the bras came from Oiselle. Title Nine and Brooks also contributed.
RELATED: These Girls Know How to Talk About the Tough Stuff
An Unmet Need
Many girls don't have access to the sports bras they need to run and participate in other sports. "There's almost unlimited need out there is what we're finding," Lesko says.
A 2016 study of schoolgirls in the U.K. found that 46 percent of girls said their breasts had some effect on their participation in sports and exercise, and more than 50 percent said they never wore a sports bra during sports.
The reasons for this lack of access include financial need, and girls and parents not recognizing that the girls need separate bras for sports. Bras for Girls is working to tackle both problems.
Teri Garrett is a PE teacher at Lindburg High School in Renton, Washington, who operates a loaner program filled with sweatpants, athletic shoes, and other gear she buys at Goodwill. But new, high-quality sports bras are hard to come by. When Bras for Girls donated a bunch of bras, "it kind of finished the circle for me of all the things that were preventing them from participating to their fullest ability," she says. Bras for Girls has also donated bras to two middle schools in the same district.
Garrett had seen the lack of sports bras limit girls' participation. "Some of them would not do anything at all. They would just stand there, because they knew that if they jumped up and down, they were going to be out of their underwire bra that they wore to school," she says.
Many people may take sports bras for granted, Garrett says. "When you see these kids who are in need and have never had a sports bra, it's pretty exciting to see their faces" when they get one, she says.
Now, girls know to come to Garrett if they need a sports bra. "And if I notice a girl who is participating in PE and doing that dreaded holding of the chest as you're attempting to run, I'll reach out to them and say, 'Hey, come down my office. Let's see what we can find for you,'" she says.
When Bras for Girls visited the Girls Athletic Leadership School Los Angeles (GALS), a middle school, and gave out bras, "We definitely had some girls coming up the next day saying how excited they were that they actually felt way more comfortable moving," says Carrie Wagner, founder and executive director of the school. "We had another girl that basically said she'd been washing her bra every night because she only had one sports bra. So the fact that she was given another sports bra was a huge, huge thing for her."
Athletics are part of the curriculum at GALS, and everyone starts each morning working out together, with activities like circuits and running. "After we had the bra program, we could see that there was a lot more engagement in the movement activities, because some people just weren't comfortable previously," Wagner says.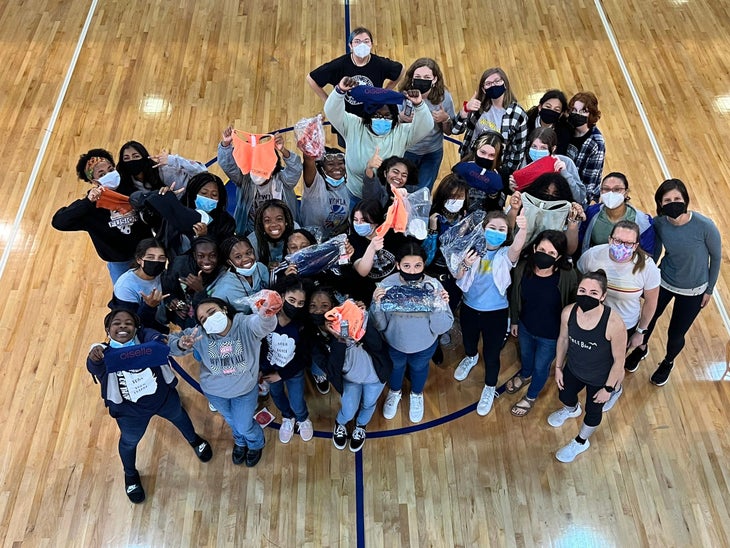 Making Bras for Girls a brand-agnostic nonprofit makes it easier to partner with brands that want to contribute. Since the organization became a 501(c)(3), the board's vice president, Onika Jervis, who is also vice president of advocacy at GirlTrek, facilitated a partnership with Reebok, and the company sent 1,300 bras that are already being distributed, Lesko says.
Patagonia has also contributed, and Bras for Girls is in conversations with many other brands. "We are excited to grow the village of brands helping to support girls," Lesko says.
Many brands are already doing work to support communities, and partnerships like this can tap into their capacity. "There is always past season product that may not have sold through, there may be leftover sizes or styles for whatever reason—brands have this new, quality equipment that is no longer in its prime," says Lesko.
"My hope and dream is that Bras for Girls can really be a known and trusted way to get good-quality gear to girls in need—in a way that everyone can feel really good about," Lesko says.
More Than Bras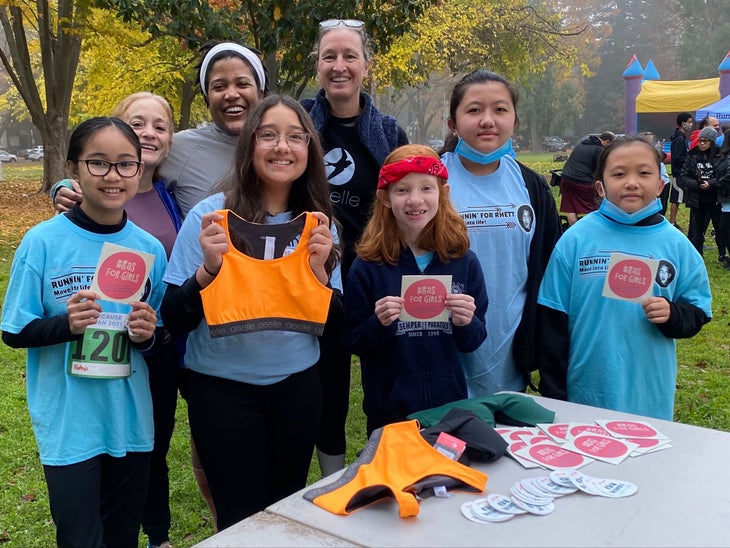 Along with the bras themselves, Bras for Girls distributes educational booklets on breast development that normalize conversations about girls' changing bodies and their needs during athletic activity. Bras for Girls has gotten a lot of positive feedback on them, Lesko says. "It's a way for parents, for coaches, and for the girls to talk about this. And it's safe, because they're words on a page and pictures that they can look at," she says. "I think I didn't even realize the impact that a simple nine-page booklet can have on a girl."
When Bras for Girls visits schools and other programs, they talk about how a bra should fit. At GALS, Wagner says, they taught the girls how to measure themselves and talked about the level of support needed for different activities.
RELATED: How Coaches and Parents Can Keep Girls Running
When the bras were distributed, they got to try them out right away by doing relays, "so they got to see the difference that wearing the bra makes," Wagner says.
At Lindburg High, Bras for Girls fits into Garrett's efforts to educate students about breast health on a regular basis. "We have a little conversation in the locker room," Garrett says. "We talk about breast health and the importance of having a good sports bra, when it comes to PE or if you're in an after-school sport, just making sure that you have really good support . . . and you're not breaking down that breast tissue so young."
The girls typically start giggling. "I try and make everyone feel really comfortable. It's like, 'If you don't take care of your girls now, you're going to be tucking them in your pants when you're my age,'" she says. "I try and make it really light and humorous, because I think everyone's like, 'Oh my gosh, she's talking about breasts. How uncomfortable!'"
Bras for Girls is collaborating with Cornell University's Adolescent Transitions Lab to study the effect of giving girls a sports bra and talking about breast development, including the effect on girls' attitudes and feelings.
Expanding in Women's Health
Bras for Girls has partnered with several like-minded nonprofits. They include Students Run Philly Style, Runnin' for Rhett, and Running for a Better Oakland.
One nonprofit partner is The Kwek Society, which provides period supplies, including pads, tampons, liners, underwear, "moon time" bags filled with supplies, and puberty educational materials to Native American students and communities, mostly through schools.
Both The Kwek Society and Bras for Girls aim to celebrate and empower girls at a time when their bodies are changing. "Our whole message is one of empowerment, dignity, and celebration," says Eva Marie Carney, founder and operator of The Kwek Society.
Like sports bras, period supplies are expensive. "Period poverty" is a widespread problem, and not just among Native Americans, Carney says. And when girls lack supplies, sometimes they miss school.
"The same students that really benefit from having our period supplies, because they may not have what they need at home for a variety of reasons, typically do not have sports bras and have not been fitted for any kind of bra, necessarily," Carney says.
Before partnering with Bras for Girls, Carney says she tried to order sports bras, but they were prohibitively expensive. Now, Bras for Girls has provided around 1,500 bras to girls through The Kwek Society. Carney notes that the program's large range of sizes is especially helpful.
Sports bras afford girls dignity, Carney says. Giving a girl one says to her: "You've reached puberty, more of the world is unfolding to you, and here you are developing. And here is a sports bra that can allow you to continue to live your life to the fullest."