We Asked 5 Women To Test 100+ Sports Bras And Workout Pants
We put more than 100 sports bras and workout bottoms to the sweat test to uncover the best pieces for your body.
Heading out the door? Read this article on the new Outside+ app available now on iOS devices for members! Download the app.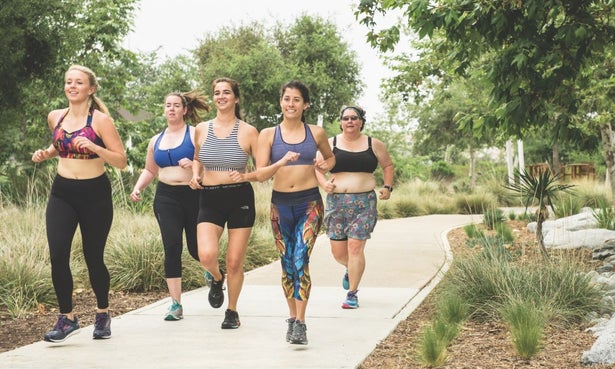 Testing, Testing, 1, 2, 3…
Some say, "If the shoe fits, buy it in every color." We believe: If you find running attire that doesn't chafe, ride up your rear or make you uncomfortable, purchase a lifetime supply! Selecting apparel that supports your ladies up top and everything down below can be difficult, especially when brands don't know your body's specific size and shape. That's why we asked five runners with common clothing issues to give all the gear a whirl. They tested more than 100 products to see what really works when the miles pile on. Here are each of their top three picks for above and below the waist.
Related: How To Find A Sports Bra With The Proper Fit
Emily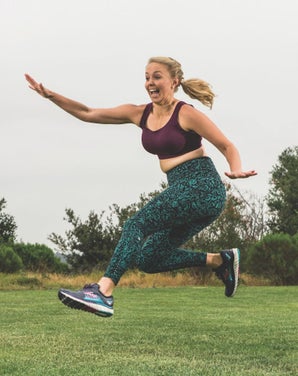 Emily, who has her sights on completing a half marathon in all 50 states, consistently experiences chafing issues with her sports bras and running pants. Finding a supportive bra that doesn't leave her bleeding and sore by the end of a run is challenging. The Under Armour Eclipse Printed High Impact Bra ($60) "passed the bounce test while lifting and separating the goods." As for her Brooks Greenlight Running Capris ($75), the wide waistband made them perfect for her workout and avoided the dreaded sagging issues. No one wants to do the one-hand-keeping-the-pants-pulled-up dance mid-run.
It was love at first touch when Emily felt the fabric of the Lululemon Fast and Free 7/8 Tight ($128). She calls them her "freedom pants" and went on to say they were the "most comfortable pants I've ever worn." Along with multiple pockets on the sides and in the rear, these leggings feature an adjustable elastic string in the waistband that was the "cherry on top." Another Lulu favorite, the Enlite Sports Bra ($98), rested high enough on her chest to avoid any "spillage." As she says, it was "absolute boob happiness!"
Emily found the Graced by Grit Everything Leggings ($76) simple and comfortable—perfect for every day or working out. They did pass the see-through test and didn't show any underwear garments when bending over—a definite must! Up top, the Brooks Juno Bra ($65) provided enough padding to avoid any unwanted nipple appearances. Velcro straps gave this bra a one-of-a-kind fit and were easy to adjust, felt great on and eliminated any additional bouncing.
Glori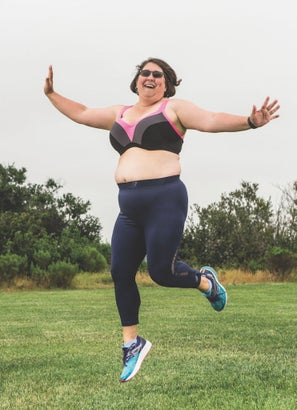 New to running, Glori is working toward her first 5K. Finding a bra that has enough support and doesn't create shoulder or back pain is her biggest apparel challenge. On the bottom, she usually goes for longer, tighter pants. Despite testing gear of all prices, she gravitated toward two C9 Champion steals. The Seamless Racerback Sports Bra ($17) is now her go-to for low-key activities—she liked the bright colors not usually found in large bra sizes. Glori also raved about the comfortable waistband and flattering look of the Embrace Run Capri ($35).
Not only was the fabric super comfortable, but Glori loved the waistband of the New Balance Seamless Breathe Capri ($90) and didn't have any issues with bunching or fit. The Torrid Underwire Sports Bra ($55) has adjustable straps that you can wear either straight over the shoulder or crossed into a racerback for additional support. Although padded, which caused a bit more push-up factor than Glori normally gravitates toward, it didn't create any shoulder or back pain during exercise. She says this bra provides medium support, but it's perfect for days when you just want something that looks good.
Having never worn a skirt to run in before, Glori was skeptical to give the Sparkle Skirt SwingStyle ($70) a try—but it ended up being one of her favorite bottoms. Noting it was "perfect for her body type," she loved that the shorts underneath were long enough to cover her thighs and prevent chafing. Up top, Glori liked the New Balance Shockingly Unshocking Bra ($50) for its superior support and adjustable straps. The standout factor? The bra was supportive without any padding—flattering on a larger bust. This bra made Glori's favorite list for its perfect fit and major comfort points.
Caitlin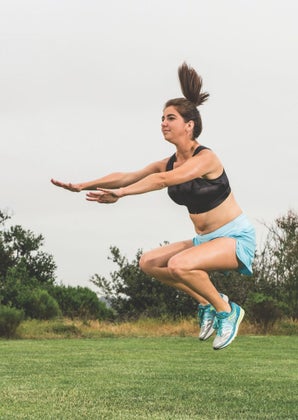 Caitlin, a recreational runner, can't remember the last bra she's found that fit both her small torso and large bust (usually size 32G). She finds tighter shorts create an issue as they ride up and don't provide enough coverage. She was extremely surprised by the support and comfort of the Shefit Ultimate Sports Bra ($62). The Old Navy Go-Dry Mid-Rise Lattice-Hem Compression Crops ($30) were no different; the comfort was unparalleled without causing any "rear itching"—you're not going to read that critical info in the official product description!
Loving the color and style, Caitlin was surprised how light the Nike Flex Shorts ($45) felt while running. The thick waistband helped prevent them from riding up and covered her entire lower abdomen so she didn't feel too exposed. Slits in the sides of the shorts helped her legs move freely and the built-in underwear fit her bottom to at T. The Enell Sport ($64) may look a bit "old-school," but the support was solid and "held the girls in place." The clasps in the front took some getting used to, but once she got the hang of it, Caitlin loved how secure they made her feel.
A little skeptical about a tight-fitting pair, Caitlin ended up loving The North Face Flight Series Warp Shorts ($70) for the soft, breathable material. They "hugged my legs perfectly" and proved ideal for sprints at the track or a quick jog around the neighborhood. On a scale of one to five, Caitlin rated the Athleta High Moon Bra ($54) a 10! From style to support, this bra took the cake for the overall package. It's great for those with a smaller rib cage but larger bust; size medium worked for Caitlin's G cup. Added plus: The higher neck line helps prevent overflow.
Maria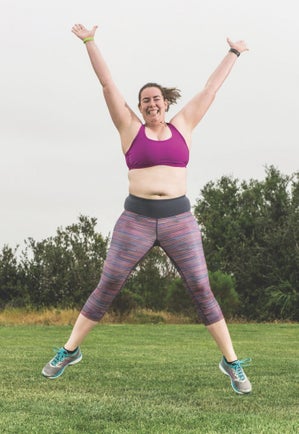 Maria is currently training for a half-Ironman triathlon, which means a lot of pavement pounding. Normally a 38D, support is her biggest issue up top—and prior to this testing, she had yet to find a pair of running bottoms (ever!) that knocked off her running socks. The adjustable straps and back clasps in the Old Navy Go-Dry Racerback High Support Sports Bra ($33) make this a top choice—but she likes it better for a low-impact gym session than a 13-mile run. Normally capris are her go-to, but she was surprised by the Merrell Asher Shorts ($60). They felt comfortable and didn't ride up or chafe while out for a run. Win!
Maria loved the Sugoi Women's Fusion Capri ($70) for its eye-catching print and soft fabric. Not once did she have to pull the bottoms up during a run or experience any chafing issues. The waistband was so secure that no drawstring was needed. Initially concerned that the bra might not be as supportive as she needs, Maria was surprised by the locked-in fit of the Graced by Grit Gritty Titty Bra ($52). The mesh fabric lining was a pleasant surprise and the racerback straps were comfortable without ever digging into her skin.
Maria recommended the Columbia Trail Flash Capri ($60) for its comfortable fabric and stay-put style. Overall, this was a great capri for both long-distance and errand running. Never having tried a bra that zipped in the front, Maria was curious to see how the Columbia Women's Zip Front Bra ($34) compared to her typical style. The zip made this easy to take off and on. Another plus was the mobility she felt during exercise, and the straps didn't cause any pain.
Madora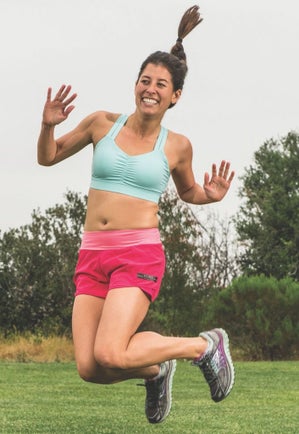 Madora, an avid runner, has difficulties finding a comfortable bra for her smaller chest—she's not a fan of the padding many brands insert into A-cup styles. She enjoyed wearing the InknBurn Purple Azalea Sports Bra ($65) for its support without extra cushion. She likes this style best for shorter runs when she prioritizes comfort over support. Another shorter-distance favorite, the SmartWool Women's PhD Short ($60), features a cozy merino wool lining that helps regulate body temp.
At first glance, these shorts looked like they would be a little too big and baggy on her small frame, but Madora was pleasantly surprised by how easy it was to move in the Gore Air Lady Shorts ($60). She voted these top in their class for long-distance runs and noted another great feature: zero awkward sweat stains after! Up top, the Handful Y Back Bra ($54–56) is recommended for smaller chests for its support with removable padding. The ruching in the center helped give more shape to the fabric in the chest area. Although she describes the look as "not the sexiest," its performance guarantees a good sweat sesh.
Madora enjoyed not only the fun print of InknBurn Painted Feather Capris ($85) but also the not-too-tight, just-right fit. The waistband starts right below the belly button, which is flattering for runners like Madora who aren't into baring their whole midsection. The Smartwool PhD Seamless Racerback ($60) excelled for its soft material and easy level of elasticity—making it a breeze to slip on and off.
Related:
The Best Sports Bras, Shirts And Jackets For Any Budget
Finally! A Sports Bra For Larger Chests