For Emma Bates, NYC Marathon Conditions Will Provide an Added Opportunity
She is embracing the fact that she seems to "bring the heat" when it's time to go the distance.
Heading out the door? Read this article on the new Outside+ app available now on iOS devices for members! Download the app.
The 2022 TCS New York City will be professional runner Emma Bates's seventh time racing 26.2 miles. However, between a second-place finish in sweltering conditions at last year's Chicago Marathon, and a new personal best of 2:23:18 and a seventh-place finish at the 2022 World Athletics Championships in Eugene, Oregon this past July, Bates has proven that she knows how to stick her nose in it to get the best out of herself in competition. Just six days out from New York, she chatted with Women's Running about her goals for the race, how she'll use the less-than-ideal conditions (temperatures are expected to be in the mid- to high 60s with high humidity at the race start) to her advantage, how she's adjusted to training with Team Boss (the Boulder-based elite group coached by Joe Bosshard, husband to steeplechaser and team member Emma Coburn), and what she's looking forward to in running and in life having recently entered her 30s.
Women's Running: What does this week leading up to the New York City Marathon look like for you?
Emma Bates: I'm definitely in heavy taper mode right now. I was running around 120-126 miles per week and this week will likely be around 80. I kind of feel like I'm twiddling my thumbs, feeling a little bold and ornery. While backing off on training is fun, I kind of just want to get to New York and soak up the energy of the city and get to what we've been planning on doing for the past 12 weeks.
What has this training segment for New York been like? We sometimes see Joe pop up on your Instagram posts, accompanying you on workouts on his bike. Have any of your teammates been key running partners in this segment?
My teammates have been the key players for our training this time around. Scott Fauble and I are both running New York, so I've had him at every workout, of course. Joe has been kind of all over the place, since we have so many people running different events, so he's been in Crested Butte a lot [versus Boulder, where the team is based], since that's where most of the team trains at altitude. He was also in Wisconsin for the cranberry season, helping his family with the cranberry bogs there. So I really haven't seen him much, which is OK; I love just being on a team and having people who are so supportive like my teammates. They have stepped up and stepped in, for the coaching kind of persona of Joe. He'll coordinate everything, text us before workouts and see if anybody on the team is available, and then they'll come and drive with us, or just make sure that we're all good, especially on long runs, when we need [this support the most], since we have our fluids and gels given to us during the entire run, which can be two-and-a-half hours long.
It's been really nice and I'm very lucky to have such supportive teammates. They're not deep into training mode right now because the fall season is kind of like their building season, so they're all willing to do it, and it's just been wonderful. Having Scott out there has also been great – I've been doing all my workouts alone, but having him out there just knowing that he's out there grinding away and doing the same thing as me, it's just really comforting to know that somebody else out there is working just as hard,
What are your goals, time and place-wise, for New York?
Place-wise, top-five would be an awesome day. I don't know who all is in the race anymore, as in who's dropped out, or who's still in. I know Hellen Obiri and Edna Kiplagat are going to be up there, and obviously, Keira D'Amato is always a heavy hitter. But I would love to be in that top-five group if I can.
Time doesn't really matter to me. We like to think that I'm in sub-2:20 shape right now, so on a New York course that can be around 2:24 or under, and that would be awesome. But that just comes with the racing and then in the placing. So I'm not going to worry about time so much, since it looks like It's going to be warmer than usual. I don't know if I bring the heat to the marathon or what, but I obviously know how to run in those conditions. So I'm excited to get out there and kind of mix things up a little bit with the conditions this year.
Are there any particular athletes in the field you're excited or possibly nervous about competing against?
I was really excited about Keira and Sara Hall being in the race, but Sara pulled out [with an injury], so I'm pretty bummed about that, of course. But Keira is always so much fun to have around. I'm also excited about my ASICS teammate Lindsay Flanagan, who is also running. She's just come on the scene so hard this year and ran 2:24 [over the summer], so
I definitely want to run with her and help her out as well. I just love having that teammate camaraderie. And then, Hellen Obiri, I've just been seeing her all over Boulder, just grinding away. So I definitely have my sights set on those two. But Hellen is obviously debuting, but as such a veteran [in the sport], I'm just going to be keying off all of them and seeing what they can do, and not getting too ahead of myself. I know they're all very smart racers.
So, we're less than a week out from the race at this point and the forecast is looking to be on the warmer side, which is less than ideal for most runners. How are you feeling about it? Can't be worse than the 2021 Chicago Marathon (where you placed second in a then-personal best of 2:24:20), right?
Yeah, I don't know if much can be worse than Chicago. We got actually really lucky at Worlds being in July in Eugene, when it was 116 the year before [for the U.S. Olympic Track and Field Trials]. I was a little worried that it was going to be hot there, but we had pretty perfect conditions for that time of year. But I like running in warmer conditions – it kind of mixes things up a little bit when it is perfect conditions. You know then that the top runners who can run 2:17 or 2:18 are probably going to break away a little bit quicker. But this might enable us to kind of stick together for a little bit longer, and then actually have a chance to get in those top-three podium spots. So I'm excited about it.
You turned 30 this year, shortly before running your current marathon PR at the World Championships in Eugene, Oregon. They say female athletes peak in their 30s, so how do you feel looking ahead to what will likely be your best years in sport? What are your goals and visions for your 30s with regard to your career, and in your personal life, if you'd care to share?
Yeah, I'm so excited to be in my 30s. In your 20s, you're just a jumbled mess trying to figure out who you are and everything, and I feel so confident in who I am now, and I feel like I finally found my niche. The marathon is what I want to do and I have so many goals there and just want to be the best I can be. But I also don't want to put my life goals on the back burner – I want to start a family, and I want to have kids, and so that is kind of tricky, because your 30s are when you're more established as a runner, but also when you may also want to have kids, when it's the peak of your marathon career. So it's going to probably be a lot of planning, but I'm lucky to have great sponsors in ASICS, COROS, and UCAN that are very understanding and know I'm very driven as a whole person. So I'm really excited to tackle not just my dreams in running, but also the dreams I have in my life.
As far as goals that are more tangible, I want to place top three in every major that I walk into if I can, and I also want to make the Olympic team for the U.S. in 2024. I want to be able to pursue all of this by the time I'm in my late 30s. So it's awesome to see people like Sara Hall and Keira D'Amato and all these other women running their best time well into their late 30s. Just knowing that they can do it and have a family while doing all these things, just gives me so much more hope and excitement for my future in the sport.
With all of Team USA ( i.e., you, Keira D'Amato and Sara Hall) all placing in the top 10 at Worlds, and with first D'Amato and now Emily Sisson breaking the American record in the marathon, are you excited about how much American women's distance running is continuing to grow? What barriers do you anticipate seeing broken in the near future and do you have your eye on any of those yourself?
I want to hopefully go for the American record at some point, too. You know it's been crazy seeing that time go further and further down. But I think I definitely have the capability if I just stick with my training. Everything's kind of been step by step and I just really see my potential being just at that level now.
You've been with Team Boss for nearly two years now and have clearly responded well to that environment. What have been some of the biggest game-changers that have positively impacted your training since making the move to Boulder? Was there anything that was initially challenging to adjust to?
The altitude was definitely an adjustment; it took me six or seven months to adjust to that. That was really tricky, and trying to get it out of your mind [when you compare it to] all the workouts and paces that you were running at sea level or near sea level.
 But having a group of female runners that are so empowered and so passionate about their dreams and goals has probably had the biggest influence on me in terms of rising to the next level, just by being around them and their energy. They're all just so focused, but also balanced in their lives, too, which I'd never experienced before. They have these big goals of making Olympic teams, but also have a balance of just having fun and enjoying the process, which has made a world of difference for me.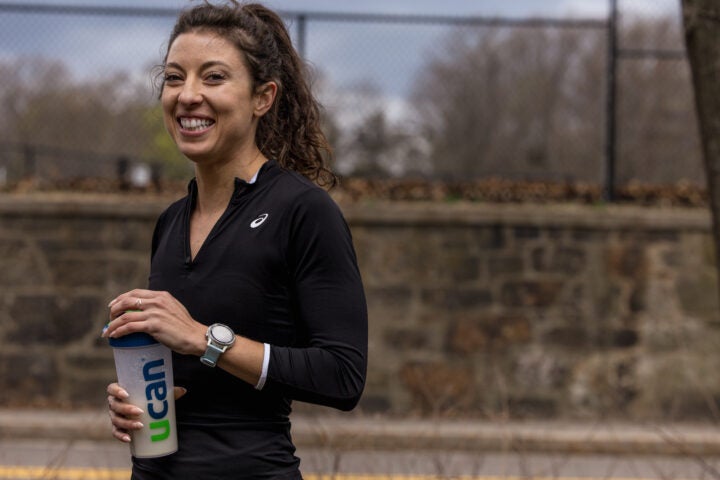 You've said that you regret not taking as many risks as you could have in the 2020 Olympic Marathon Trials. Do you feel like you've kind of gotten that monkey off your back with your recent performances placing second in Chicago last year and with how well you did at Worlds? Will you carry that mentality through to the 2024 Olympic Marathon Trials?
Chicago was very conservative running from me, and it just ended up working out, because it was such a hot day and people really faltered because of that. But I think that I got the monkey off my back at the World Championships when I went out in 70 minutes for the first half and almost PR'd in the half Marathon en route to my marathon PR there. So I feel like by going out and doing that, I kind of taught myself that I can take some risks and still perform really well. So that's really exciting. Going into New York and other races and knowing I can go out conservatively and still do well, but also, why not go out and take some risks to go for that podium spot if the opportunity presents itself? I've done enough marathons where I've become a little more race-savvy and know not to pass up those opportunities. I think that experience really helps. So I'll know in that moment if it's the right time to go, or if it's time to hold back. It's been really nice getting more marathons under my belt because I feel like I have a little more confidence in my abilities.
You've also said you've got your sights set on faring well at the 2024 Marathon Trials because you hope to not return to competing on the track. Is that fair to say? Are you planning out the near future based on the marathon trials? 
I would like to not go on the track ever again. The reason why I was on the track for the Trials last year was because of the pandemic because there were so few road races taking place. So I just figured I would go, have some fun and get my legs under me again.
The focus is the 2024 Olympic Marathon Trials and we don't know when or where it will be yet. I will probably do a fall marathon before that; I think I can bounce back after that. I did Chicago before the Trials last time, and I didn't feel like I quite had enough time to recover after that one, but I feel like the more I run and the more experience I have, I'm going to be ready.
Looking forward, do you have your eye on other races after New York, or will you wind down and take a break before nailing down winter and spring races?
I will definitely do a spring marathon, though I don't know which one yet. I might do a cross-country race or two in between. Cross-country is my first love, and I love getting a little more speed in by doing shorter races to get the legs moving, especially before marathons.