Columbia River GORGEous: A Quiet Victory
Those perfect races where you feel great and everything comes together. Caitlyn had one of those this weekend.
Heading out the door? Read this article on the new Outside+ app available now on iOS devices for members! Download the app.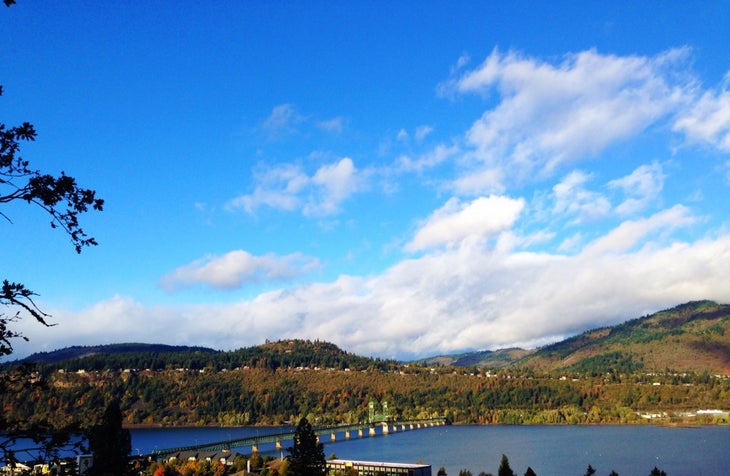 There are so many words to describe this race: breathtaking, challenging, calming, beautiful, exceptional. Exceptional is a good one. For a runner residing in San Diego with memories of what a crisp fall is supposed to look like, this course, this town—it was all a taste of home. The Columbia Gorge Marathon and Half Marathon, barely a 5-year-old race, was hands down my favorite everything. Perhaps it was the glorious views and outstanding people, or maybe it was the fact that timing is everything. Either way, my 19th half marathon, the last of 2014, was an unmatchable experience—one that ended on a podium!
I had no intention of running my little heart out. "Oh, a training run for that full marathon I'm committed to. No biggie—just enjoy the views and the people around you." Famous last words for the competitive runner. The course starts in the marina on the river and weaves quickly through downtown. From there runners enter moderately steep but very long switchbacks before hitting the access road. According to a fellow runner, this was the hardest climb. But for whatever reason, it felt like a breeze to me on Sunday morning. As I rounded the final turn, I nearly lost my breath at what I saw: a fall wonderland, with the entire road covered in every colored leaf on this beautiful planet. (The race director would later say to me, "We were hoping for a better fall to show off".) Turn slightly to the left, peer through the trees, and I was staring at a rainbow over the Columbia River. Picture. Perfect. The best part? I appeared (I swear) to be floating through this course.
The rest of the race was like a winding opportunity for self-reflection. I thought about my year—what went wrong, what went right, what pissed me off, what runs were winners, whom I lost, what I gained. The course continued to weave through tall trees, with a slightest rain and rays of sun sprinkling through the branches. My legs felt powerful, and I still can't figure out if that came from my race nutrition, the surrounding scenery or the fact that I didn't run alone that day. The snapshots of sunshine continued down to the finish. They were almost like little windows in the clouds for someone up there to watch me cruise through 13.1 miles. Right before the turnaround, we ran through two tunnels built into the side of the mountain. I searched for the names on the wall, carved by four men who were snowed in for four days almost 100 years ago. There was no music, no artificial lighting, no flashy elements to make this section of the course stand out. It was exactly how it was meant to be seen—the entire route was.
After the halfway mark, it's nearly smooth sailing back down the mountain. Descents aren't a strong point for me, and I was slightly fatigued from working the ups to compensate for the downs. Then I noticed something: I was still moving past everyone in front of me. "I wonder if I can pass every girl between here and the finish line. I wonder if I can get top-10." I started being methodical (aka: not running stupid) for the first real time in my life. I was practicing patience and saving my legs for the points I knew were strengths of mine. Again, I'm not sure if it was the location or the day or the fact that I just felt really, really good, but someone wanted to make sure I blew my last race of 2014 out of the water. That final mile—winding through downtown back toward the marina—was probably the best, happiest mile of my life.
I ran my first negative splits on Sunday. I got my first spot on the podium on Sunday. Most of all, I had the greatest freaking time on Sunday. Between the first and second half of the race, my place bettered by nearly 50 spots. As I watched the other two age-group podium finishers hug loved ones and take photos, I approached a random stranger and asked if he would take my picture. Like me, he had placed second in his age group as well and had traveled to the race alone. We shook hands, and as he walked into the finisher's tent, I couldn't help but tear up. My boyfriend, family, and all my friends missed one of my proudest moments, but the clouds had parted again, and they stayed parted for the rest of the day—even as the rain fell.
Immersed in the excitement of a BQ race, the politics behind racing, or the mainstream-y feeling of so many running events, I had almost lost myself as a runner this year. I drew pieces of encouragement and inspiration from various places throughout the year—starting with my PR back in January. But it was this race in this place that made me stop, smile and remember that running is meant to be running. Nothing more, nothing less.