Why Loving Yourself Is So Hard, And How Running Can Help
Danielle LaPorte explains how self-love is made out to be a lot more simple than it seems—and how to use meditation to get there.
Heading out the door? Read this article on the new Outside+ app available now on iOS devices for members! Download the app.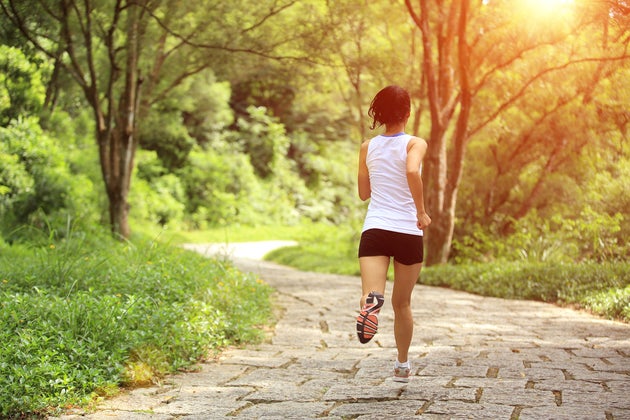 Loving yourself is easier said than done. Even Danielle LaPorte—author of White Hot Truth, speaker, poet and invited member of Oprah Winfrey's inaugural SuperSoul 100—recognizes that.
"So much of self-help speak is—Love yourself, Love yourself, you gotta Love yourself. Yes, do! And then the hyper-motivational champs step up to the mic and tell us to Do what ordinary people fear. Find a way, not an excuse—but we're missing the deeper dialogue when it comes to self-love and determination," she explains.
LaPorte explains that loving yourself—even when you do it most humbly—can attract some not-so-loving responses.
"When you start to care more deeply about your own well-being, a whole new set of inner—and outer—challenges might surface in your life," she continues. "Self respect can create conflict. You just have to…get used to it. Resistance is part of growing into your power."
So what are some ways to start focusing on yourself and building up that self-love? Pleasure and meditation.
"Make pleasure priority. After years of being hard on ourselves, pleasure-making is courageous. Pleasure heals. Pleasure makes all of the (seemingly) unavoidable hardships of just being here. so much easier," LaPorte adds. "Your pleasure empowers you. And…you have to reward yourself for trying."
She explains that you can't only reward yourself for reaching goals and punish yourself for failing. Instead you should give yourself credit for showing up in the first place.
If you're looking for a way to use your time spent running to practice reflection, LaPorte explains how you can use your time running as meditation.
"I stopped running with my music in my ears when I run outdoors and it's made my neighborhood run so much more meditative and fulfilling for me. (I still crank the tunes if I'm on a treadmill at the community center or on my elliptical.) But…I keep it really simple."
She uses the run to repeat power words to herself? Words of choice? "Strength, love, flexibility, clarity, light, connection, beauty, glowing, flowing, cash, giving, faith, generous, joy….I just let the words come to mind, sometimes I repeat the same word to myself for a whole block."
LaPorte says words that are floating up are there to show you something, like what is most important to you. As you think about these words, use the time to be thankful for the day, the run, or anything going on in your life and direct your thoughts and energy toward practicing good thoughts.
And remember. "Self-love is an unending process, not a finish line."