Use Fitness To Fuel Yourself Through Any Holiday Blues
Not everyone feels joyous during the holidays. Alison Désir shares how she uses fitness to quell feelings of loneliness and sadness.
Heading out the door? Read this article on the new Outside+ app available now on iOS devices for members! Download the app.
I am definitely one of those people who suffers from the holiday blues. I won't call it depression exactly—although the two are not mutually exclusive and sometimes do, in fact, overlap for me. I remember celebrating Christmas Eve last year with a fun run in Central Park with my running crew. We had an incredible time and went out to brunch afterwards.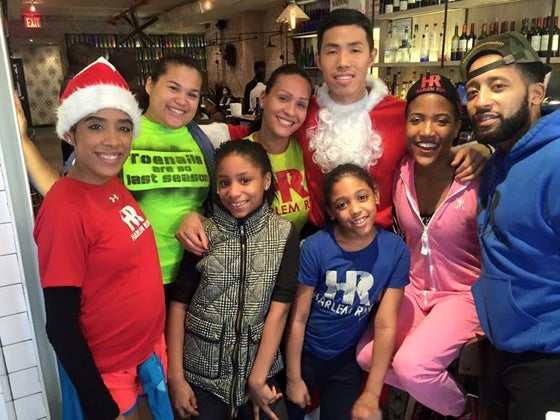 And yet, on Christmas Day, I still woke up feeling completely alone. I had, perhaps, done this to myself by choosing not to go home to Florida to see my parents or confirm other plans. I didn't want anyone to have to deal with me in a bad mood, so I intentionally isolated myself. I spent all day in bed, save for the few hours that I went for a run back in Central Park (in shorts and a t-shirt due to the freakishly warm weather). Those few hours on Christmas Day were the only ones where I smiled.
The truth is, the holidays are a difficult time emotionally and, as a result, many of us make decisions we may not be proud of. We may overeat to compensate for our feelings or we may hold back from eating and deprive ourselves for the same reasons. We may get lost in feelings of sadness over holidays past and/or who may not be present and spiral into a truly awful period straight from Thanksgiving through to New Years Day. I'm not saying I have the cure for this; in fact, I'm a little nervous this year myself. This holiday season will be the first I've had without my father. Although his Lewy Body dementia had long taken his mind and prevented our ability to communicate, him being present allowed me to feel more connected. So, I know that I will really have to be vigilant this holiday season to ensure that I don't allow all of the elements to take over.
The powerful thing is that this year I am preparing myself for what may happen. I know that the inevitable feelings of sadness will come, so I am lining up activities and commitments that will help me cope. My holiday survival plan will require a mix of discipline and compassion for myself and will be fueled by fitness. I am toying around with the idea of launching a 30 day yoga challenge or committing to  three miles a day for 30 days, beginning on Thanksgiving. Whatever I decide, I will use it to guide me through the days when I may not feel like doing anything or feel particularly positive.
If you are lucky, you will spend the holidays surrounded by people you love and love you. But please know that, even if this is not the case, you must be kind to yourself and use the tools you have right in front of you—your body and your mind.