Rhonda-Marie And Steven Parke Found Love Through Running
Meet Rhonda-Marie and Steven Parke, two ultrarunners who discovered their love for each other through running.
Heading out the door? Read this article on the new Outside+ app available now on iOS devices for members! Download the app.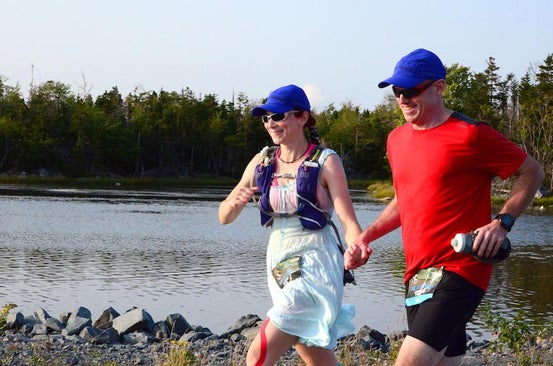 Running For Love
It was by chance that ultrarunner Rhonda-Marie Parke finally ran with the man she would eventually marry.
The two were acquaintances on the ultrarunning scene in 2014, when Rhonda, who is legally blind, embarked on an extraordinary effort to run the entire Bruce Trail, a 550-mile footpath through Ontario, Canada. Rhonda hoped the run would draw support for Achilles Canada, a nonprofit that helps runners with disabilities.
Only a few days into her 20-day trek, one of Rhonda's guides dropped out due to an injury, forcing her to scramble to find a replacement.
Meanwhile, Steven Parke, an accomplished ultrarunner himself, was planning to run a 100-mile race in Pennsylvania. Rhonda had asked him to be one of her 50 guides throughout the run, but he declined.
"I said no purely for selfish reasons," he recalled.
But when he learned she was in jam, he had a change of heart.
"I was following the whole thing on social media, and I felt like a horrible friend," the 51-year-old said.
Even though Steven had no experience as a guide, he scrapped his plans and went to meet Rhonda.
Guides on the trip had a daunting task: Run all day with Rhonda while clearly and accurately describing the precarious terrain to her. Rhonda was born with an eye disorder called achromatopsia and has 8 percent vision.
The steady stream of descriptions was essential not only for Rhonda's safety on the twisted trail, but to also keep her awake when she got exhausted.
Steven, unintimidated, jumped in without hesitation.  She was immediately impressed.
"I had never run with anybody that could maintain articulate dialogue for that long," said Rhonda, 39. "It's a long distance, and it's a great amount of time, and you have to talk for every step."
Steven—running a few steps ahead and wearing two different bright-colored compression socks that she could see—would call out when a rock or root was ahead and where it was located. He'd also alert her about obstructive brush or low-hanging branches and if the ground was curving up or down.
"When I got out there, it came naturally to me," he said.
Steven and another guide safely led the way for 10 hours, covering an incredible 31 miles with Rhonda.
When she successfully completed the trail two weeks later, it marked the end of one journey and the beginning of a new one for the pair.
Rhonda, a self-employed massage therapist, and Steven, a manufacturing production manager, began to run more frequently together. She relied on many guides, but Steven became her favorite.
"He's gone more than 100 kilometers with me without complaining how bad I smell," she said.
One of Rhonda's most memorable runs with Steven is a race they didn't finish.
In 2015, at the Kettle Moraine 100 in Wisconsin, she attempted to run with a bad ankle. When it became too painful to run on, she pleaded with Steven to try and finish without her so he could qualify for the Western States Endurance Run.
He refused.
"He never left me," she said.
The friendship grew into a romance. Eventually the couple moved in together.
Despite their busy schedules—both have three children each—they log between 50 and 75 miles each week. Sometimes they have to workout separately, so they cherish the runs they get to do together.
"There are times when we are running, and there is not a lot for me to call out and we can run side by side in silence," Steven said. "Even though we aren't talking, it's that connection."
Friend and fellow ultrarunner Debbie Bulten, 48, says their remarkable connection is obvious.
"If one of them were to say, 'I want to run across the country,' the other would reply with, 'Okay, when are we doing this?' When you're with them you can so easily see the love between them," she said.
In addition to running, Rhonda and Steven share a passion to educate the world about what Rhonda calls 'other' abled athletes and what they can achieve.
In 2016, Rhonda attempted the notorious Barkley Marathons. Considered one of the world's toughest trail races, the 100-mile run and scavenger hunt takes place in the brutal backcountry near Wartburg,Tennessee.
Although she and her guide (not Steven) didn't finish the grueling course, she was praised for being the event's first blind participant.
"She is fearless," Steven said. "She wants to get out there and make a difference, change the world and bring attention to disability in sport. I admire that about her so much."
Knowing they wanted to spend the rest of their lives together, the couple, who live in Kitchener, Ontario, decided to get married this year.
In true runner fashion, their wedding took place at a trail race.
After finishing the Maritime Race Weekend Tidal 15K in Nova Scotia in September, the beaming couple–still in their running attire–tied the knot in front of friends and other finishers.
"Love is kind of like an ultra marathon," Rhonda said. "Patience, perseverance, hard work and pure joy all at the same time. And every step is worth a lifetime of happiness."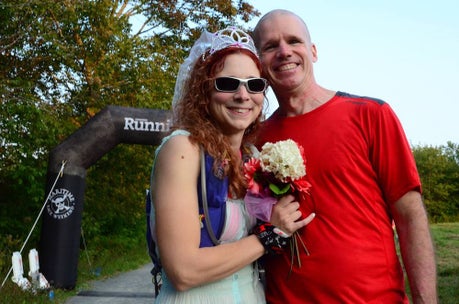 Related:
9 Reasons Why You Should Go On A Running Date
10 Things That Happen When Runners Date Runners