Tina Muir's Heartbreaking Blog Post Is A True Runner's Story
We applaud Tina for this one!
Heading out the door? Read this article on the new Outside+ app available now on iOS devices for members! Download the app.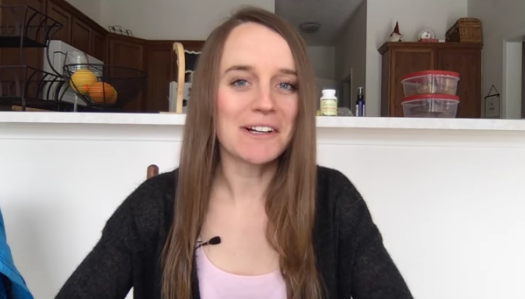 In case you missed it, elite runner Tina Muir, who holds a close-to 2:30 marathon PR, recently shared a heartbreaking blog about saying goodbye to running. To us regular runners, seeing an elite admit she's no longer loving the sport seems almost surreal—it's their job to love it in a sense, right? Then you remember, yes, the struggle to constantly love the grind, embrace the training and fight through the races is very real for everyone, and everyone at times reaches a point where it's all done.
That was what Tina expressed in her long, but worth the read, blog post; she came out about not having run in two weeks since her last race, and she's unsure of when she will run again.
"I haven't run in [two] weeks, and the scary part is, I haven't missed it," she claims. "…My heart just wasn't in it any more, and once I finally admitted it out loud, I felt relief, not fear."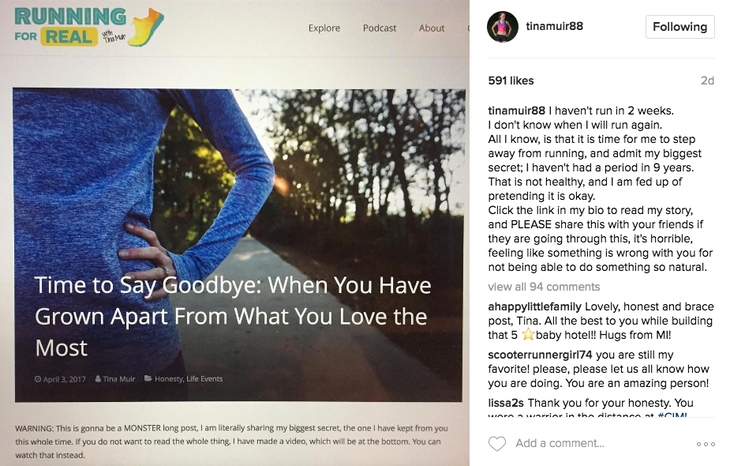 I follow Tina on all her social media platforms, and it was not obvious at all she was facing this internal struggle. Yet that's usually how it goes—you post the splits and the photos and the runs and the results hoping it's just a temporary phase, that the shares will somehow remind you that "you are a runner." I've had a love-hate relationship with running my entire life, and it's only recently I've gotten a handle on it and chosen to switch my mindset. For that reason, Tina's raw reveal totally resonated with me, especially these gut-wrenching, hard-to-read, harder-to-write (I'm sure) bits:
"It has been the hardest decision of my life, giving up something that I have given my entire life to for 14 years. I was in a cycle of Train-Race-Rest, Train-Race-Rest, over and over again."
"It has been five months since I raced, five months since California International Marathon, and in that time, I could probably count on two hands the amount of runs I have actually enjoyed."
"So yes, running and I are on a break…the kind of break that doesn't guarantee you will ever come back. This might be the end of my competitive days."
"The slower I got, the more I tried to force it." 
That last one burns the most. Tina pointed out the internal struggle that so many runners face, and I have massive respect for her for typing the hardest words and doing the hard thing of being certain about quitting amongst uncertainty. Succumbing to the tears of exhaustion and admitting the loss of a love for the sport is hard to do and harder to accept.
However, there was a second part of her blog that needs to be discussed much more among female runners. About halfway through, Tina admits to dealing with amenorrhea for the past nine years, an issue among females where they can lose their period due to high volumes of exercise. She shares her concerns surrounding getting pregnant and the doctors' inability to find another way for her to get her period again–besides stopping running. She also shares why she's kept this a secret, because so many tie it to things like eating disorders or living with a calorie deficit.
"It is such a taboo subject, not because of the nature of what happens in a period, but because everyone feels ashamed like me."
As I read this portion of her post, I was immediately placed back on my high school track, fighting to keep my top spot on my varsity running teams. Fighting to be one of the best. Fighting to make my parents proud. And fighting without a period every month. I lost my period at various points throughout my high school career and never explored it with a doctor, or my coaches, or my teammates. I just thought, It's just what happens when you run a lot. It means you're working hard. Don't worry about it. Since it tended to happen in 2-3-month spurts during high-volume training, I wrote it off as nothing.
To read about a grown woman dealing with this privately, questioning society's reaction if she shared, wondering if she might be infertile—it shed light on a subject that needs to stop being taboo and start being part of the conversation. It made the physical and emotional side effects of competing real, the ones we high from and write off as "part of the run."
But above all, Tina's post made was a welcomed reminder that you aren't just a runner; you can be a writer, or a mom, or a yogi, or a doctor, or a sister too. The runner identity can be all-consuming before we realize it, and we all need to welcome a reality check that it's okay to not want to run every once in awhile.
Or, as Tina says: "I am building a 5-star baby hotel and I am prepared to do whatever I need to for it to be ready."