This Runner Is Iconic In Two Countries
Sarah Attar was the first female runner to represent Saudi Arabia in the Olympics.
Heading out the door? Read this article on the new Outside+ app available now on iOS devices for members! Download the app.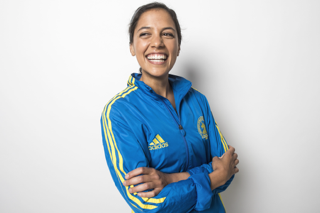 22-year-old Sarah Attar ran for Saudi Arabia–a first for females–at the 2012 Olympics.
In 2012, a college runner out of Pepperdine University Malibu, Calif., ran 800 meters around the track inside the Olympic stadium in London—and crossed the line last to a roaring crowd of spectators. Her uniform—a full headpiece and garments covering her whole body—was surprising to see at the games, let alone track and field, where most female athletes wear almost the exact opposite amount of clothing. However, then-19-year-old Sarah Attar had been hand-picked to be the first female ever to represent her father's native country of Saudi Arabia in the Olympics. In order for male athletes to participate, the country was required to send female athletes as well.
"Actually it's funny because when we line up, there's the people who take our gear, and I was sitting there, and the girl was like, 'Are you going to take off your warm-ups?'" laughs Attar. "I was like, 'This is what I'm racing in. So that was and interesting aspect, and if you look at the line-up, I stand out a little bit."
Attar, who recently announced her deal with Team Oiselle, will be participating in her third Boston Marathon on Monday. The 22-year-old, who graduated from Pepperdine last year, has become a face of America's finest marathon as well; her smiling runner shot graces several race banners around Copley Square. Between her courageous, albeit controversial, Olympic appearance and her photogenic runner stance all over town, Attar is doing a commendable job representing both her American and Saudi Arabian roots (she has dual citizenship in both countries). Plus the woman is a speedy marathoner—2015 not only marks her third Boston Marathon, but also her third Boston 2 Big Sur Challenge, where runners run both marathons within a week of each other on opposite coasts.
RELATED: Visually Impaired Mother-Son Duo To Run In Boston
When Attar heard of the possibility to represent Saudi Arabia in the Olympics, she says she was too busy training for her first marathon—2012 Big Sur Marathon, where she qualified for Boston for the first time—to give the opportunity a second, hard thought.
"I did cross country mainly [in college], then my sophomore year, which was the year prior to the Olympics, I trained for Big Sur Marathon that April," she recalls. "And I'd only raced the 800 once in high school. So I had been training for the marathon leading up before we found out it was official that I was going to the Olympics for the 800."
Although Attar has nearly zero experience racing two laps around the track, her dual citizenship made her a candidate to represent the country in order to allow male athletes to participate as well (per Olympic regulations). Despite those who disagreed with her decision to travel to London and run, Attar says her appearance and bravery inspired the younger generation of Saudi Arabia, and she hopes it will bring awareness to the need for more access to sport and fitness for women.
RELATED: Top American Marathoner Shares Her Best Life Moments
"I think it's still something I'm processing and reacting to as something that's kind of crazy and a wild opportunity that came up," explains Attar. "But essentially it's like, we always look for opportunities that we can do something that makes a difference or seems admirable. It just came up, and I was like, this is an awesome opportunity, how can I not do it?"
While next year's games remains a question mark, one thing's for certain—this bird definitely knows how to fly through 26.2 miles time and time again.
"I competed in 2013 and finished before the bombings, but I think just being part of the 2013 Boston Marathon, especially being my first Boston, it just kind of like connected me to that event, and I just really feel this deeper connection now because of that."