5 Things To Do When You Just Can't…Run
We all love running—except for when we don't.
Heading out the door? Read this article on the new Outside+ app available now on iOS devices for members! Download the app.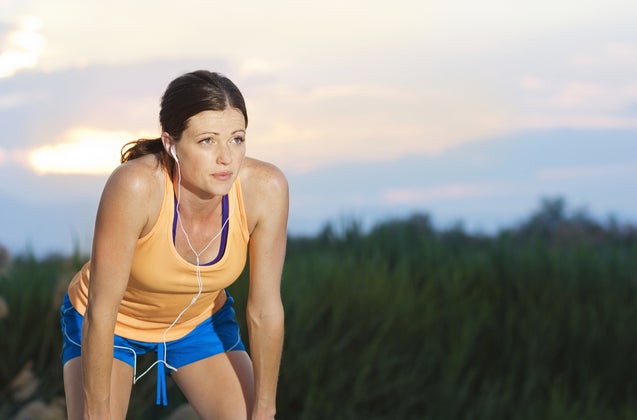 I love to run. Except when I don't.
It doesn't matter how passionate you are about running, whether you are new to the sport or a veteran, we all have those days. Those days when the gravitational pull toward the couch seems more than you can resist. Those days when all of your energy has been sapped by the demands of work, and home, and family, and chores and…life.
On those days, I'll grab onto almost anything to get me going, but I've found that the following usually does the trick:
Motivational T-Shirt
When it comes to running, I think there is something to the idea that the clothes can make the woman, or in this case, make the run. I'm not talking about something expensive—it could be a ratty old race t-shirt from 2009, or statement socks, or a lucky hat. It is that piece of clothing that reminds you of a time when you just rocked your run. Put it on, feel strong, and go after it again.
Power Playlist
Stuff this go-to playlist with every life anthem, road trip classic, dance floor favorite and power song that brings a smile to your face and makes your heart thump. This play list should be epic and compel you to go for run if only so you have an excuse listen to all of your faves without interruption.
Phone A Friend—Or Grab A Furry Canine Companion
Find someone to head out with you so that you know that you aren't alone in this endeavor, or at least have someone to distract you long enough to get you through the run. Even if the actual run turns out to be a bust, at least you'll have the benefit of a little extra time chatting it up with your running buddy.
Give Yourself Something To Check Off
Whether it is filling an entry on your run log, checking off a box on your calendar or to-do list, or electronically recording your miles on an app, find some place to record the fact that you got it done. You can look forward to the immediate satisfaction of checking it off, and the next time you second guess your will to run, you can look back and remind yourself that you have what it takes to do it even when you least feel like lacing up your shoes.
And most of all, this…
Give Yourself Permission to Slow Down
If you don't feel up to the run, tell yourself to at least go for a bit. If you still aren't feeling it once you're out there, give yourself permission to slow down, or sit on a bench and watch the world go by, or take a shortcut home. On those days when it really isn't meant to be, you'll know, and feel free to shut it down. Knowing that you have this "out" sometimes is just safety net that you need to get out there in the first place.
Looking back, the days when I least felt like going for a run also were the days when I benefited most from a head-clearing, heart-pumping workout. In fact, I've enjoyed some of my best runs on days when I had the hardest time getting motivated.
Thank goodness for my lucky hat.
Elizabeth Ewens juggles life as an attorney, author, wife, mom and runner, who proudly finished her first NYC Marathon in 2015 and is training for the 2016 Chicago Marathon. You can read more about her journey at midliferun.today or follow her on twitter @elizabeth_ewens.