10 Things Runners Do Better Than Anyone Else
Do you agree?
Heading out the door? Read this article on the new Outside+ app available now on iOS devices for members! Download the app.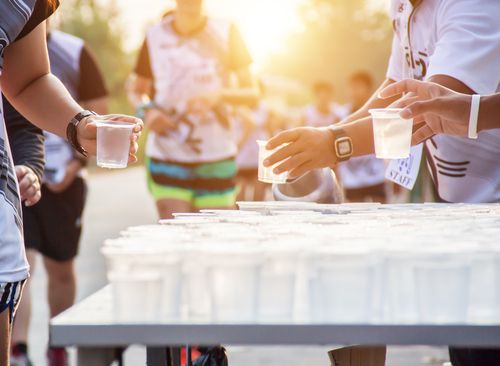 You'd be incorrect if you thought that runners are only skilled at running. The truth is, most runners have multiple talents that range from drinking while running to talking to themselves. If we can toot our own horn for a quick minute, here are 10 things we think we do pretty well—maybe even better than our friends:
Tying our shoes.
There is an art to tying one's shoes. Any runner will tell you to double knot your laces—sometimes even triple—or you will constantly be tripping over untied laces and stopping to tie them.
Drinking and running.
While runners don't condone drinking and driving, they do support drinking and running. If you've run a race, then you've encountered this thing called an aid station. That's the place that has little shot-sized cups of water or sports drink. In order drink while moving, runners get very good at pinching the cup so that the drink filters more accurately into their mouth without major spillage. We opt for one of two popular methods: folding the top in half, or crunching the top of the cup altogether.
Controlling our sphincters(?).
Yes, it's true that many runners suffer from runner's trots. Unfortunately, the urge to eliminate does not usually happen in convenient locations. Therefore, runners get very good at holding in bowel movements until they can find somewhere to drop them without everyone seeing.
Knowing weird distances.
Runners can tell you the exact distance from their house to almost any local destination—the nearest lake, the 7-11 or the closest trailhead. We are also weirdly good at quickly converting major kilometer markers into approximate miles.
Using a foam roller.
If you've ever visited a runner's home, you've probably seen one or several foam rollers lying around on the floor. Sometimes you might actually witness a runner rolling a body part on the cylinder. It hurts so good–we've become pros at sucking up the pain and reaping the benefits.
Related: The Right And Wrong Way To Foam Roll Your Body
Spending lots of money to run around really early.
This is also known as a race entry fee. While it might seem crazy, runners generally love to attend races and will pay a hefty fee to do so. Of course we will whine if we have to throw a few extra dollars into our car or buy a new pair of jeans, but triple-digit entries…all in!
Getting injured. And talking about it.
At one time or another, every runner gets injured. The repetitive motion of running and the impact can lead to a variety of ailments, from shin splints to stress fractures to plantar fasciitis. These injuries cause runners to become adept at sharing their woes with the world, then publicly analyzing what their next move might be once they're healed.
Talking to ourselves. Out loud.
Running can be a solo event, and runners can get lonely. They need support and encouragement. Trouble is, there aren't always others around to do this. That's when runners start to have conversations with themselves about how far they have left to go, the fact that they can finish this and the knowledge that the pain is hopefully temporary. It may look crazy, but it's the runner's way of coping.
Oversharing.
Runners are good at providing people with TMI moments all the time. This is likely because, over time, the gross things runners do get normalized to the runner, and he or she forgets they might be disgusting to others. It's pretty commonplace for runners to tell you how many times they poop in a day, that they started their period during a race or that their nipples bled because they forgot to apply Vaseline before their run.
Using social media.
Runners love to let people know how far and how often they run. Posting race times is also a priority. What better way to do this than on social media?
Related:
10 Wacky Math Equations That All Runners Know The Answers To
5 Things Runners Don't Do Enough