The White City By The Sea
Explore the streets of this modern, seaside Israeli city at the Tel Aviv Marathon, and you'll gain a new perspective on the Middle East.
Heading out the door? Read this article on the new Outside+ app available now on iOS devices for members! Download the app.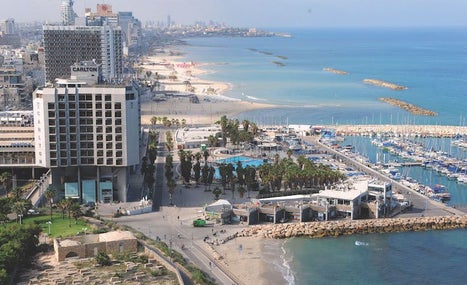 A Guide To Tel Aviv
When you think of Israel, you probably associate it with vast desert landscapes, ancient biblical stories and a tense political atmosphere. However, in the metropolis of Tel Aviv, situated on the Mediterranean Sea and nicknamed "The White City" (thanks to its high concentration of Bauhaus architecture), you'll find a vibrant, modern culture, reminiscent of a Western European city.
At the heart of this culture is a thriving sports scene—Tel Aviv hosts 70 major athletic events annually, including the Tel Aviv Marathon in late February, which welcomes 40,000 runners across multiple distances. During a race in Tel Aviv, you see glimpses of the things that make this city so great, including its cultural diversity and tolerance—Jewish men running wearing kippot and Muslim women running wearing hijab—and its young, energetic culture (one out of three Tel Avivians is 18 to 35 years old). You'll also run past stunning architecture, along the waterfront Shloma Lahat Promenade and on the tree-lined Rothschild Boulevard.
So how did this oasis of creativity, culture and diversity spring up in this Middle Eastern country, you ask? Let's back up to just a little more than a century ago.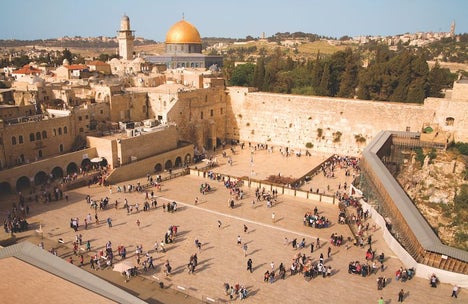 Tel Aviv's Beginnings
Adjacent to the modern city of Tel Aviv is Jaffa (Yaffo, meaning "lovely"), an ancient fortified port city that's been in existence for more than 4,000 years. (In the Bible, it was the city from which the prophet Jonah set sail before being swallowed by a giant fish.)
In 1909, about 60 Jewish families joined together to form a new neighborhood outside of the congested city of Jaffa. Originally a society named Ahuzat Bayit, when it merged with other neighborhoods in 1910, they were together named Tel Aviv, meaning "hill of spring," taken from the Hebrew translation of Theodor Herzl's utopian novel Altneuland.
Tel Aviv grew slowly—the high population of Arabs in Jaffa caused some political unrest in the 1920s, driving Jews to Tel Aviv, but then many of the Jews were forced to leave the Tel Aviv–Yaffo area altogether during World War I, returning after the war ended and Great Britain took control of Palestine. After World War II, when Israel became an independent state in 1948, Tel Aviv served as a temporary capital of the state as well as the home of foreign embassies and diplomats.
Back in 1909, one of the founders had declared that they were creating "the New York of the Land of Israel," and it certainly seems to live up to that vision.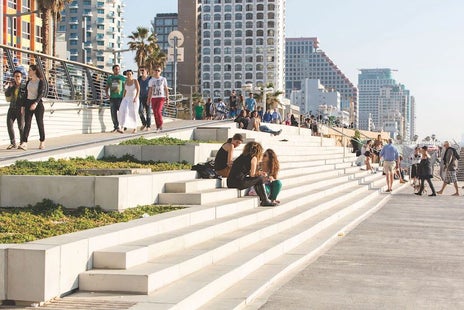 Tel Aviv Today
Today, this sprawling city, the second largest in Israel after Jerusalem with more than 400,000 residents, is known as the technological, business and financial hub of the country. The city also has an entrepreneurial spirit—there are 700 early-stage startups in Tel Aviv, more startups per capita than anywhere in the world (giving Israel the nickname "the Startup Nation"). It's easy to spot the country's innovation even as you tour the city—in the open-air Carmel Market, vendors sell strawberries grown using BioBee, an organic farming method that utilizes bumblebees instead of pesticides. And across from Habima Square on Rothschild Boulevard, an urban greenhouse was established to teach and empower local residents to use hydroponics to grow their own food at home.
In addition to spotting the technological innovations of Tel Avivians while touring around, you'll also come across evidence of their creativity—urban art painted on walls and buildings, especially in the neighborhoods of South Tel Aviv, and a lifeguard tower on Frishman Beach that features the work of a local graffiti artist.
Underneath the many visible facets of this thriving culture lie layers upon layers of history—the nation of Israel is considered the Holy Land to millions of people around the globe, including Jews, Christians and Muslims. As such, it draws pilgrims from all over the world every year, and those diverse cultures undoubtedly influence the art, food, technology and even hospitality of native Israelis. Every encounter I had with Tel Avivians was warm, open and welcoming—they were eager to share their culture and history with visitors.
In addition, they drew my admiration—living in the political climate in which they do every day, they're always on guard, always living in a sort of survival mode, but also always pushing for something greater. "We never give up," said one Israeli woman who raced the marathon. "We don't have any choice."
That kind of tough, proud attitude actually translates well to sports. Every Israeli citizen is required to serve in the army, the Israeli Defense Force, at the age of 18 (women for two years, men for three years). Because of that, exercise is naturally built into the culture from a young age. It's evident on our first morning in Israel—even in the pre-dawn light, we could see runners and cyclists traversing the beachfront promenade, getting in their miles before their workdays or perhaps getting in a shakeout run before the race on Friday.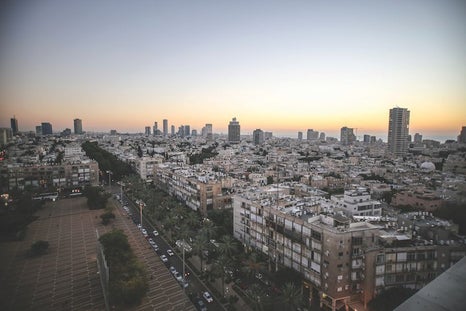 Running Tel Aviv
Race day was an exciting experience for me—after racing about 10 half marathons in the U.S., the half marathon in Tel Aviv was my first international one, and I didn't know what to expect. It turns out, though, I had no reason to be nervous—the race was just as well-organized and well-staffed as any race I've done in the U.S. (if not better). There was strong crowd support along the somewhat flat course, which really kept my interest for the full 13.1 miles—while urban, it still felt scenic, with a stretch along the Mediterranean Sea and an out-and-back section along the charming Rothschild Boulevard.
A few things I took away from my first international race: A lot of people like to wear the race shirt (a high-quality, short-sleeve Adidas shirt, I might add); you don't have to understand the language to figure out where you're going (race volunteers were very helpful); races don't start on time in other countries either; ticking off kilometers instead of miles makes the race go by a teeny bit faster; and high-fives and smiles transcend language barriers and can get you through any race.
The race was the perfect reason to check this nation off of my bucket list, but even after a few days exploring the city and country, we felt like we only got a small taste of all there is to see, do and experience in this city and nation. I'll be back, Israel, but until then, shalom!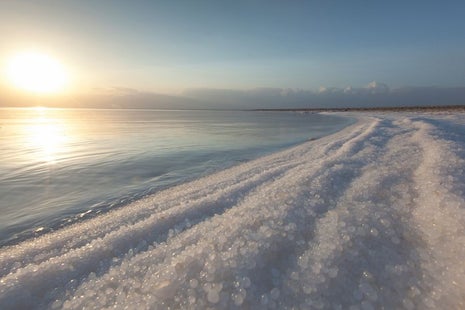 History Buff
If you wish to extend your trip beyond the race and soak up some history, make sure you visit at least some of these historical sites around Israel—the whole country is only about the size of New Jersey.
Dead Sea: Located about a 60-mile drive from Tel Aviv, this giant salt lake is the Earth's lowest elevation on land, at more than 1,400 feet below sea level. So named because nothing can live in its hypersaline waters, the Dead Sea is famous for making floating easy (the water is about one-third minerals) and for the cosmetic properties of its mineral-rich mud. You can take a dip in one of several beaches along the shoreline and practically feel your skin soaking up the nutrients—just don't let it splash in your eyes!
Masada: Translated from Hebrew as "fortress," these impressive ruins date back to the time of Jesus, having been built by King Herod as a winter palace on an isolated mountaintop overlooking the Dead Sea. What makes this site so unique, though, was what happened there about 100 years later—during the First Jewish–Roman War, Jewish rebels fled there from the Romans. The Roman Legion laid siege to the fortress for months before breaking through, only to find 960 people dead from mass suicide, according to the historian Josephus. The well-preserved fortress and siege system caused it to be declared a UNESCO World Heritage Site in 2001. You can reach the ruins via a quick gondola ride, or for extra credit, climb the switchback-filled "snake trail" to the top.
Jerusalem: Israel's capital city will be more accessible this fall, once a high-speed train opens up to connect it to the city of Tel Aviv. It's in Jerusalem that you can most easily see the complicated history that's tied to the land of Israel, which essentially serves as a land bridge between two continents. But it also has endless sites that are historically and religiously significant. Some of the most-visited sites include the Western Wall (aka the "wailing wall"), which now serves as a sacred site for Jewish prayer; the Old City of Jerusalem, which is divided into Jewish, Christian, Armenian and Arab quarters; and the Israel Museum, which houses the Dead Sea Scrolls among other art and antiquities.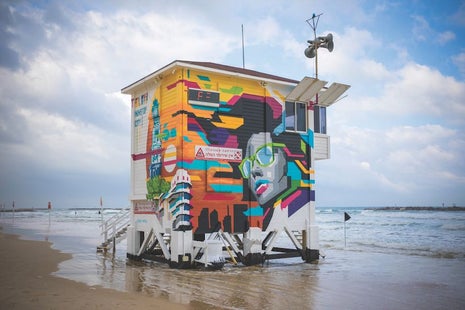 Know Before You Go
When: Thanks to the Mediterranean climate, Tel Aviv enjoys somewhat mild and wet winters but hot, humid summers, making October through April the ideal time frame to travel there.
How: Ben Gurion International Airport is accessible from major U.S. cities, such as Los Angeles and New York, on multiple airlines, including United and Israel's own El Al. The airport is about a 20-minute drive from Tel Aviv.
Where: There are multiple options for hotels—both boutique and large hotel chains—within a block or two of the waterfront, across from and south of the marina. While the location is incredible for training runs, know that it makes race-morning logistics a little more complicated, as the roads near the beach are part of the course and closed to traffic.
Race it: The Tel Aviv Marathon (Feb. 23, 2019) or Tel Aviv Night Run 10K (October 2018)
What to do: Outside of the race, there are several must-do activities while in Tel Aviv.
Take a culinary tour of Carmel Marketto to get an off-the-beaten-path experience of Tel Aviv's food scene—and see how hummus is worthy of a meal in itself!
Splash in the Mediterranean Sea along the 14 kilometers of beaches in Tel Aviv, which was ranked a top-10 beach city in the world by National Geographic.
Ride bikes along the waterfront promenade south to Jaffa using the city's bike-sharing rental system, Tel-O-Fun, which services the city with 2,000 bright-green bikes.
Indulge your creative side with a visit to the Tel Aviv Museum of Art, which features modern and contemporary art.
Stay up late to experience Tel Aviv's famous nightlife—Lonely Planet ranked Tel Aviv as one of the top party cities in the world, as it has more than 1,700 bars, cafés and nightclubs.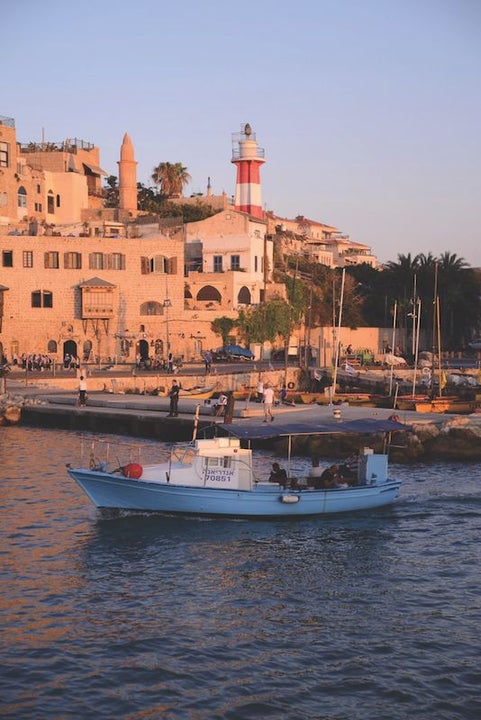 Related:
My Experience Running The Tel Aviv Night Run
The Tel Aviv Samsung Marathon Is A Race You Need To Check Out