The Power Of Compression For Performance
Follow these five tips when selecting compression for your running.
Heading out the door? Read this article on the new Outside+ app available now on iOS devices for members! Download the app.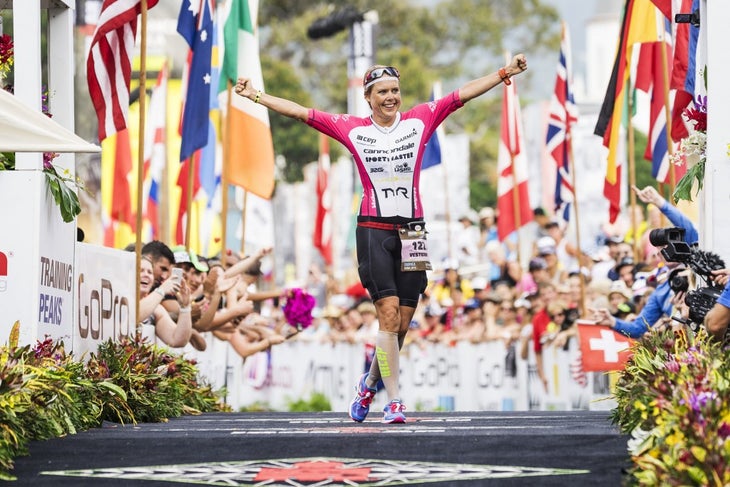 Medical-grade compression socks and sleeves were first used to help prevent blood clots and swelling by increasing circulation post-surgery, in diabetic patients and for inactive people. When athletes picked up on the trend, lighter strength, graduated compression was incorporated for a more forgiving fit over muscles, colors went from neutral to bold and a new trend was born.
When it comes to compression gear for sport, the idea is that it works by increasing blood flow and lessening muscle fatigue and cramps. According to the research, benefits depend upon the activity, which runners getting a definite boost. In a review of more than 30 studies, the Department of Sport Science from the University of Wuppertal in Wuppertal, Germany, found there to be the most benefit in instances of explosive movements, exercising to exhaustion, like running at VO2 max, and in time-trials, basically race simulation.
Professional triathlete Michele Vesterby of Denmark, a CEP athlete who uses compression gear for both training and racing, agrees. During training she believes it helps her to recover faster so she can train harder. For racing, she feels the benefit comes in not feeling as tired. Given the successful racing year she's had (in 2015, Vesterby placed first at Ironman Copenhagen with a sub-nine hour finish, fourth at Ironman Hawaii and fifth at Ironman Arizona), her theory seems to be holding true.
"I like feeling the support to my calves. It keeps me from feeling as fatigued when I race," says the 32-year old. "I notice the most difference when I where them to run."
Vesterby says while sleeves took some getting used to at first, she's now worn them for so long and come to realize the benefits, that they've become a key element to her race kit. In wetsuit-legal triathlons, she starts the day wearing them under her wetsuit for a quicker transition. In non-wetsuit races she puts them on for the run.
Compression quad and calf sleeves are also popular with mountain runners, who often run courses with seemingly incessant descents and constant pounding. Proponents say compression helps to lessen the muscle vibration that comes with running downhill, thus reducing muscle trauma. Less trauma, means less post-run pain and swelling. And, ultimately, more time running and racing in the mountains.
Popularity extends far beyond the pros and the podium, which skin-tight compression apparel appearing throughout the ranks of road and trail racers. From shirts to shorts to socks, the popularity and personal success stories are on the rise. As are the possibilities to express your personal style, with compression coming in patterns, colors and even with reflectivity. Vesterby can often be seen racing in her favorite color, hot pink.
It's also accepted that performance is mental as much as physical. Whether it's a specific pre-race ritual, wearing your lucky socks or compression calf sleeves, you perform better when you feel good. With the possibility of both physical and psychological benefits, adding compression to your race repertoire could be just what you need for a new PR.
When using compression apparel, it's important to find the right fit. Follow these five tips as you incorporate compression into your racing and training.
Apparel pieces should be tight enough that you notice them, but not so tight as to cut off circulation.
Some brands have sizing charts, which make recommendations based upon calf circumference for products like calf sleeves or tall socks.
Certain products are designed to work best for specific sports, with zonal compression to best support specific muscles. Choose general or targeted compression based upon your needs.
Choose products made from wicking and breathable materials for comfortable workouts.
Determine where you need compression: feet and ankles, calves, your whole lower leg, quads. It depends upon your problem areas or where you want more support.