Why I'm Taking A Year Off From Distance Running
Sometimes it's time to take it shorter.
Heading out the door? Read this article on the new Outside+ app available now on iOS devices for members! Download the app.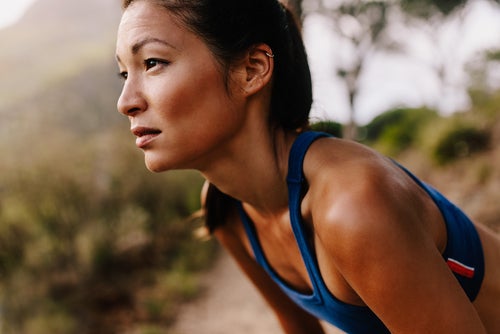 The first race I ever signed up for was a half marathon. I was clueless and, if I'm being honest, not so much a runner as a former basketball player looking for a new, non-team sport challenge. But I was athletic and ready for a challenge, so I decided to go big. After all, more miles, more glory. Right?
Well, the half marathon and I have had a rocky relationship—that first race was very nearly my last, and it took a few years and a couple more races before I actually started to have any fun with the distance whatsoever. I still enjoyed the 5K more, but…well, I felt like I earned so much more street cred with the half marathon, so I stuck with it.
I mean, I really stuck with it. Since then, I've done a whole bunch of half marathons, a 25K trail race, and a half Ironman—as well as a slew of shorter races. But who counts those, right?
I do—or at least I'm planning to count them going forward. In fact, I'm committing to taking at least a full year off of any distances longer than a 10K. And I feel awesome about it.
At the time of my most recent half marathon last fall in Oregon wine country, I hadn't logged a new 5K PR in years—despite the fact that, at all the weekly group runs I attend, I'd seen some pretty nice increases in my pace. But I couldn't seem to get myself geared up to train for a race in that distance. Part of the problem was that I love making more of an event out of a race—go somewhere, run for a couple of hours and work really hard, meet up with friends and celebrate (also really hard) afterward—and I found it hard to justify turning a 5K run into a full-day event. Plus, I always seemed to have friends signing up for exciting races—and who was I to turn down an excuse to join them?
It occurred to me after that Oregon race (for which I'd had little desire to put in those very necessary long training runs) that maybe it was time to take a break from the longer distances. I'd proven I could run the distance. I'd proven that a bad race wouldn't keep me from trying again. I'd proven I could overcome injuries, asthma, and arthritis in my knees.
Now, it was time to find a new challenge—and something new to prove. And so I decided to give the 5K (as well as strength training and yoga) some serious love and attention and see how it felt.
I signed up for my track club's racing series (where you get points for showing up and for placing amongst other participating racers, regardless of how you place overall). It includes a lot of local runs in the 5K to 10K range, and that's provided me the inspiration I was previously lacking when it comes to speed training. I'd always struggled with this because, while I know I can improve, I also am aware that I'm far enough away from the podium that even my best effort isn't likely to land me a top 3 finish in most races. And I'm okay with that! But it turns out that knowing I have other runners competing in the racing series out there who I do want to beat—even if we're nowhere near the winners.
For the first time in a long time, I'm showing up at a 5K truly ready to race, and in the process, I've taken about 90 seconds off my previous best finish time. That's still about 8 minutes behind the winner, mind you, but as far as I'm concerned, my own hard work and improvement—at any distance—is all the street cred I need.
Will I get back to some longer distances in 2018? Maybe. Who knows? But in the meantime, I'm having a blast giving it my all at the local Saturday morning races. And I still go to some of the half marathons! I just now get a chance to cheer for my speedy friends when I stand near the finish line with my cowbell.
Related: 4 Smart Ways To Break A Running Plateau