5 Struggles (Not) Of Living In San Diego During Winter
Here in sunny SoCal, we live in constant fear of temperatures below 50.
Heading out the door? Read this article on the new Outside+ app available now on iOS devices for members! Download the app.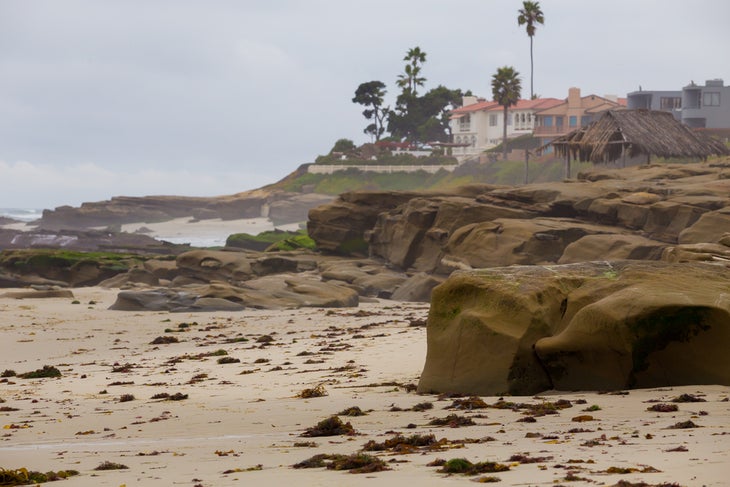 If you've ever spent a lot of time in a warmer climate during winter—like, say, San Diego—you know the struggle of navigating the temperatures that the rest of the country rolls their eyes at. We don't know real wind chill, nor do we have the joy of layering up for a really, really, really cold run. (Define "cold" though…).
Related: 25 Thoughts Runners Have On Cold Winter Runs
What we do experience are the haters on social media that have to hibernate four months out of the year and scold us for complaining about having to put on a light jacket. Who are they to judge the challenge of matching our clothes to 360 days of sunshine? No one forced them to live in the arctic, just like no one forced us to bask on the beach in early January. The struggle is real on both sides, and all we want is a little respect for our wishy-washy, kind-of winters here in Southern California. Need convincing? Here's what we are dealing with:
The weather is so temperamental.
One minute you're sporting shorts and flip-flops, the next you need to dive into those winter boots and add a beanie. Seventy-five degrees to 50 in 24 hours is a serious problem we experience every December; it's the difference between a holiday party next to the ocean and one inside with all heaters and hot drinks a-flowing. And forget about dressing for a run—do you wear shorts and a long-sleeve? T and tights? Tank and shorts? We just can't find the balance every time.
We might be able to wear short sleeves on every run.
This is a serious problem. Here we are, totally excited about this "crazy winter that's coming" every year, but really we have to continue to wear our best warm-weather gear instead of that brand-new long-sleeve we just bought. What a waste of money—and those weather people who deliver "pinpoint weather" every evening? You really failed us. It's 70 outside, not 65, and that's a huge discrepancy.
It will rain.
Don't believe all that "it never rains" talk; Southern California gets rain probably nine days a year, and it's intense. There's flooding, there are sold-out windshield wipers, there are people on the road leaving work to be with their children in case this is the end. Rain is a huge catastrophe when it happens, so don't make fun of our need to wear fashionable rain boots the minute a drop falls or the fact that we dig up our one and only trusty rain jacket for a 3-mile easy run around the block. You never know when a full-blown rainfall is coming.
It's way too crowded.
You all poke fun at us for our "non-winters," yet everyone seems to flock to our area of the country for the holidays. Our running streets and favorite coffee shops are suddenly filled with wide-eyed tourists and extended families looking for the beach. It's 60 degrees outside, and you're really hitting the beach?! It's literally freezing. Then summer rolls around, and you all want to stick around for real beach season. It's, like, 85 degrees in the summer, which is way too hot to be outside. All we want is our usual at the corner coffee shop where they know our name and get to work so we can leave early and shiver at the sight of people getting a tan under that 60-degree weather. It's an excuse to layer, amiright?
Winter lasts for a whole month.
At least the rest of you are prepped and ready for those gnarly winter storms, dumping snow and below-freezing temperatures. San Diego is definitely not equipped with the appropriate drainage systems, so temperatures hovering dangerously close to 45 overnight and calling for rain off and on for an entire month (ruining our New Year's outfits!) are devastating our overall moods and social plans. For 30 days every season, Target is cluttered with sweaters of every color and style, and they fly off the racks as quick as windshield wipers at the smell of wet pavement. We wanted to go bathing suit shopping, but that will have to wait until President's Day weekend.
So before you judge us and our seemingly "perfect weather," remember that we are humans too, with real feelings toward our weather changes. But we would never leave this place—it's way, way too cold everywhere else.