5 Running Strides I've Made In 5 Years That Have Nothing To Do With Speed
These are amazing and totally spot on.
Heading out the door? Read this article on the new Outside+ app available now on iOS devices for members! Download the app.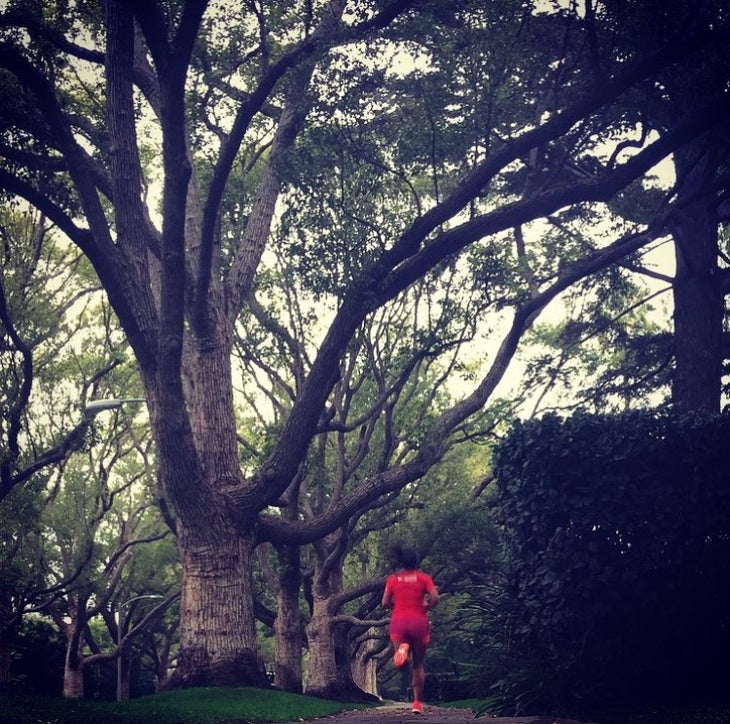 Five years ago, I put on a pair of shoes to go for a run. I was a stressed-out working mother of three who was furiously treading in place to keep her head above water, and I knew it was time to make a change before drowning. I decided to start by trying to take my body back and make it my own again. I didn't have enough time to go to the gym regularly, so learning to run seemed like a convenient option. I had no idea that my goal to run 5 miles without stopping would actually be the oxygen mask that would change my life.
Five years and thousands of therapeutic miles later, I feel the need to look back on my journey here. Over the last few years, I've read many articles that say most runners have about 10 years from when they start to build their speed to when they plateau or slow down. Half-way through my 10 year mark, my speed has only minimally improved. I'll admit that I have never really hired a coach or followed any set plan, other than the Saturday long-run mileage plan needed for each of the marathons I've run, but still, it's a little discouraging to see the small gains I've made in my speed on my own. Rather than get bogged by my mile-per-minute number define my success as a runner, I've decided to instead focus on all the other positives that show the magnitude of the more important strides I've made.
Energy level
I used to be tired all the time. Now, I have more energy than I recall ever having in my adult life. Not only am I not tired to start with, but I'm also not even worn out after a long run. When I first started running, any day that I ran double-digit miles, I'd be on the couch for the remainder of the day. Long-run day was long-run day with no room for anything else. Now, I can run double-digit miles early in the morning and still have energy to enjoy the rest of the day with my family and friends. Not only can I keep up with my children now, I can outlast them.
Weight and eating habits
Since the age of 12, I've been a yo-yo dieter. I've also cycled through bouts of binge eating followed by days of deprivation. Once I started running, I gradually let go of binge eating. I said goodbye to diets forever. I enjoy eating real foods because I'm actually "rungry." I indulge when I want without feeling any guilt. While I have not let go of my habit of weighing myself every morning, the number on the scale doesn't define me anymore. The fluctuation of 5 pounds does not send me into a panic or result in self-loathing; it is just shrugged off as where my body happens to be that day.
Mental health
I cry—a lot. I'm a crier, a feeler. Five years into running, I still cry a lot, often while actually running, but the things that make me cry no longer also make me depressed. I can feel sadness without feeling despair. I can take what bothers me on a run and have a good cry with it, and then put it aside, rather than have it get me down for an entire week. I can genuinely say that I'm happier than I've ever been. That happiness has also resulted in me being a better mother, and it's made my marriage stronger and better than it's ever been.
Physical health
At my recent annual exam, my doctor reviewed the overall improvement in my health.  My blood pressure and baseline heart rate relative to my age keep getting better. In reviewing my problem list, she came upon irritable bowel syndrome, a diagnosis I'd been dealing with since my teen years when I first visited a gastroenterologist. I told her that I think we can take that off the list now. Symptoms that used to present themselves and send me to bed about three times a week now show up, at most, a handful of times per year. Since I haven't made any big dietary changes like eliminating gluten, going dairy-free, or becoming vegan, I can only correlate the resolution of my symptoms with becoming a runner.
Saying yes
I say yes to everything. Running has given me the confidence to say yes to things I would never say yes to before. In the last year, I tried a Spartan Sprint. When a friend asked me to do a triathlon, I immediately said yes despite being a very amateur swimmer and biker. From aerial fitness, to kick-boxing, to various boot-camp workouts, I've been trying every exercise class I can get to. More importantly, running has given me the confidence to say yes to a myriad of non-physical challenges. Sign up for a yoga retreat or attend social events where I would not know anyone—done. Write a piece about motherhood to present to a large audience when I'm terrified of speaking in public—I'm going for it. You could say that since I started running, I'm saying yes to life, to living every day to the fullest.
Five years ago, I was so overwhelmed that I would never have been able to imagine getting myself to the point that I am now. While there is no pace that is better than what I've already accomplished, that doesn't mean that I'm necessarily going to stay with the status quo. I reserve the right to change my mind; I may consider hiring a certified running coach at some point in this next five years. After all, I've surprised myself with what I've accomplished in the first five years of my running life, so who knows just what might be ahead for me next. The only thing that's certain is that I'll continue to say yes. My life on the run has just begun.