Stephanie Bruce On Earning Her First National Title
Stephanie Bruce discusses her new goals and what an average day looks like in the Bruce household.
Heading out the door? Read this article on the new Outside+ app available now on iOS devices for members! Download the app.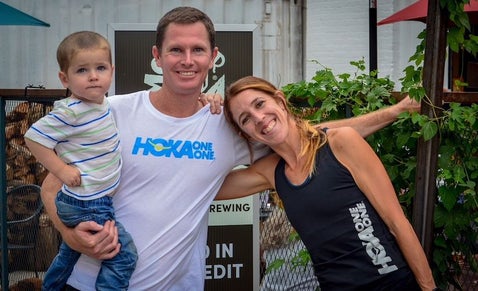 Elite marathoner. Mother. Coach. Entrepreneur.
Stephanie Bruce, 34, has no shortage of impressive accomplishments in her life. Combine that with her down-to-earth and open attitude about the challenges female athletes face after children, and it's no wonder she has so many fans.
In 2016, not long after giving birth to her second child, Bruce posted a photo on Instagram of her postpartum belly, showing the effects of diastasis recti, a condition in which the abdominal muscles separate as the result of pregnancy. Her photo went viral, with women around the world praising her for sharing such a candid shot and revealing that their bellies looked like hers.
When she is not speaking out about the need for women to embrace their bodies, Bruce, who also co-founded Picky Bars in 2010, is running mega mileage as a member of Northern Arizona Elite, raising two toddler boys and coaching other runners.  A tireless leader in the running community, Bruce hosts an adult running camp every summer in Flagstaff, Ariz., with her husband, Ben, a professional distance runner.
A busy Bruce took a breather from her jam-packed schedule to talk to Women's Running about her recent race performances, including her first U.S. title, her next running goal and daily life as a parent and athlete.
This spring you ran the London Marathon on a very hot day and finished in 2:32:28 for 10th place. In a blog post afterwards, you said you were disappointed with that performance, but noted that you had been dealing with vitamin absorption problems for a while. How are things now? 
After London, I was very fortunate to have a lot of support in my corner to help get to the bottom of the blood issues I was facing. I work with Athlete Blood Test, Dr. Garret Rock, and AJ Gregg at Hypo 2 Sport to get regular blood monitoring, and recently AJ has been really figuring out much of the issues I face. We started with putting me on a higher and different form of iron supplementation since I train at 7,000 feet and have a tougher time with absorption (with) having Celiac Disease. He also began treating my gut with a probiotic, which we felt was the missing link in much of this puzzle. I don't have it all figured out and am constantly learning, but I feel closer to being 100 percent each day.
On July 4, you won the AJC Peachtree Road Race, which was also the U.S. 10K Road Championships. It's your first national title. Now that you've had time to process that huge win, what does it mean to you, particularly after London?  
Winning Peachtree was this amazing culmination of so many moments. Moments where I lost, moments where I put in such hard work but didn't see the fruits of that labor. Moments after my kids were born that I feared I'd never return to the top level of the sport. I love this [interview] clip in which Sylvester Stallone says, 'You can't be alone to really succeed. No man is an island. When you find the right people that really gel with you, then you feel as though you're invincible.' That's how my win felt. So many people making time for me. My husband Ben cooking meals for me, listening to my crazy goals, my coach Ben always believing in me, even after some really rough times I've had. My therapists keeping me healthy and my teammates inspiring me and pushing me.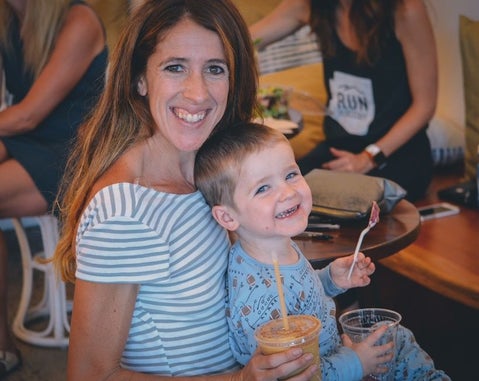 You've had an exciting summer in other ways, too. You just returned from Bruce Camp. For those who don't know, can you explain what it is and why you started it? What were some of the highlights from this year's camp?
Bruce Camp started four years ago, when a very-pregnant me thought it would be a good idea to put on an adult running camp—in eight weeks. It was a crazy feat, but we pulled it together and, amazingly, even had some people show up that first year. From that point on, we knew this vision we wanted to create of inviting runners to our home training ground of Flagstaff, Ariz., so they can live and train like the pros do.
This year one of my highlights was asking if people were interested in running a 200-meter. I would time it. The camp has no speed limits and all abilities are welcome. Every single camper got on that starting line and found out just how much they could really push themselves. That was an awesome moment for me. We usually host the camp around the beginning to the middle of August.
In addition to being a top runner, you're the mom of two young boys and are married to a professional runner. What does a typical day look like in your household? 
A typical day in the Bruce household is fun and exhausting. Usually one of the boys gets up first, between 5:30 and 6 a.m. If it's our youngest, Hudson, he will come into our room and hop in bed for some snuggles. If Riley gets up first, we usually hear his pitter patter running down our hall—running at 6 a.m., like he just got the best night of sleep in his life. He's truly impressive.
Hopefully the night before Ben and I decided who was getting up, so that parent stumbles into the kitchen, grinds fresh coffee beans and brews a pot. We then get the boys a cup of milk, cereal, and answer requests for this cartoon or that. The next hour we get the house ready, pack the boys' bag for daycare, get ourselves ready, make smoothies, fill up our bottles and head out the door to daycare and practice. We drop the boys off and go meet our team, NAZ Elite, at 8:30 a.m. I run 10 to 15 miles in the morning, depending on [whether it's] an easy day or a workout day. I'll eat a Picky Bar and smoothie post-run, come home, shower, catch up on emails, clean the house up, eat lunch and take a nap. I nap between 30 and 60 minutes just about every day. After my nap, I brew another cup of coffee, or typically head out to a coffee shop for an iced almond milk mocha, work on coaching schedules, write and brainstorm about what I am currently digging. I'll have an afternoon run of 4 miles, then go pick up my boys around 4:45 p.m. and head home. Our car rides are filled with what they did that day, what we should have for dinner and what movie we should watch.
From 5 to 7 p.m., I call this "family time," where Ben and I try to be really present with the boys and turn off all distractions. Ben will make dinner, we play superheroes, build towers and then we eat around 6:30 p.m., watch a movie, take a bath at 7, and then wind down for bedtime with stories and brushing our teeth. After the boys are asleep, hopefully Ben and I have about an hour where we finish up whatever we missed in the day. I pour a glass of white wine, slip into my NormaTec boots and watch a little Netflix. Lately I've been trying to commit to more reading, so I'll swap out TV for a book. Then I'm in bed around 9 p.m., get up the next day and do it all over again.
What are your plans for the rest of the year, in both your running and non-running life?
I'm racing a fall marathon, and that will be announced in the next few weeks, so my big focus is on that and just taking steps toward becoming the marathoner I think I can be. Family-wise, my youngest son, Hudson, turns 3 next month, so we will celebrate his birthday. As far as planning, you know as a parent that sometimes you can't really plan that far ahead. Just as you have something figured out with your child, they have this huge jump in development, attitude or whatever else, and you learn to roll with it. So that's kind of how the Bruce household works. We plan, but with lots of wiggle room and lots of last-minute decisions.
Related: