She Found Running To Cope With Her Mom's Stage 4 Cancer
When her mom was diagnosed with stage 4 cancer, Karli Corey's world was turned upside down. Here's how she used running to heal.
Heading out the door? Read this article on the new Outside+ app available now on iOS devices for members! Download the app.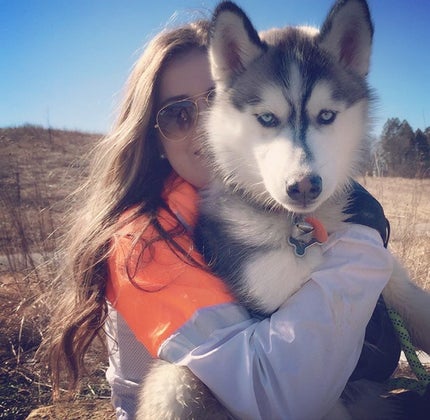 I can't tell you how many times I get asked why I run so much. It's always a question I like to brush off, because the answer is pretty personal. It's something that is still hard to even say out loud without getting all emotional. I've met so many marathon runners who have overcome many obstacles such as deaths, addiction…the list goes on.
On March 25, 2010,  I was a senior in high school when I came home from lunch to hear the news about my mom. I can literally replay this day in my head like it was yesterday. I knew it was the day that we would find out why my mom had so much stomach pain for the past 6 months.
RELATED: She Had Stage 4 Cancer, Then She Did An Ironman
When I walked in the door, my dad told me to ask my mom what they found out. My mom put her hands up above her head while she told me that she had been diagnosed with Non-Hodgkin Lymphoma (NHL) and it was stage 4. Stage 4 means that the cancer was everywhere in her body. The prognosis was 2-5 years, which would be my entire time in college. I already was enrolled at Arizona State, so I would be leaving in a few months. That summer, while all of my friends were enjoying their time before they left for college, I was bringing my mom to chemotherapy and doctor appointments. It all happened really fast—none of it seemed real. I would wake up from sleeping and realize that this whole nightmare was a reality now. The day my mom asked me if I could cut her hair shorter (it was falling out in clumps) was one of the hardest days for sure. While I was combing her hair, she asked me if it was falling out a lot and I said, "no," with tears in my eyes, because it was. Shortly after that day, she shaved off the rest of it by herself. She said she didn't want me to be there for that part.
I remember one doctor appointment specifically that I drove her to, where she came out of the room crying. I had never seen my mom cry before, so it was definitely unsettling. My mom was always the super mom; she literally devoted her whole life to my family. She even worked nights so that she could be home with my brother and I during the day when we were little. I didn't know anyone whose parents had cancer, so it was difficult. Most of my friends would listen, but just didn't understand—which I get. One person who stood out in my mind while writing this was my friend Lindsey. I called her multiple times when I was a mess and she would take me to places to distract me. I am very grateful for her. I'm not a sad person, I'm actually really happy most of the time, so this whole sad thing was difficult for me.
Being away from my mom during college gave me a lot of guilt. I felt that I couldn't have fun, because my heart was with my mom—not going to parties like everyone else. My mom actually brought me out to Arizona State three months into her chemo treatments because she wanted to be there. She was even advised not to fly, but she did it anyway. I was doing really well in school, only because it was the one thing that distracted me from thinking about my mom. My doctor had prescribed me Lexapro (an anti-depressant) so that I could still be in college but not "worry as much," as he put it. This was just not enough, so I started doing some other things (that I'm not proud of) in order to numb my feelings, because I had no idea what to do. He set me up with different psychologists that never worked out. My first year of college is when I decided to start running, which completely changed my life. Devoting so much time to running meant giving me alone time to think about everything. I always hear how runners always decide big decisions while running—that could not be more true. Running was my me-time, where I could organize all my thoughts I had in my mind.
RELATED: Cancer Patient Completes In-Hospital Marathon
I ran my first half marathon in Wisconsin and right away came home to sign up for the Chicago Half Marathon, just one week after my first one. I transferred to Hawaii for college and ran my third half a few weeks later. Then a few weeks after that, I flew to Alaska by myself to do another half in Anchorage. I was completely hooked, running was the cure-all to everything. I did my first full marathon while living in Hawaii. Since then, I've ran about 11 half marathons and still working on doing another full. My next full will be with the Leukemia and Lymphoma Society Team in Training to raise money for cancer.
After I picked up running, my mood completely did a 180. Running makes me feel really empowered and is something I can do by myself, whenever I want to. I take a lot of pride in the fact that I can now deal with hard things completely by myself, without anyone's help. I have gotten a few of my close friends into running as well. I think it is so important for everyone to find an outlet when they are going through a hard time. I never looked back after my first run.
My days now are built around how many miles I want to run that day. Most days that means waking up at 4 a.m. before I sit at my desk job for 9 hours. I now have the best running buddy ever, Koa, my Siberian Husky, to share my love of running with. It's really weird to think of where/what I would be doing right now if I didn't start running. I was completely lost, until I found myself out on the trails. I'm a true believer of everything happens for a reason.