Running Buddies Are Our Most Valuable Friends
Running friendships are the best kind around.
Heading out the door? Read this article on the new Outside+ app available now on iOS devices for members! Download the app.

It's The Friendship Only Runners Understand
We runners know how precious our running buddies are. They're the friends we can always count on when we utter that magical phrase: "Want to go for a run?" Even when the realities of running–the sweat, the body aches, the charley horses–compel them to turn us down, they rarely do.
One of my oldest friends is a runner, like me. We live on opposite sides of the country and are pursuing wildly different career paths, so we don't often see each other. On a recent summer afternoon in early June, my friend Sarah announced her last-minute visit to our shared hometown with a running invitation for the following morning. She was only in town for a matter of days and was still juggling tests and projects for medical school, but running provided us with an all-in-one excuse to catch up, exercise and stroll down memory lane as we ran along the beach that was once the practice meet-up for our high school's cross country team. We discussed work, family, love and all the other major life touchstones that had shifted since our last meeting as we ran the miles down.
Related: The Differences Between Running Buddies And Other Friends
We didn't break any of our high school racing records that morning–that wasn't the point. While other friendships require a coffeehouse, restaurant or bar to serve as the backdrop for a catch-up session, Sarah and I can update each other on the go, in any location, at any time of day. Both friends and teammates as teenagers, we are now simply friends, encouraging each other to make it up that last stretch of hill as we simultaneously offer perspective on the larger struggles that we face in life.
While I wonder about the lasting power of some of my other friendships, I never worry about this one. We both love running about as much as we enjoy complaining about it. We each know exactly what running means to the other person: what it meant when we discovered the community strength of our high school teams, as well as the physical, mental and emotional importance it holds for us now as we muddle through life in our mid-20s. Running is the habit we can always feel good about, the high school tradition we dragged into our adult lives that brings no regrets and few excuses. For me, running has always been a way to make and keep friendships–and in this case, I know for sure that all the sweat, body aches and charley horses are well worth it.
Sarah–thank you for your many years of friendship! Please visit again soon–that big, scary hill is calling our names!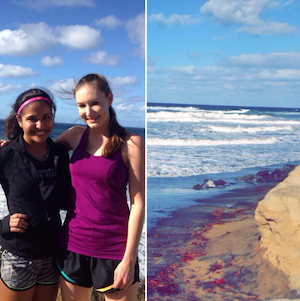 Related:
What To Say To That Friend Who Thinks Running Is Boring
20 Things That Only Runners Know To Be True