Runners Are Committing To 2,016 Miles In 2016—Here's How
Wouldn't it be really cool to run 2,016 miles in 2016? There's a program for that.
Heading out the door? Read this article on the new Outside+ app available now on iOS devices for members! Download the app.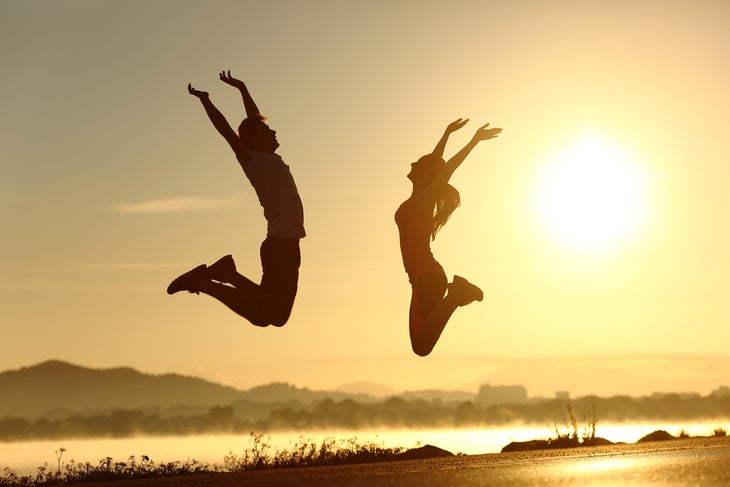 There are thousands of runners, from elites to couch potatoes, across the country coming together to run 2,016 miles in 2016. But how?
After Run The Edge co-founders Tim Catalano and Adam Goucher hosted a handful of month-long challenges for runners through social media in September 2014, the duo decided to expand on this idea—calling it Run The Year, a virtual year-round program to encourage runners to cover 2,015 in 2015. The idea quickly attracted more than 25,000 interested and ready-to-run people, all stoked to share their big and small accomplishments through with its booming social community.
"We thought, let's make a year-round challenge and put it around New Year's resolutions and build a community to keep people motivated the whole year. That's really how it started—just wanting to do something that lasted a little longer and kept people engaged," explains Tim Catalano.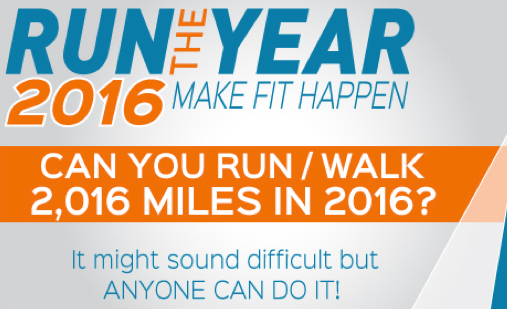 The results totally blew expectations out of the water, especially with the outpouring of support between runners on social media. Run The Edge's Facebook page has nearly 140,000 followers, and the group for Run The Year-ers hosts nearly 18,000 active users.
"They are crazy pumped up, the interaction is off the charts in the group," says Goucher. "The support is just like nothing we've ever seen before. Just knowing that we are able to help people get though this year, one step at the time, to achieve this goal they set for themselves is pretty awesome feeling."
Now, as we all enter 2016 with optimistic resolutions and (maybe) over-zealous goals, Run The Year has added one more mile to its own demands—run 2,016 in 2016. But wait—there's more: a virtual expo, open 24/7, with dozens of partners throughout the year to educate, inspire and motivate, which they say are the main focuses of the expo.
"The primary areas people are going to love are the fact that this is an all-encompassing fitness plan. You've got great recipes and nutrition advice, you've got people there helping you stay healthy all year," Catalano explains. "You've got training plans and specific places people can talk about running. That's what the expo is designed to be—a resource they can always go to when they need something."
Both Goucher and Catalano credit the program's early success to its creative way of keeping people engaged in between their own races, helping people stay motivated through connections with other participants and holding everyone accountable by celebrating milestone moments and progress goals along the way. Plus it adds a little extra flavor to the vanilla taste that training can sometimes bring after several weeks of monotonous miles.
"I think what it does is break up the monotony of training," explains Goucher. "One of the greatest barriers of training is staying motivated and keeping the excitement alive. This allows that—this keeps people excited and coming back and engaged."
Kara Goucher, wife to Adam Goucher, is also pumped up to play a significant role in the expo and the program in general. Goucher says clocking the miles on her account and offering her expertise in various expo "booths" is an opportunity to share her larger training goals, like qualifying for the 2016 Olympics, with her enormous community of supporters. The question is, will participants see the marathoning queen share her milestone bibs on social media? "The milestone bibs are the biggest [incentives]. They break down this huge goal of 2,016 into achievable chunks," Catalano says of the bib, which are a smash hit and celebrate every 100 miles run. They will be available to print out on the event's website.
To participate, runners sign up on the website and create an account, which gives them access to the virtual expo, special offers and discounts, training plans and a mileage tracker to keep you on top of ground covered. You can sign up as an individual or team to conquer the 2,000+ miles. The entire year-long commitment is $25, which Catalano says is "not much, but it's symbolic."
"It's enough that people feel like they have to commit and say, 'Dammit, I'm going to do it," he laughs.
Both founders admit to sharing in the emotional reactions that they see on other runners' faces each time they hit a major milestone or have a breakthrough run, which is all part of the magic of the running community and the sometimes unexpected tears that come with finally hitting that mark or finishing that race.
"Imagine doing something big. Imagine taking on a huge challenge, doing it with other people and accomplishing it. Imagine sticking to your New Year's fitness resolutions for 12 whole months, and imagine how you're going to come out the other side feeling and looking like because you achieved these big goals. The miles are achievable, whether you do it by yourself or with friends, and we have the resources to keep you going."