If A Runner Wrote A Super Honest Dating Profile
One runner did, and it's hilarious.
Heading out the door? Read this article on the new Outside+ app available now on iOS devices for members! Download the app.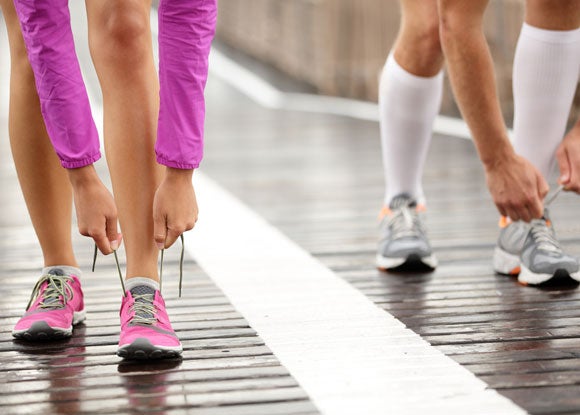 I've always wondered what someone's dating profile would look like if they were totally honest with the application. Better yet, what would a runner's profile look like? I was once told by a good friend to "hide the weird" until I got to know someone. But honestly, the older I get, the more I like to be upfront about letting my freak flag fly…or in this case, my "runner flag." So here's what I think it should really look like when you're swiping:
I am 24 years old, but I am oddly similar to my 92-year-old grandfather. I like waking up at the crack of dawn, enjoying a cup of coffee and heading out for a run (okay, he doesn't do that anymore). On Sundays, I attend the "Church of the Long Run." That means taking it easy on Saturday nights, so I would not recommend asking me out on a Saturday. I have run two marathons, but I am guessing that number will multiply quickly in the next few years, which means training year-round, which means being social is really out of the question. My family is amazing and quite large; they once drove the family minivan up and down a race route cheering for me. Also, I have never stopped my Garmin on an odd number. Ever. I have a problem with oversharing with non-runners, because I assume that most people want to hear about everything we discuss on runs, as well as all about running in general, including bathroom matters and chafing.
Related: 25 Thoughts Every Girl Has Before A Running Date
What I'm Doing With My Life…
I work full-time and travel almost every week. My mornings are spent running. When I am in a new city for work, I like to sightsee by running from monument to monument. Sometimes at night I go out, but most of the time my bed and an early night proves a lot more appealing. I curate my social events and vacations around my race calendar. And even when I do go on vacation, I still get my runs in; I am just a nicer person that way. My biggest accomplishment is keeping the Duane Reade on the Upper East Side in business by purchasing at least one half-gallon of ice cream per week.
I'm Really Good At…
Getting up before the sunrise and only on odd numbers. 5:01 a.m. is a good one. Curating running playlists (I currently have two subscribers to my "Run Happy" playlist. I am working on generating more excitement.). Sleeping on airplanes—seriously, when I tilt my head backwards, I can pretty much fall asleep anywhere. During marathon season, I am really good at falling asleep around 8 p.m. I am also good at finishing everyone's leftovers at a restaurant. Don't order fries unless you want to share them with me.
Related: 9 Reasons Why You Should Go On A Running Date
The First Things People Notice…
If I get dressed up, I usually get complimented. But that's mostly because I keep the standard low by wearing running clothes 90 percent of the time. If I remember to put on makeup outside of mascara, it's a big day. Keyword…if. Oh, and my quads. They're pretty muscular. FYI to dates of the future: Telling me that they're large is never a compliment…ever. I prefer "strong" or "badass."
Favorite Movies/Books/Etc.
Born to Run, The Running Brain, Runner, Galloway's Book on Running, Why We Run, Once a Runner—you get the idea. I subscribe to Women's Running magazine and Runner's World. Did I mention Born to Run? I really liked that one.
I Spend A Lot Of Time Thinking About…
If I will ever regain the toenails I've lost. Like seriously, is anyone thinking of a solution for this? And what I am going to eat next. Life is infinitely more exciting with fun foods.
A Typical Friday Night Looks Like…
Get home from work, check my phone for peer pressure-filled texts from friends to go out, check my training plan to see that I indeed have a long run in the morning, promptly change into pajamas, stop pretending I have FOMO, make a solid pasta dinner, and pass out. Oh—and make sure my Garmin is charged, although I forget that one a lot.
Most Private Thing I'm Willing To Admit…
If you run with me for 30-plus minutes I'll pretty much tell you anything. No need to reveal it all here…
Message Me If…
You need a running partner. I always need more running partners. If you like running around 5:30 or 6 a.m., even better. Oh and a date. That's why I'm on here, right? Just make sure it's early.