An Important Reminder For When Running Gets Painful
In these situations the most important thing you can do? Remember why you run.
Heading out the door? Read this article on the new Outside+ app available now on iOS devices for members! Download the app.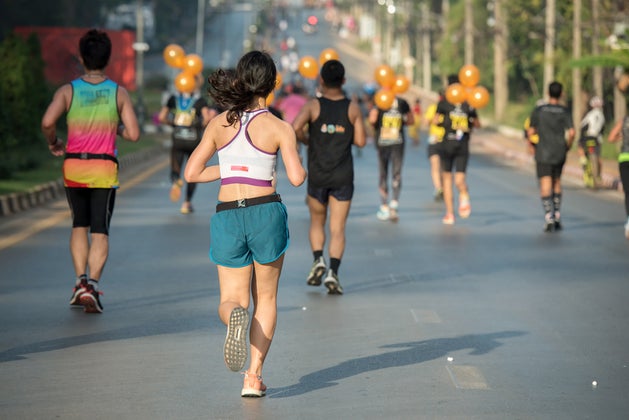 I was 10 miles into a 12-mile long run, cruising along and enjoying the morning sunshine. That's when I felt a weird twinge in my hip. I stopped and stretched, but as you may have well guessed, the twinge was the onset of a stress fracture and, apparently, you can't fix bone by stretching. Clueless, I finished my run and made a mental note to take some ibuprofen later. It was my last day at home before commencing my freshmen year at Butler University and I'd just clocked my best long run yet. I was feeling invincible.
Fast forward to the end of my second week at Butler, and I knew two things: One, I absolutely loved it and two, the hip pain was a lot worse than I'd thought. I insisted that it was just a tight muscle, but I knew there had to be more to the excruciating pain. By week three, I was awaiting MRI results, which (shocker) showed I had a severe stress fracture in my hip. I was stunned. After all I'd invested into my running, it didn't seem like a fair outcome at all. How was I supposed to function? That's when I realized I wasn't invincible; I was just a sad, 18-year-old kid whose world was cracking like bone.
I wasn't sure if I could handle it. Should I quit? Could I quit? I entertained just about every option—short of a hip transplant. But then I thought about when I first decided to run in college. There was one question I kept asking myself: Do I have a passion for running? See, it's not enough to just like running or even to love it. There are times when the sport of cross country is pretty dang miserable. That's just the truth. There must be more than just an emotional affinity to keep a runner committed. As a high school junior, I'd answered my question with a firm "yes," and as a college freshman sitting in the stairwell with tears pouring down my face, I knew the answer was still "yes."
The funny thing is, I've dealt with much greater challenges in my life and my running career since then. However, that was the moment I understood the commitment that my passion would require, and it was the moment I first saw the depth of that passion. I resolved that even if I didn't meet my goals, persevering on was worth it. And it truly was worth it, because that stress fracture set in motion a process of physical and mental healing for me that has allowed me to thrive in ways I could never imagine as a broken college freshman.
I now know the fracture was the result of stupid choices I'd made that ran my body into the ground. And I don't think I would have learned that if I'd merely given up. Instead, I gradually learned how to eat right, train smarter and strengthen my body. I became more resilient. And I almost laughed at the thought of quitting. After all, I still wanted to run and I craved the competition of a race. Why give up when the passion was still there?
See, the things we love aren't always lovely. Oftentimes, they are messy and painful. That's something I discovered through my drop-kick immersion into the world of injury. When something we love isn't so lovely, it comes down to commitment. Emotion will only get you so far, and it will most likely fail you when the real trials set in. Those are the times you might be tempted to quit your goals as a runner. Instead, cling to that commitment. I, for instance, am compelled to run because God gave my body the ability to do so and it liberates me. That truth is what pulled me through the stress fracture and it still drives me today. It's written on a notecard and taped to my wall: Remember why you run.
If you are currently sidelined from running, I want to offer a word of encouragement: Things will get better. You will gain perspective and you will heal. Your motivation to reach for your goals might be different than mine, but they demand the same question: are you truly passionate about running? If your answer is "yes" and your body allows it: Fight for your running with all you've got. No matter what is discouraging you today, know that it is only a blip in your athletic journey and your growth as a person. Persevere and remember.