A Reminder For The Next Time You Want To Quit
During her most recent race, this runner was ready to quit at mile 12.
Heading out the door? Read this article on the new Outside+ app available now on iOS devices for members! Download the app.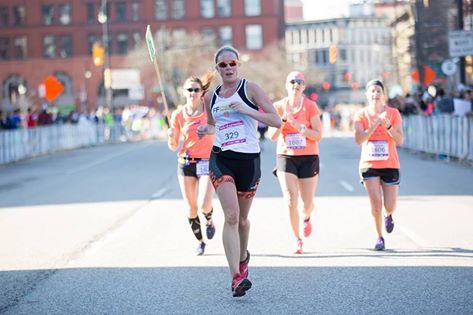 My training plan said 9 miles, but the weather for the Gazelle Girl Half Marathon looked gorgeous, I felt strong and I figured, why not add 4.1 and just take it easy? Because we all know how 'taking it easy' goes for a competitive spirit.
At mile 4, I felt like I could run forever. I've spent the past three months religiously training for my 70.3 this June (putting coins in the bank, as my husband always says). I settled into a stride and just enjoyed the view, my fellow runners and the sunshine. Life was good.
At mile 7, I realized I was going a bit faster than I expected. I was waiting for my body and mind to say, "Okay, time to slow it down a bit." Mile 8 came, then mile 9 came, and I still felt good. I was wearing my yellow flower (Editor Note: Mel is co-founder of Fellow Flowers), and I vividly remember looking around at all the beauty and thinking, "Because you get to Mel, because you get to." In that moment, I loved running.
At mile 11, I hated running. I wanted to quit. I was hot. "Who thought this was a good idea?" My well-trained body was now officially in uncharted territory. My mind, lungs and legs had reached a distance they had not yet grinded through in my training. Thankfully, my mind stepped in and took over. "One foot in front of the other. It doesn't have to look pretty, but you're not quitting."
At mile 12, I wanted to curl up in a ball, play dead and have someone sweep me off the road. I couldn't stop for water because I knew if I slowed down, it would be the end. "This was a stupid idea. You should've just done 9 miles. Everything hurts and I want to die!"
At mile 12.5, I hear voices. Three voices. Three strong voices. "You've got this! Stay strong! We're bringing you into the finish!"
It was the 8:30 pacers. They found me and they were NOT going to let me putter off and die a slow death on this course. Oh no. Instead, they lit a match to my heart and reminded me why I was out there running.
When you forget what you're capable of the universe gives you ways of remembering.
These ladies were good at distracting me from the torturous pain I was in. One woman asked me about my training.
"This was supposed to be a 9 mile training run," I said amidst tired breaths.
"Well, you're KILLING IT THEN! And now we're going to crush this finish! Go get it girl!"
In that moment, my tired body reconnected with my striving heart. "I get to be doing this. I get to be in pain. I get to be tired. I get to hear the cheers of the crowd. And I am able to push through and finish this race."
And so, with my three pacers by my side, cheering like maniacs, we full-out sprinted toward that finish line.
The word strive means to make great efforts to achieve or obtain something. To fight vigorously toward a goal. To contend and withstand. To attempt and endure.
It isn't so much about what you achieve at the finish, but more so not surrendering in the attempt.
That is what I will think about every time I look at the photo above: A strong woman striving to see what she is truly capable of, surrounded by women who believe in her. If this isn't the definition of the women's running community and Fellow Flowers, I don't know what is.
We're all going to find our mile 12—in running and in life. That moment when everything hurts and you just want to quit. When you feel like you've exhausted all your effort, energy and options and the temptation to walk away is so deceivingly alluring.
You don't want to keep going.
But then a voice inside of you speaks.
Just strive.
Stay in the game.
Keep fighting.
And to my pacers—thank you. I will never forget the tough love and support you gave me, and if you were wondering if your miles mattered this past Sunday, rest assured that they most certainly did.
I finished with my second fastest time ever—a 1:51—which honestly, after having Maggie, was a time I assumed I would never get close to again.
This race has allowed me to dream about what else might be possible.
And, I have added 'pacer' to my list of to do's this year. I want to be that voice for someone else. I want to be that mile 12 reminder for the woman who wants to quit. I want to remind her to dig deep and keep going. Because we can. Because we get to.