The Women Of The Pink Angels Are Walking To Eradicate Breast Cancer
How breast cancer survivor Josie Seneta started a team for the Susan G. Komen 3-Day Walk and how you can join in the fight.
Heading out the door? Read this article on the new Outside+ app available now on iOS devices for members! Download the app.
After completing 19 three-day walks and helping raise $2 million for breast cancer charities, Massachusetts native Josie Seneta hopes her miles help eradicate the disease. Thirteen years ago, I returned home from an evening with friends ready to hop in the shower and go to bed. As I took my shirt off to undress, my arm brushed against a lump on my breast that I hadn't noticed before. Knowing that my mother and two aunts all had breast cancer, I made a mental note to call my doctor first thing in the morning.
Because of my strong family history of the disease, my doctor took me in immediately. She also felt the unusual mass. An ultrasound followed by a biopsy a few days later ultimately confirmed my fears: At age 52, I was diagnosed with Stage I breast cancer.
Luckily the cancer had not spread beyond my breast, and I was able to undergo a lumpectomy to remove the tumor from my body. Though my surgeon wasn't able to get the entire mass, the second surgery yielded complete eradication, leaving me with no remaining cancer. To be on the safe side, I underwent radiation treatment for six weeks coupled with a prescription drug taken daily for five years. To this day, I'm happy to report that I'm cancer-free—and I don't take that status for granted.
Shortly after my personal battle in 2003, I attended a meeting to learn about a three-day, 60-mile walk in Boston to raise funds and awareness for breast cancer. I recruited the participation of my youngest daughter and both of us signed up for the event. What started as a one-time mission to support other women with breast cancer would grow  into a life-altering experience full of highs and lows along the way.
In advance of the first walk, I met two other women from my hometown who were also planning to participate. We became fast friends and when the day of the walk arrived, we set out as a steady team of four.
Having only covered seven miles as the longest distance in my training—I don't recommend this!—the blisters and soreness after day one were horrendous but my drive to continue moving forward couldn't be stopped. I met new friends and listened to their stories while sharing mine and ticking away the miles until we reached the final day.
As I crossed the finish line wearing my pink survivor shirt, I knew I was part of something bigger than myself. I was part of making progress toward a world without breast cancer.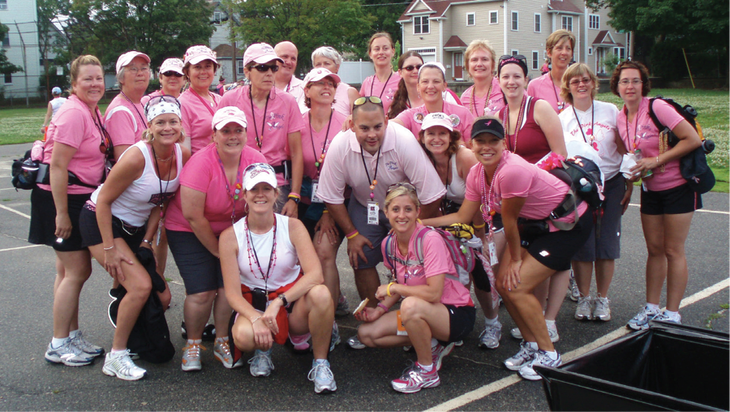 The decision to sign up for a second three-day walk was easy as I recruited my sisters to join in the fun. I began posting workouts online and encouraged anyone who wanted to participate to join my team, The Pink Angels. Every weekend leading up to the big day, the number of people at our training walks grew a little larger and before long we had 35 members signed up for the 2005 event.
Word quickly spread as more women (and a few men!) became Pink Angels, and we headed into the 2006 season with 91 members. Adding more events in cities across the country, The Pink Angels brought camaraderie to my life that was irreplaceable.
Together the team trained, celebrated each other's successes and cried as the disease invaded the bodies of some of our members. Through the years, the team evolved by becoming a registered nonprofit organization with a mission of "Remembering the Past, Supporting the Present and Protecting the Future."
Now at 62 years old, I have 19 walks under my belt—and I'm happy to report The Pink Angels have raised more than $2 million for donation to breast cancer awareness and research. With no plans to slow down anytime soon, it is my hope that The Pink Angels see a day marked by four powerful words: No More Breast Cancer.
Baby Steps
If you're not sure if you're ready to do a multi-day event, take note: To encourage more first-time participants, Susan G. Komen 3-Day launched a new program called 20-Mile Walker, which includes walking on Sunday of event weekend and raising a minimum of $750.
Want to know how you can join the fight? Register for the second Annual Pink Angels Road Race/Walk taking place on Saturday, Oct. 22 in Lynn, Mass. For more information on the event or to learn about The Pink Angels, visit thepinkangels.org.