Could You Train For A 50-Miler While In College? This Woman Did.
Overachiever? Nah—just a dedicated human!
Heading out the door? Read this article on the new Outside+ app available now on iOS devices for members! Download the app.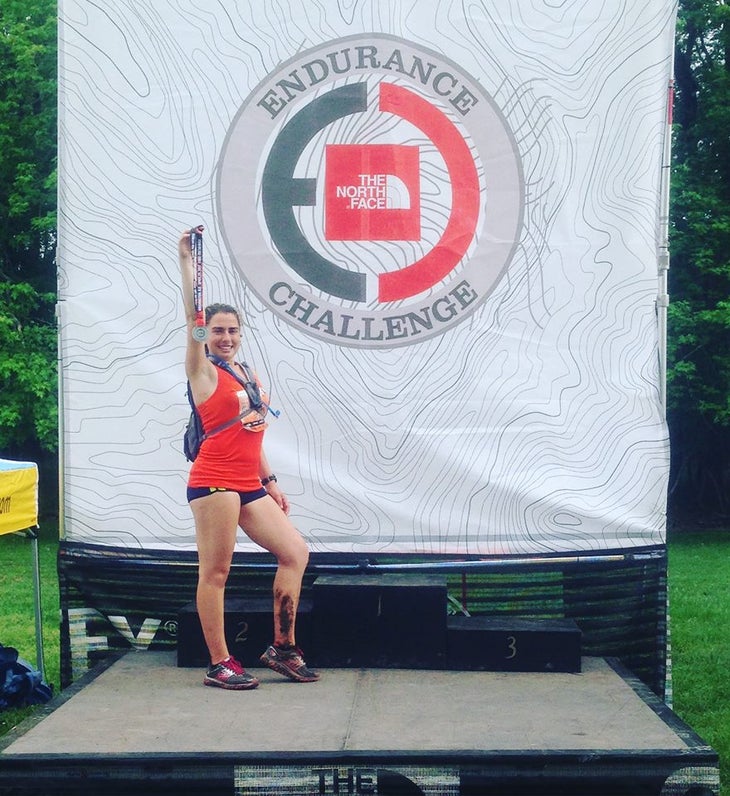 You never really know what to expect going into your first ultramarathon. You're overconfident, excited, anxious, nervous and everything in between. For me, it was the most life-changing, mind-breaking, and eye-opening challenge I have ever taken on.
On April 29, 2017, I finished the 50-mile North Face Endurance Challenge in Washington D.C. My nerves refused to let me sleep the night before. At 2:30 a.m., on barely 2 hours of sleep, I woke up, grabbed my camelback and headlamp, then headed over to catch the first shuttle to Algonkian Regional Park. At 5 a.m., I finally received the cue to start. I raced across the start line, into the pitch black woods, headlamp on, heart on fire. For me, the most peaceful part of the race was the first few miles, where I witnessed the sunrise over a lake and fog lifting over the fields.
This was the honeymoon portion of the race, before circumstances presented more of a challenge.
After stopping at the mile 33 aid station, my body was in excruciating pain. I felt absolutely awful. Temperatures were 90 degrees or higher that day. Ninety!! I was dehydrated, hallucinating, delirious, nauseous, in serious pain, and unable to rid myself of the constant throbbing in my head. But everything changed when I met two more experienced ultrarunners. They asked if I wanted to run with them, which I gladly accepted. We worked together as a team, by running in short intervals before stopping to walk up the incredibly steep hills. They looked after me by constantly pushing me, telling me to eat, and providing me with water and life-saving salt tab pills, which got rid of the throbbing. We also joined more runners during the last 8 miles or so, calling ourselves the "pain train". Believe it or not, a good sense of humor is kind of necessary in these situations.
The truth was, we all felt awful that day. The 90-degree heat beat down all of us as we attempted to climb the hills together. But teamwork and perseverance prevailed. I'll never forget crossing that finish line, or the feelings of euphoria and victory that followed. It wasn't just the finish to a race. It was the culmination of all of my hard efforts and refusal to succumb to pain that day. Training for this race was also very challenging and time-consuming, being that I am a 20-year-old full-time college student. During this spring semester, I not only trained for a 50-miler, but I also took 17 credits, held a job as a rehab technician until late March, and finished my first two years with a cumulative 3.89 GPA.
I trained by doing double long runs each weekend, with my toughest consisting of a 15-miler on Saturday and a 25-miler on Sunday. The week after my longest double, and exactly two weeks before the 50-miler, I ran my longest run of 32 miles. Although the three weeks leading up to my race were the most challenging in terms of training, they were also filled with intense studying. I had multiple 8-10 page papers, exams, assignments, and, of course, let's not forget dreaded finals. In fact, I had finals the week of my race, which was a little insane.
Although I genuinely enjoy 20+ mile runs (I know, crazy right?!) I think I might hold off on doing another 50-miler for a while, being that next year is my junior year, when I'll be applying to physician assistant programs, working on my honors thesis, and taking 18 credits each semester. I'm currently looking at programs in major cities, with my favorites in Portland, Oregon and Washington D.C. I'm shadowing an orthopedic surgeon as well, with hopes of specializing in that field one day. Although I'm not sure I'll have time for another 50-miler, I will be taking on a challenging international marathon in the summer of 2018, which falls around my birthday as well. It's a race I've been dreaming about doing since last year.
I also have other goals to eventually run an 100-miler, as well as a marathon on all seven continents. For now, I'm enjoying some well needed down time, with big travel plans this summer. I'll be backpacking through Egypt for two weeks, studying abroad in Italy with my university for four weeks, and finally camping in the wilderness of South Africa, Zimbabwe, and Botswana for 3 weeks. At 20 years old, I'm constantly finding and challenging myself, which is the main reason why I signed up to run 50 miles.
Personally, I never want to lose my spirit for anything in life, which is why I'm trying to create lifelong habits and passions while I am young, and I'm more motivated than I have ever been.