"Shoot Your Shot": How Tianna Bartoletta and Stephanie Bruce Took a Chance to Grow
Strong female friendships offer empowerment and growth.
Heading out the door? Read this article on the new Outside+ app available now on iOS devices for members! Download the app.
With how open and honest Tianna Bartoletta is on her social media, you might find it hard to believe that she's had a hard time making friends. So much so that her high performance coach had, for a time, given her the task of going on to friendship apps like Bumble BFF to try to make a connection with someone.  
"It was literally an assignment because it's so hard for me. And I think that's in part the lifestyle, like all of the training," she says.
The three-time gold medalist is certainly not alone. Adult female friendships can be hard to come by, but can be life-changing when they do. Part of the reason they can be a challenge is the standards of women. This study found that women have overall higher expectations of friendships than men do. 
But women also get more out of friendships. Studies show that when women engage their friends, oxytocin is released. The same thing happens when they take care of their kids (scientists call this the "tend and befriend response"). This UCLA study shows that for men, however, testosterone seems to diminish that response, making it a more uniquely female phenomenon.  
As Bartoletta continued to put her authentic self out there on social media, she was catching the attention of women who were interested in filling that friendship void. "I slid into her DM's, as people say," elite marathoner Stephanie Bruce recalls. Bruce remembers feeling very drawn to Bartoletta's content around the start of the COVID-19 crisis and felt compelled to reach out and make a connection. 
Bartoletta's response to the Instagram message: "Yes! This is my chance." 
The two, who are both on our 2021 Power Women list, started getting to know each other, awkwardly according to Bartoletta, over video calls at first. But when Bruce pulled out her notebook of big ideas and Bartoletta did the same, they knew they actually had some common ground. 
Related: Meet the 2021 Power Women of the Year Honorees
Growing as Athletes
"It came at a perfect time because I was making the shift to collaboration over competition anyway," says Bartoletta, who has begun to think about retiring from sprinting and jumping professionally. "We're not in a sport where that's easy to do, it's counterintuitive especially in the event that I'm in where it feels like there isn't enough for everybody to be successful." 
But both women have seen how the other's experience can make them better athletes. 
"Tianna has multiple medals because she is able to, in one moment—a fraction of a moment—make a decision," says Bruce. "Whereas, we have two hours of moments. You don't realize, but that's how you're a champion."
At the same time, Bartoletta applauds the mental stamina of endurance runners. "Every distance runner could be my mental conditioning coach," she says. "Because I don't have it up here to be committed to something for that long. And I don't see how I would not benefit from having that type of mental toughness." 
However, the friendship extends way beyond their athletic careers. "I think both of us, I believe, want to get outside the box of just being athletes and I think that's why our connection is so unique," says Bruce.   
Building Businesswomen
The women put their new collaborative spirit to the test when Bartoletta drove to Flagstaff, Arizona, to help Bruce put on her first Grit and Growth Women's Retreat. With the help of physical therapist Sara Tanza, the four-day retreat, filled with running, yoga, meditation, and female bonding, was a success that the women intend to build on. 
"I would say that a lot of what this year has taught me, with the reckoning of America you could say, is that I look at my life and realize I have extreme privileges in many ways, one being a white female," says Bruce. "I want to be able to pick up things that I've created and combine it with the talents of other women." Like Bartoletta's aptitude for self-care as a yoga instructor and meditation guide. That's just one way they've started supporting one another's dreams during an extremely difficult time. 
"I want to make an Olympic team one day, she'd probably like to get more gold medals. But you have to have that plan and then go backward and work toward it. That's the same with being an entrepreneur," says Bruce. Already a savvy entrepreneur (she co-owns Picky Bars, has an apparel line, runs a coaching business with her husband, and now runs the ongoing Grit and Growth retreats), she wants to help other women see their full potential, including Bartoletta.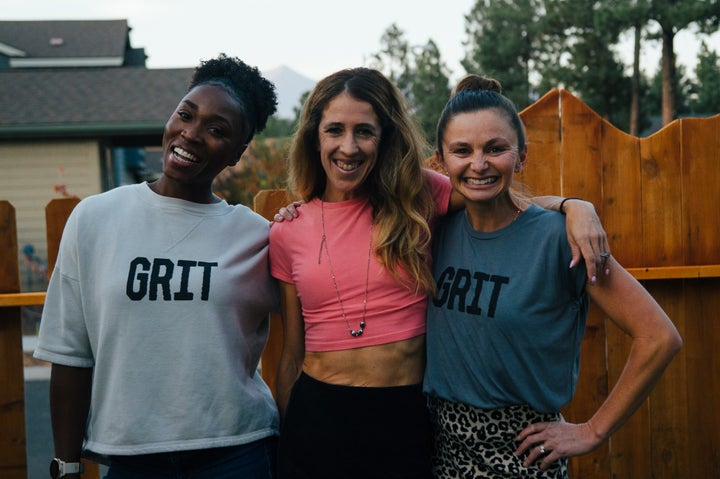 "Because of this friendship, I've pulled the trigger on a lot of things I wouldn't have otherwise pulled the trigger on. They would still be living in my notebook," says Bartoletta. And that includes the Breakfast Club, her new subscription-based morning meditation and mobility yoga flow. Now, whenever she comes to Bruce with a business idea or a question, Bruce holds her accountable for following through. 
"There's plenty of success to go around and plenty of success out there for everybody to have some of it," says Bruce. 
They refer to their coming together as "shooting your shot." They've both benefited from this friendship all because Bruce chose to message Bartoletta out of the blue. "Yeah, it was scary reaching out to someone you don't know, but we did it," she says. 
During the toughest moments of the past year, Bartoletta has been extending that kindness and connection on her Instagram, asking her followers how they are doing. If someone responds with a purple heart, it means they are having a hard time and would like someone to reach out to them. And in the comments of these posts its not uncommon to see conversation blossoming among followers and Bartoletta herself.
As that UCLA study detailed, this type of woman-to-woman connection is almost a survival instinct. And if nothing else, hearing from a friend (new or old) has the power to turn your day around.
"You don't have to be the type of badass I am or the type of badass Steph is to be badass together," says Bartoletta. Shoot your shot.