More than 26.2: The Indigenous Women Who Ran Boston and the Resilience It Took to Get There
A deeper look at the stories of Indigenous women who ran the 2022 Boston Marathon.
Heading out the door? Read this article on the new Outside+ app available now on iOS devices for members! Download the app.
On Monday, April 18, 30,000 runners took to the streets of Boston to run in the 126th Boston Marathon. Six of those runners, who ran through the traditional territories of Massachusett, Naumkeag, and Pawtucket peoples, were women from different Indigenous cultures, families, clans, and Nations with Native Women Running and Wings of America. Since the Boston Marathon first began in 1897, the essence of it has stayed the same: A challenge of the human spirit and journey of what is possible. For these Indigenous women it is that—and so much more.
Verna Volker (Navajo), Sam Noyce (Navajo), Lydia Jennings (Yoeme and Wixárika), Angel Tadytin (Diné), Shayla Manitowabi-Huebner (Anishinaabe and Wiikwemkoong), and Rocío Villalobos (detribalized Xicana) ran the marathon alongside many more Indigenous athletes. For these women, the importance of resilience was a common thread in their Boston experience.
RELATED: Meet the Incredible Team of Native Women Running the Boston Marathon
In many Indigenous and communities color, the idea of resiliency, to rebound or the ability to withstand, is discussed a lot. Oppression, colonialism, and hardship catalyzed the creation of resilient communities, cultures, and landscapes. Today, we have relationships with resilient relatives (both human and more-than-human); but most important, we experience resilient joy. Indigenous peoples know how to laugh, deep, belly, rambunctious, and loud. Each moment of resilient joy becomes even more precious, knowing that it was hard fought, taken by oppression and stifled by assimilation. Laughter in the face of oppression, culture in the face of assimilation, and community in the face of forced separation—that's what resilience looks like for us.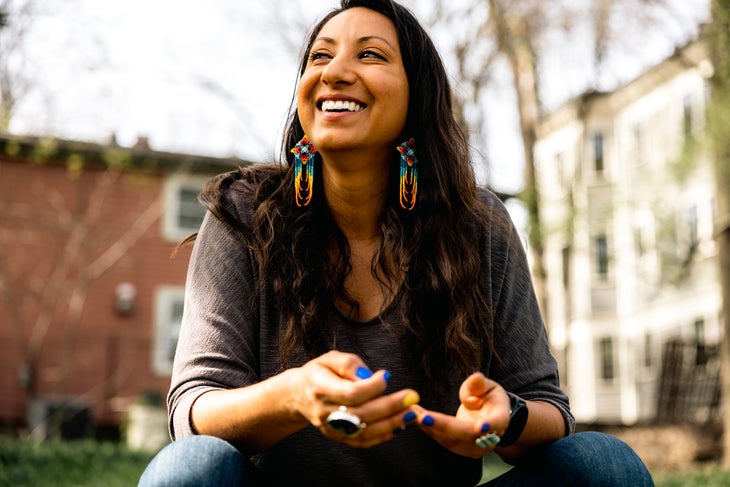 The resilience of Volker, Noyce, Jennings, Tadytin, Manitowabi-Huebner, and Villalobos shined on Marathon Monday as they pushed themselves to engage their love of running, combined with their persistent courage and the hope that they can complete something truly marvelous.
This was the first time each woman ran Boston; it was also the 50th anniversary of the first women's division—which was all white women. The first known woman of color to compete in the marathon was Marilyn Bevans, a black woman, who placed 4th in 1975. This year, women of color dominated, taking the top eight places with Peres Jepchirchir of Kenya coming in first place. The demographics of this race have changed completely in 126 years of racing.
In the footsteps of the women of color who've fought to be here and the paths they have paved for themselves, these four women fought through each mile. Some of their kits sported images of relatives, paying homage to those whom have since passed on, while others wore versions of traditional clothing, some with hand prints in honor of MMIWG2S (Missing and Murdered Indigenous Women, Girls, and Two-Spirit People). Jennings had the words "land back" printed on her skirt that matched Volker's. They were all running with more than a goal for self, but for their Tribes, Nations, and families. And to prove everyone (including themselves) wrong.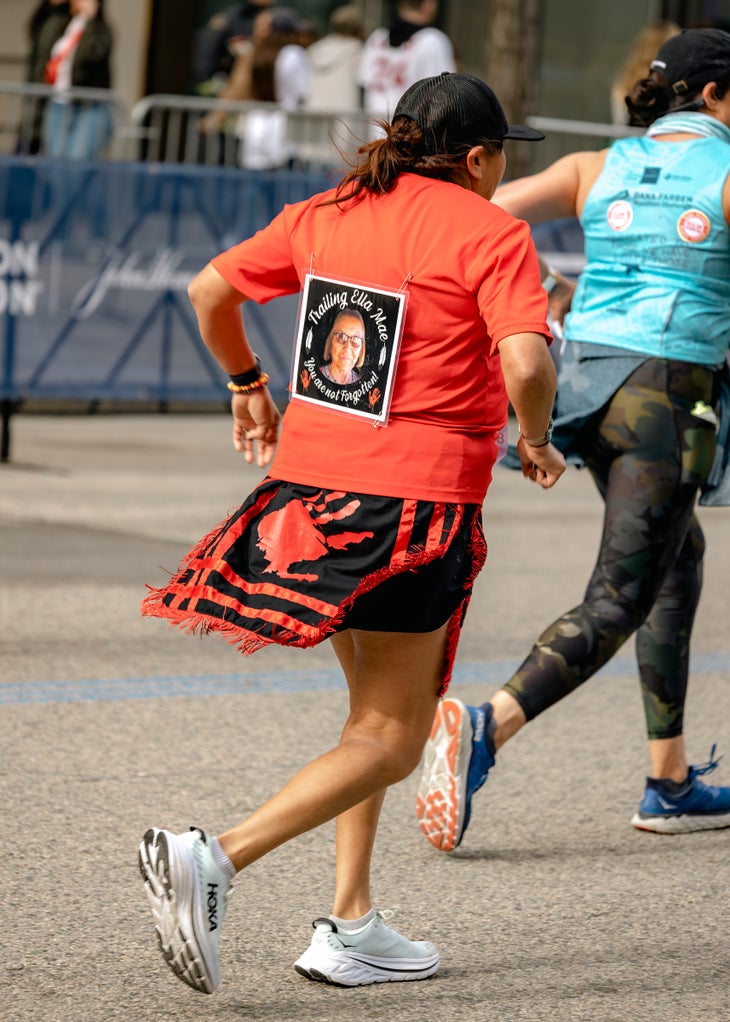 "The theme of my running story is just honestly proving yourself wrong. There's so many times I've said I'm not a runner and I can't do that," says Tadytin. "And then I say I did not know I could do that." Tadytin, and every other Indigenous woman who ran this race, finished.
Resiliency, in running and in life, brought together these women in a task to demonstrate their individual and communal strength.
"My goal with all this is I want to inspire other people and inspire them to do things that are uncomfortable, or to reach their goals and, if applicable, to reconnect to their ancestry," says Manitowabi-Huebner.
Jennings dedicated every single mile to a different Tribe that has regained access and self determination on ancestral homelands. Noyce also ran for her ancestors: "I run because it is a form of prayer for me that is passed down through generations for me and it is a celebration of life for the Native American people."
Several of the women were focused on family. Noyce's father was a runner and died when she was a teenager. "When I lost my Dad I almost quit running," she says. "But then I realized that running was healing and it would bring me close to him." Tadytin's father was also a runner, and she had a grandmother who was a sheep herder, walking the equivalent of many marathons every single day. "Whenever I turn back to that, I am strengthened tenfold," she says. "It makes me suck it up, you get it together and remember you come from a long line of these amazing people."
Tadytin ran in a traditional ribbon skirt. Skirts, traditional jewelry, and art were worn for cultural representation, for protection and strength. "I am not running 26 miles for clout or profit or to exploit indigenous issues," says Manitowabi-Huebner. These women are actively changing this sport, working to remove personal benefit from why they run.
The Boston Marathon not only brought these women's connections to ancestors closer, it has also connected many who have been disconnected from their cultures. Manitowabi-Huebner reflected that she has connected to her community through their encouragement of her being in this race. Even though she lives miles away from her homelands, running has helped her to feel support from her community through social media. Receiving that strength from relatives closes the gap of the miles between them.
Her running is always tied to who she is, her identity, and her accountability to her community. "For me I am so used to putting in the work and being a good relative and I don't want my running to ever be not for a good reason," she says. Manitowabi-Huebner ran with so much expectation and anticipation and crushed it, with a finish time of 3 hours and 25 minutes.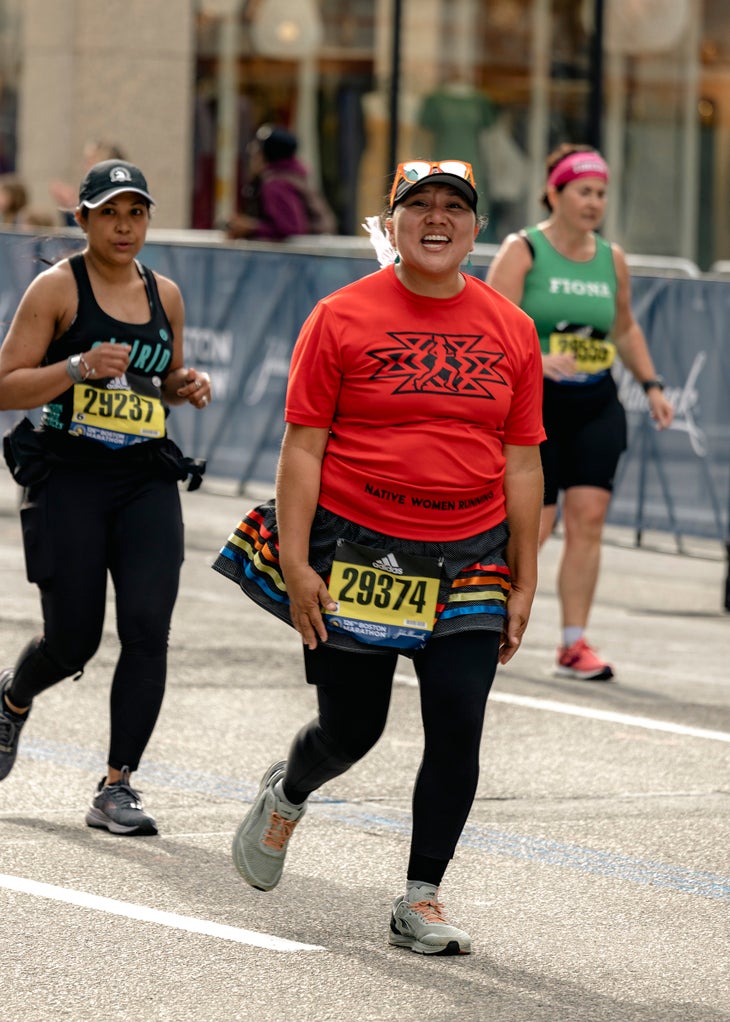 Each of these women were running far from their ancestral homelands, running on different Tribes' lands, with reverence and hope. "When I am training and I'm planning on a route, I like to know where I'm going through," says Jennings. "And that doesn't just mean access points, it also means the ancestral history of those areas, particularly if I'm traveling somewhere because that is just an important part of the experience as is the running itself."
As Jennings describes it, there is a deep connection that runners are able to have with an ecosystem, stripped down to one's most exhausted and human selves. There's a connection that comes forth that is strengthened, if you know whose land you are on and who has had a connection to this space for a millennium. Each and everyone of us runs on Native land, and the experience is strengthened if the ancestors and current peoples are honored with each footfall and intention.
Resiliency is more than just the ability to withstand hardships, it's the ability to dust yourself off and persevere with more strength and more joy as you undertake greater challenges. Each one of these women said, both before and after, that running this marathon is not easy. There were times of deep pain and times of euphoria, coming together in an emotional roller coaster. "Running is this relationship that you have with yourself and with the ecosystem, and it teaches you grit," says Jennings.
For Tadytin, that grit is part of what got her through the race. "This was quite a challenge, and many times I had to call on my grandma, my family, my roots," she says. "That kept me strong. Also channeling all the support and love for our new NWR team."
Noyce, too, was proud to prove alongside Manitowabi-Huebner that rez girls can do anything: "I'm proud of myself for getting here where I am at!"
These women running Boston are a tribute to all of their ancestors, their supportive relatives and communities on their native lands, and to the one woman who set the example for these women to follow: Verna Volker. Each of them expressed gratitude and awe for Volker and her desire to change running with Native Women Running. For Indigenous peoples, it's more than 26.2 miles, more than a race, more than running. This endeavor and this act is the culmination of many generations of resilience.