Shalane Flanagan Is Just Getting Started
Many athletes worry about what's on the other side of pro sports, but the 2017 New York City Marathon champion has found new purpose in coaching, cooking, and commentating.
Heading out the door? Read this article on the new Outside+ app available now on iOS devices for members! Download the app.
The year before her retirement from professional running, Shalane Flanagan felt like she was living in purgatory. After knee surgery, rehab replaced training. For the first time in 15 years, one of the most decorated distance runners in the country had no races on the calendar, no plans to compete—and a waning desire to ever log 130-mile weeks again.
But she hadn't yet retired, either, so she struggled to figure out what each day should look like. At 38 years old, the rhythm of her adult life was in upheaval, unanchored by the rigors of marathon mileage, fueling, and recovery.
"I felt very relieved and better about where I was headed in life after I finally announced my retirement," Flanagan says. "That year of the unknown was uncomfortable—I felt like I was in between worlds."
Most athletes reach a definitive point where retirement is inevitable, but for Flanagan things were less clear. She never wanted to make the call in an emotional moment, like a finish line. Nor did she want to leave the sport in the immediate aftermath of healing her left knee, where 75 percent of the patella tendon had torn off the bone. If she could rebound from the injury, Flanagan—who in 2017 became the first American woman in 40 years to win the New York City Marathon—was still at the top of her game. Making a fifth Olympic team was a realistic goal.
"She was in a great position. Many athletes don't get to choose their time—she could still be a professional athlete today if she wanted to be," says Jerry Schumacher, head coach of the Bowerman Track Club, who coached Flanagan for the last decade of her career. "She still had the ability and Nike, her sponsor, still had the interest. She was in a very fortunate position that she got to choose her time. But somewhere in the back of her mind, she couldn't help but think, 'What's next?'"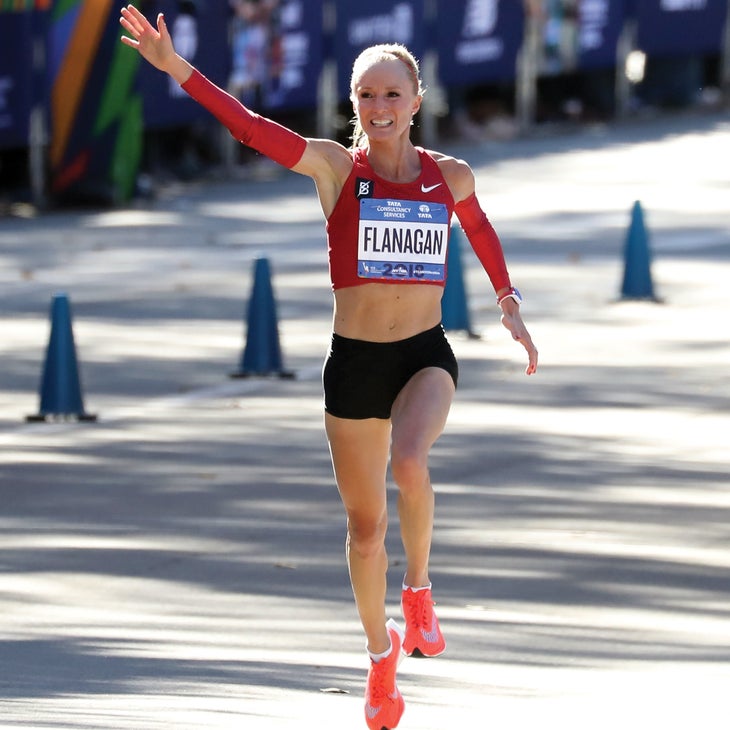 In that year of limbo, she discovered a life that allowed vacations to New Zealand with her parents. Quality time with her baby nephew. Freedom to meet up with friends for a nighttime glass of wine (or two). A window to launch a second New York Times best-selling cookbook with her long-time friend, Elyse Kopecky. Energy to support her Bowerman Track Club teammates. Desire to start the process of expanding her family with her husband, Steven Edwards, through adoption. And, unfortunately, the need for surgery on her right knee, too.
The days on the other side of track workouts and tempos weren't so bad for the 2008 Olympic 10,000 meter silver medalist. So finally, on October 21, 2019, she woke up early in her Portland, Oregon, home and posted a photo of herself on Instagram—holding the American flag at the finish line of the 2018 New York City Marathon where she placed third. It was a snapshot of the final race of her career, accompanied by a statement she had written months earlier.
"With happy tears I announce today that I am retiring from professional running," she wrote. "From 2004 to 2019 I've given everything that's within me to this sport and wow it's been an incredible ride!"
An outpouring of well wishes mixed with a few bittersweet messages from fans and competitors ensued. "Sharing that felt like this relief—it was a bit cathartic and sad, too," Flanagan says. "It was very rewarding to feel that my career was meaningful and had an impact on the sport."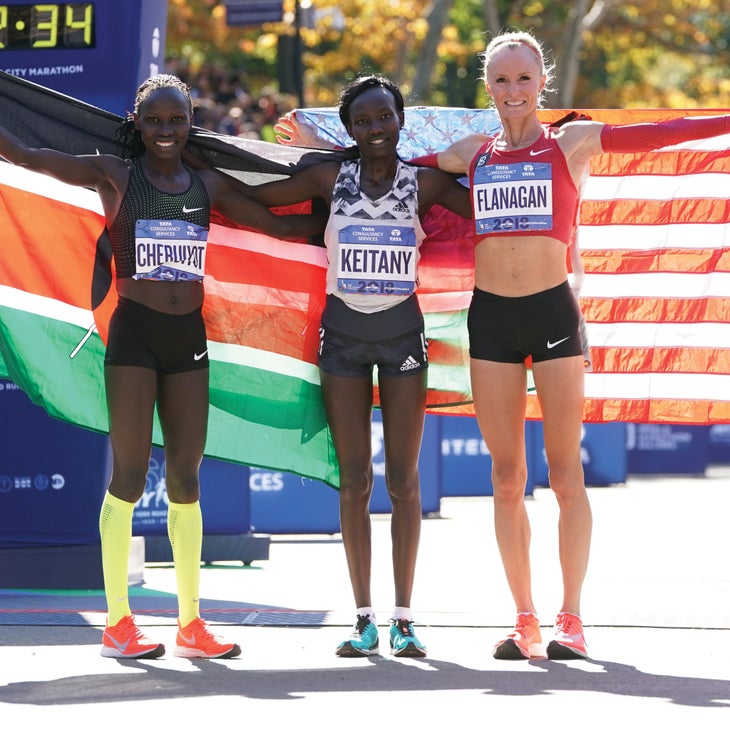 A New Sense of Purpose
Not all athletes have a smooth transition out of competition. In some cases, they experience a loss of identity and a void so deep it can result in clinical depression. In 2018, swimmer Michael Phelps, the most decorated Olympian in history who has been open about his mental health and addiction struggles, called on the U.S. Olympic and Paralympic Committee to provide help for those who need it.
For Flanagan, it hasn't been so severe, though she has had fleeting moments of grief. "I've had bouts of feeling down, not in the sense of missing competing, but in figuring out a sense of purpose," she says. "It's really tough because for 15 years I've only known one thing and that is waking up and running—that was the foregone conclusion every day. To then take that away, you feel lost and wonder, 'what's my contribution to the world?'"
It didn't take long for her to start figuring that out. Two weeks after her announcement, Flanagan woke up on November 3 in New York—a familiar routine for her on the first Sunday in November. But this time, she didn't put on her red Bowerman Track Club racing kit. Nor did she board a bus to the New York City Marathon starting line on Staten Island. Instead, she put on a red dress, a necklace featuring the Olympic rings that her parents given her for a retirement gift, and headed to the finish line, where she took her place in the broadcast booth to offer live analysis and commentary on the ESPN and ABC coverage of the 2019 race.
Flanagan's expertise gave viewers a level of insight and nuance that few other TV personalities can provide. Her presence diversified a team that has traditionally been dominated by men. As she watched the women's field, Flanagan could read the athletes' body language, their facial expressions, and offer explanations for surges and moves and strategy that nobody else could. After all, she'd raced nearly everybody who was competing and had unparalleled success among U.S. women on the course.
"I really enjoy certain commentating jobs," she says. "I just love the marathon. I don't feel like I want to make commentating my career, I just want to be doing specific races that excite me."
Flanagan's heart is entrenched in coaching. When she renegotiated her contract with Nike, it specified that when she was ready to leave competition, she'd move to a coaching role with the pro running team she spent much of her career helping to build with Schumacher and coach Pascal Dobert: the Bowerman Track Club, or BTC for short.
"What's so exciting is that I feel like I actually have more to give and more to offer now than when I was running," Flanagan says.
Mary Wittenberg, the former director of the New York City Marathon, couldn't agree more, offering a bold prediction—and perhaps a challenge to Flanagan. "I think she'll be the greatest American coach we've ever seen," Wittenberg says. "Why wouldn't I think that? The sport needs people like Shalane—and she's had a hell of a career."
The confidence Wittenberg has bestowed on her doesn't surprise Flanagan. "Mary has always predicted or said things that made me want to step up to the plate," Flanagan says. "I love it. It makes me happy. Literally not a day goes by that I don't think about the fact that she said that, so I'm figuring out how to live up to it."
That Defining Moment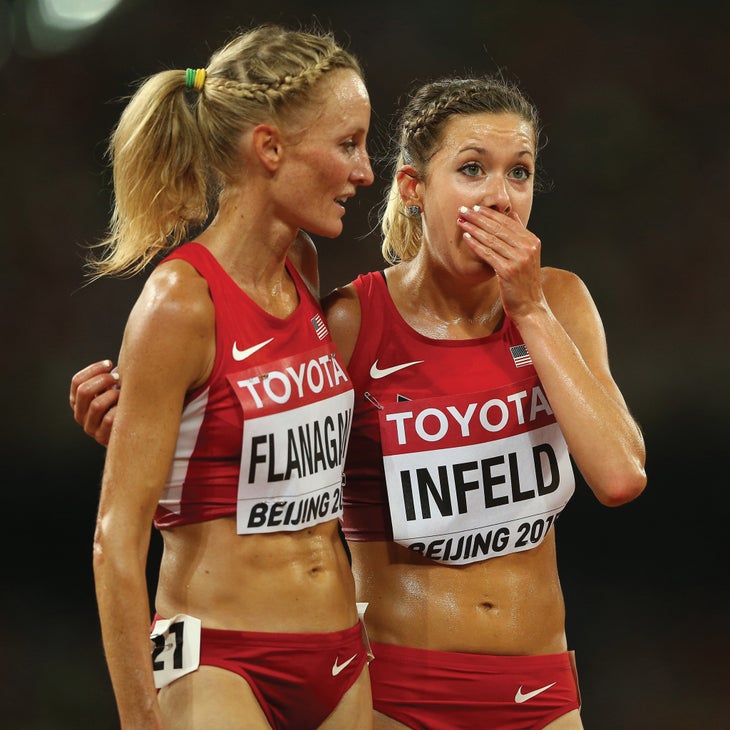 Flanagan was the first woman to join the Bowerman Track Club in 2009 and for a long time she was the only woman on the team. A few key training partners came and went, like Lisa Uhl and Kara Goucher. But the one who's been around the longest is Emily Infeld, a 2016 Olympian in the 10,000 meters and 2015 world championships bronze medalist in the event.
The relationship between Infeld and Flanagan has been pivotal for each of them. It's Flanagan's support and help that's kept Infeld in the sport, despite numerous ups and downs. And it's Infeld's biggest moment, when Infeld won bronze at the 2015 world championships in China, that tipped Flanagan off to what she might want to do after she finished competing.
"That night [at the 2015 world champs] in Beijing, it felt like I had won a medal. It felt so good to see her success and to be part of it and help her along in that journey," Flanagan says. "It made me realize that I love these moments. It was a turning point for me, knowing that I wanted to help more athletes in that capacity."
Infeld, 29, joined the BTC in 2012 and had a rough transition into the pro world. If not for Flanagan, she says, she likely wouldn't have continued after two sacral stress fractures and surgery on her hip. Even in those early days, Infeld knew she had a mentor and support system in Flanagan. She recalled a workout during her first altitude training camp when she wasn't hitting the prescribed paces and was getting frustrated.
"Shalane was in the middle of her own workout and noticed I was distraught," Infeld says. "She took her rest break to help me and say, 'Hey, just take a mental break. Jog a lap.' It was probably what Jerry would have said, too, if he was there. But to be in the middle of your own workout and notice me struggling, take a second to give me confidence—it's just one instance of her caring about everyone around her while she's still getting the most out of herself."
Over time, Flanagan and Infeld implored Schumacher to start adding more women to the group. It was Flanagan's belief that "to be the best doesn't have to be a lonely place." The momentum started building and by 2016, the BTC had six female Olympians, including, Shelby Houlihan (5,000 meters), Colleen Quigley and Courtney Frerichs (3,000-meter steeplechase), Amy Cragg (marathon), Infeld, and Flanagan.
"You can bring everyone along that journey with you and truly elevate those around you to make everyone better in all aspects of life," Flanagan says. "I didn't have that early on in my career and had I not really formed a group of women to train with, I wouldn't have been running this long. I needed them tremendously."
The expanded training group also showed Schumacher that Flanagan was a natural leader. "She found a lot of enjoyment with being able to work with the group and dispense advice," he says. "She just felt a satisfaction. It helped complete what people have done for her in her career, bringing it full-circle, helping others achieve the same thrills and moments and joy that she's had."
Changing the Game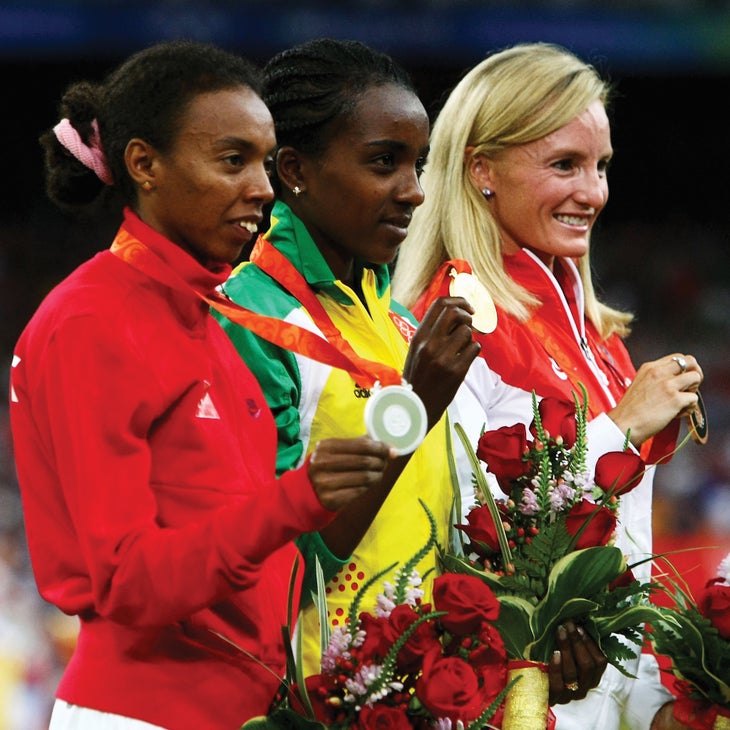 As she's crossed over from supportive member of the team to an official coaching capacity, Flanagan has started to think more critically about her role on the staff. With the athletes who were once her peers, she considers herself mostly a consultant, somebody with whom to bounce questions and ideas around.
But she's firmly Coach Shalane to the younger runners added to the roster each year, like Karissa Schweizer, 23, who has already made two world championship teams (cross country and 5,000 meters on the track) and set an American record in the indoor 3,000 meters (8:25.70). When she was graduating from the University of Missouri in 2018, she remembers feeling a bit awe-struck in speaking with Flanagan while she was deciding which pro group to join.
"Growing up, she was always one of the main athletes I watched. She was always so bold and courageous and it was inspiring as a little girl," Schweizer says. "I made it to Nike Cross Nationals my senior year of high school and she was there. We lined up to take pictures with her, which is crazy to think about now that she's my coach. She's always been a great role model."
Schweizer recognized that having a female coach on staff was important, too, and with so few women in the profession, it wasn't an easy opportunity to find.
"It's an important time for a female coach to take a role in our group right now. To have Shalane have a bunch of say in our program goes a long way," Schweizer says. "She's a resource for us as female athletes who have struggles that male athletes don't and wouldn't understand. She's been through it all, really. She knows exactly how to deal and what to do and that is key in our program in everybody staying healthy and having long-term careers."
Schumacher says as the team and staff grow, it only gets stronger with more expertise and voices added to the decision making. "We do need more women coaches in the sport. Even though Shalane may only be joining the coaching staff now, she was a sounding board for a lot of those things anyway while she was a professional athlete," he says. "It's her job now. We need more women on staffs who can do that and feel the confidence to coach. If we have that, the sport will be better for everybody."
The spotlight on the lack of women in coaching intensified shortly after Flanagan announced her retirement. Mary Cain, who joined the Oregon Project under coach Alberto Salazar (currently serving a four-year ban for doping violations) as a teen, came forward with her experience of verbal abuse and weight-shaming during her time with the group. Feeling lonely, isolated, and without support led Cain to depression and cutting herself, losing her menstrual cycle for three years, and suffering injuries, she said in an op-ed documentary published by the New York Times.
The story hit Flanagan and members of the Bowerman Track Club hard and in some ways is shaping the way Flanagan goes about coaching her team, constantly checking in and asking how they're doing.
"As an athlete, when I felt like my coaches really cared, were invested in what I was doing, I'd be willing to run through a brick wall for them," Flanagan says. "The asset that I can bring to my coaching is just letting the athletes know that I really care about them and I'm invested in what they're doing."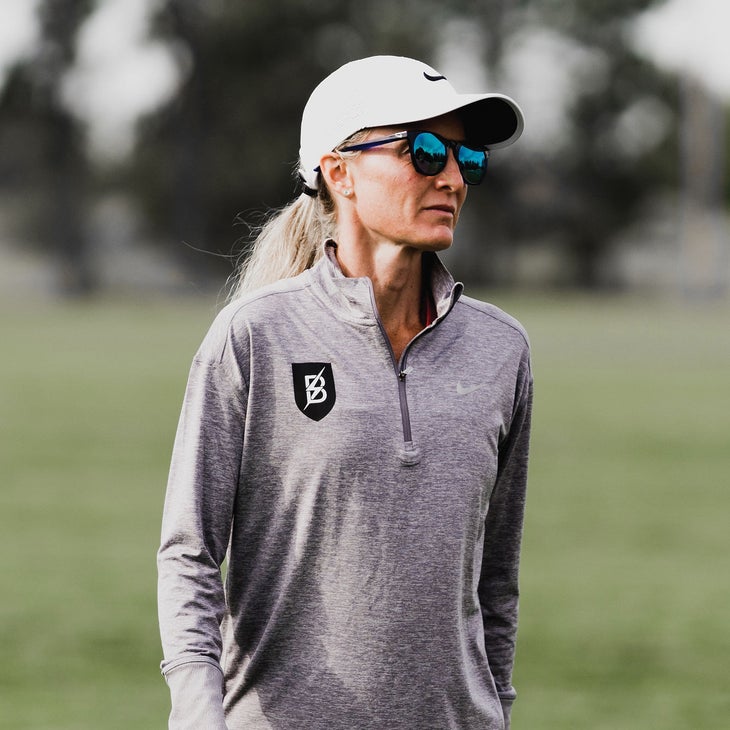 So Much Potential
In guiding the careers of today's new pro athletes, Flanagan says they have advantages that she didn't 15 years ago—and she likes to remind them of it, too.
"They're, in general, so much further ahead than where I was in knowledge and have better coaching, to be honest," Flanagan says. "They're already training at a much higher level than I was when I came out of college. With social media they're fueled by seeing other competitors and their training. There's just more information they have access to. There's just no excuse for them not to be good."
And when you land on a team of Olympians, world medalists, and national record holders, the pressure to perform in an Olympic year is significant.
"It doesn't just take one training segment to be great, it takes multiple training segments. It's the same intensity, same focus every single year, but obviously we have some young athletes and this is a big, defining moment," Flanagan says. "It changes the trajectory of where their career is going if they can make this Olympic team."
To that end, the focus for Flanagan in 2020 is doing whatever she can to keep the runners healthy. While Schumacher will "squeeze the lemon" and try to get as much fitness out of the runners as possible, Flanagan says she'll likely step in to make sure everybody is in a good mental state along the way. Athletes are responsible for their own recovery—everything else is structured. Already driven and motivated, the fear is always over-training, crossing over the line from peak fitness to injury.
"It's about creating an environment where they can communicate with the coaches to keep them as healthy as possible," Flanagan says. "For example, if we can have a happy, healthy Emily Infeld on the start line, even if she trained at 80 percent compared to her competitors, I still like my chances with a happy, healthy Emily. We want everybody's mental state to be really good, even if it means somebody might be a few notches down in fitness."
Creating that healthy, happy environment doesn't just stop at the Bowerman team, though. She and Kopecky have another book project that will come out this year, Flanagan says, and are testing new recipes all the time, fulfilling her other desire to help runners of all abilities enjoy cooking and learn how to properly fuel their pursuits.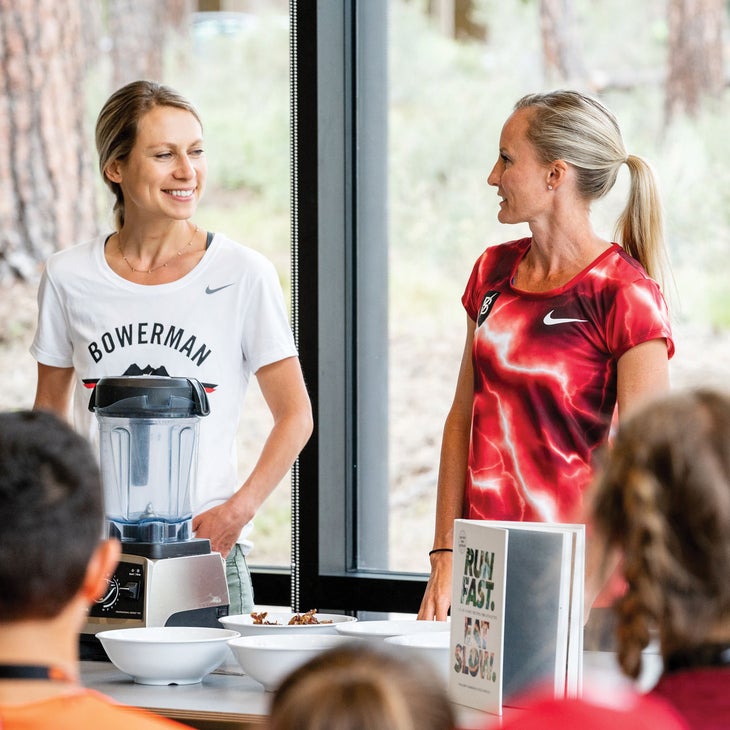 In many ways, it's the Run Fast. Eat Slow cookbook projects that have brought fulfillment to Flanagan outside of her many athletic achievements.
"Learning how to fuel for all the hard training helped keep me energized and reinvigorated and allowed me to be part of the sport in a different way," Flanagan says. "It allowed me to feel like I was contributing beyond just performances."
And she and Edwards are hoping for an addition to the family, too. "We've applied for adoption and that is just a very slow, tedious process," Flanagan says. "I'm hopeful that something in 2020 will happen for us to actually start a family. It's kind of out of our control, but I hope that our time will come and the right match will happen."
And although she's still recovering from that second knee surgery, Flanagan says she'll never stop running. It's part of her fiber and one day soon she'll get back to that routine of waking up and heading out the door. She won't be aiming for medals or podiums anymore, but her new aspirations are just as meaningful, alongside Kopecky as they get ready to celebrate another milestone together in the next year and a half: turning 40.
"She's never run a marathon, so I want to coach her to run one," Flanagan says. "My goal is to get healthy and fit enough to be able to run a trail marathon with her."
Retirement, it seems, ain't what it used to be.