Why Are So Many Women Runners Kicking Butt in Their Late 30s?
Sara Hall, Keira D'Amato are benefitting from hard work, changing social mores and more equitable sponsorships
Heading out the door? Read this article on the new Outside+ app available now on iOS devices for members! Download the app.
When Sara Hall crossed the finish line of the Boston Marathon in a time of 2:25:48 on April 17, she set a new masters record and demonstrated something extraordinary is happening with women runners in their mid-30s and beyond.
Hall's record for women runners aged 40 and older was just the latest data point in a growing trend. Last year, Keira D'Amato set the American marathon record by running 2:19:12 at the age of 37 (Emily Sisson broke that record again later that year). On the same day, Hall set a new American half-marathon record in 1:07:15 at the age of 38. And a month before that, Sara Vaughn ran one of the fastest debut marathon times ever for an American runner, clocking  2:26:53 at the age of 35.
All these women, all mothers, all over 35, all evidence of the current revolution in women's distance running.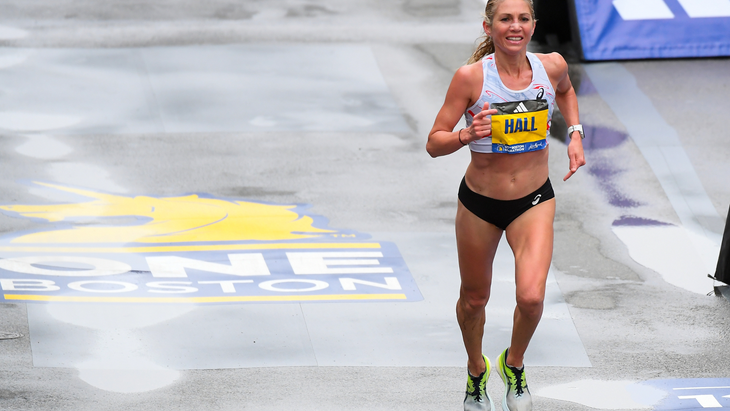 The Old vs. The New Approach
Previously, the expectation was that athletes of all kinds, especially runners, peak in their late 20s after college. But scientists, coaches and runners themselves are questioning that assumption for women. Because of the biology of hormones, new research is suggesting that women peak later, in their 30s. But until now, the sport hadn't given them the chance to demonstrate that. Especially not women who'd had babies–it was harder for them to maintain the sponsorships and coaching attention necessary to have a chance to show how they could succeed in later years.
"When I first became a pro runner, it seemed almost like women were apologetic for doing this very long before having kids and starting a family," Hall says. "In the 18 years since I became a pro runner, a lot has progressed as far as gender roles and women feeling empowered to follow their dreams and both delay a family or start one and come back to being a professional athlete. As a result, it feels like there are many more women competing into their late 30s than there used to be, and thus more examples of women having a lot of success late in their careers."
Hall said when she and D'Amato set records on the same day in Houston, it made a more powerful statement of what women in their late 30s can do.
RELATED: Americans Hall, Bates, D'Amato Shine in the World Championships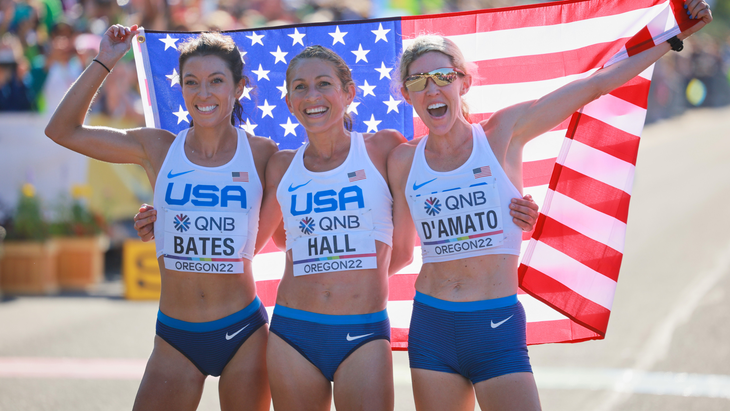 Advances in Sports Science
As D'Amato, Hall, Vaughn and other runners open up the field for more women to break through, those women also benefit from advances in coaching, nutrition, and gear. For example, the new so-called "super shoes" with carbon fiber plate technology made by Nike, Puma, Asics, Adidas, Hoka, Saucony and others can allow runners to recover more quickly from workouts and long training runs.
"Shoe technology has skyrocketed, so you can run a marathon or a long run and not be trashed the next day," D'Amato says. "As an older runner, that rise of shoe technology allows you to benefit from your experience without trashing your body, so that helps older runners."
RELATED: What You Need To Know About Racing Shoes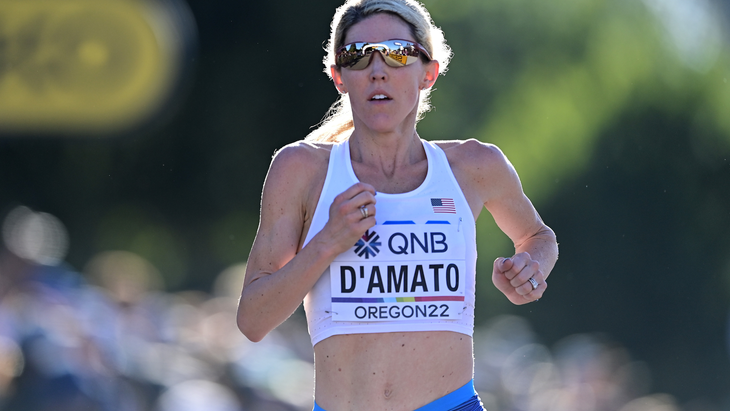 Hall also says that her age has been an asset, because every year she gets stronger and more experienced.
"With each year, I've been able to grow my cardiovascular capacity and I've gotten stronger at the longer distances," she says. "With each year as I add in a bunch more quality miles and workouts, I've been able to see my paces in tempos and long runs come down a tick. There will come a point where it plateaus, but I haven't hit that yet. I also just have so much more race experience under my belt, as well as just overall life perspective where I'm no longer held back by insecurities or fears that used to be detrimental to performance. With age comes a more groundedness in your identity apart from performance, and I've found that to be performance-enhancing."
Hall says the only negative she's noticed with age is her top speed is not quite what it used to be–she used to be able to run 200 meters in 26 seconds and 400 meters in 57 seconds–but now it's hard to break 30 and 60 seconds for those distances.
She and other older runners are also benefiting from more support from sponsors, who previously would have been far less likely to consider an older woman, especially a mother.
Hall says the recent contract she signed at the beginning of 2022 with Asics was "by far the best contract I've signed yet, at the age of 39."
And D'Amato says the contract she signed with Nike in 2021 may not have been given to an older woman runner in the past.
"When coming onto the scene I wasn't the oldest one, but people were surprised by the path I took to get there, where I started a family first," she says. "Sponsors were like, 'who is this mom, that's not our type.' I did flip the script a little bit and I am proud of that."
Runners like Kara Goucher didn't benefit from the same view. Goucher was a Nike athlete and was pushed to return to racing very soon after giving birth–something she says led to more injuries. If she'd been given more time, her career after having a baby could have gone differently.
"I think that if women had more time to recover from childbirth, they would be able to come back in a more healthful manner," Goucher says. "I had to rush back, and then dealt with injuries for the rest of my career. But if we support women and allow them to come back when they are physically and mentally ready, we can help extend their careers."
RELATED: Why Kara Goucher's Story Matters
Runners today benefit from an industry shift, Goucher says. After leaving her previous sponsor, she signed with Altra and Oiselle, the latter of which a woman-owned brand also signed Lauren Fleshman when she was pregnant. Goucher says those brands allow people to see women can have babies and still come back with huge competitive dreams.
"Women can relate to the ups and downs of aging and having babies. Let's embrace the whole person, not just the athlete," Goucher says. "When women know that they have long-term support, that trust is built and they can make good decisions about their racing and their bodies. There is no reason women can't run fast well into their 40s. They just need proper care throughout their careers to get there."
Sally Bergesen, the founder of Oiselle, says some sponsors are purely focused on results, but brands like hers are realizing that sponsoring runners with diverse paths appeals to consumers.
"People want to know what a really fast masters athlete is eating for breakfast, or want to know how Kara Goucher got fourth in the U.S. Olympic Trials when she was 38, or want to know how you come back from having a baby and feel great," she says. "I think that is definitely more in the general public discussion in the running industry than it used to be 10 years ago."
Older women are also seeing success, Bergesen says, because late 30s is a "performance sweet spot."
"They're in this interesting time in their lives where, if they have had kids, their kids aren't tiny anymore and so they've got more time, and they've been dedicated to their sport for a while so they know how to train better, how to stay healthy," she says. "You start to trust your body more, and you are smarter about various things, whether that's not pushing through an injury or fueling better if you had an eating disorder that's in the rear view mirror now. I just think women in their late 30s and 40s are just tougher, smarter, savvier, and also potentially have more time in their lives to dedicate to running."
There are also physiological reasons why women's athletic performance would improve as they age, says Dr. Sarah Merrill, a sports medicine doctor at University of California San Diego.
"We're finding more and more for endurance athletes that women are finding their peak much later in life than maybe men are finding it," she says. "As the estrogen levels increase in the body, women are more able to add on muscle weight."
She added that women in their late 20s and 30s are more likely to have improved nutrition and smarter training, avoiding injuries and burnouts.
"I know as a school kid I was eating pizza and Cheetos before my swim meets, and that was fine, whereas women in their 30s have more knowledge, but also have more resources to be able to have those higher levels of nutrition and higher levels of training which impact a lot more at the elite levels," she says.
RELATED: The Most Googled Running Nutrition Questions Answered
In addition, women who have given birth benefit from hormonal and bodily changes that make them stronger, says Dr. Amy Leu, a sports medicine doctor at UC San Diego.
"Hormonal changes really continue anywhere up to nine months to 12 months after delivery, and those hormonal fluctuations can affect a lot of things, including recovery, joint laxity, muscle and tissue recovery," she says.
Plus, a woman's body gets stronger during pregnancy and delivery, which can benefit an athlete after she's given birth, she says.
For Hall, she notices her body aging in different ways–smile lines and gray hairs–just like many women who are turning 40. But she doesn't think her age will impact her performance any time soon.
"I think the main thing I don't like is seeing my smile lines in photos when I'm smiling," she says.
And D'Amato, who finished fourth at the Bloomsday 12K race on May 7 in Spokane, Washington, says that women showing what's possible in their late 30s and 40s will only encourage more women to continue to run, which means the field will continue to grow more competitive.
"That timeline is widening so there are more people in the sport, and a rising tide raises all boats, so the more people there are, the more competitive it'll be," she says. "It's a really special time in the sport of women's running right now."
RELATED: SPLITS Column: 5 Reasons Why Athletes Can Embrace Aging