Rested and Ready to Go: Meet the American Women's 10,000 Meter Team
Karissa Schweizer, Alicia Monson, and Natosha Rogers are representing Team USA in a stacked 10K field.
Heading out the door? Read this article on the new Outside+ app available now on iOS devices for members! Download the app.
Fans of the 10,000 meter will have just one shot to catch the 25 laps to world championship victory: Saturday, July 16. In the final, you'll be able to watch Americans Karissa Schweizer, Alicia Monson, and Natosha Rogers take on some fierce international competition such as Ethiopia's Letesenbet Gidey (the world record holder), Kenya's Hellen Obiri (the reigning 5,000 meter champ), and possibly even the reigning 10,000 meter champ, Sifan Hassan of the Netherlands.
While it remains to be seen if Team USA can hold their own in this deep of a field, there's no denying that Schweizer, Monson, and Rogers have had their own standout moments this season and are ready to bring their all, having more than seven weeks to prepare since the U.S. champs on May 27.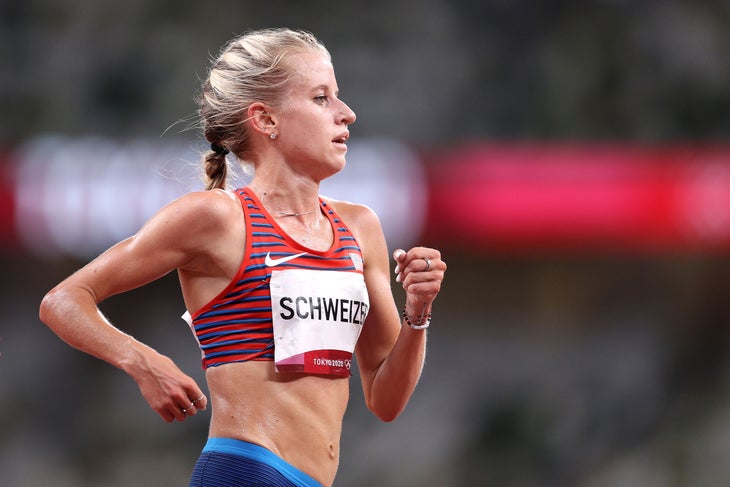 Karissa Schweizer, 26, is making a habit of doubling up in world competitions. At the Tokyo Olympics she competed and advanced to the finals in both the 5,000 and 10,000 meter events and ultimately placed 7th and 12th, respectively. At the World Athletics Championships, she is once again doubling in the two events.
The Olympian secured her spot on Team USA by winning her first national title at the 10,000 championships in 30:49.56.
Now she'll be making the short journey from her home base in Portland, Oregon, where she trains with Bowerman Track Club, to Eugene, Oregon, to run a potential total of 50 laps on the track over the course of the competition (pending she makes the 5,000 meter final).
Schweizer was unsure how this year would turn out for her after having surgery on her Achilles fall of 2021. "In October the thought of making it to this start line was up in the air," she wrote on Instagram before the championships in May. "One of my goals (like everyone else racing Friday) is to make the World team. Before I could even think about that big goal, I had to make it to this start line healthy."
It's safe to say the she accomplished that goal, and, in fact, doubled it.
Age: 26
10,000m PR: 30:47.99 (2021)
---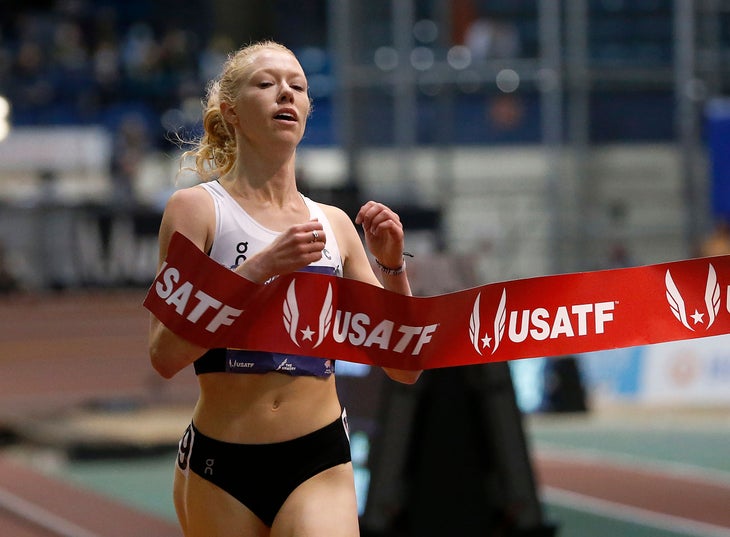 Joining Schweizer is Alicia Monson, who also competed for Team USA at last year's Tokyo Olympics. But since the start of this year, Monson has continued to rise through the ranks.
In January, Monson won her first national title at the USATF Cross Country Championships. Later that same month she won the 3K at the Millrose Games.
At the Prefontaine Classic, where the 10,000 meter championship was held, Monson was responsible for pushing the pace around halfway through the race. It looked like she could win, but ultimately Schweizer outkicked her and Monson settled for second in 30:51.09—still good enough to head to the world champs.
It's not hard for Monson to pinpoint why she's had a good year of racing: Her training has been consistent and she's remained healthy, simple as that. "Combining that with like, getting experience with international racing—starting with Tokyo last year—has been huge for me to both be more fit two years later, and also just have a lot more confidence racing these big races," she adds.
Except for running a 5K in Oslo, Norway in June, Monson has taken all the time she can to focus on 10K training leading up to worlds. "It was very nice that I was able to really focus on the 10K and come into it feeling like I've done everything that I need to do," she says.
Age: 24
10,000m PR: 30:51.09 (2022)
Best part of training:  "I would say just having the whole [On Athletics Club] team behind me is been really sweet just because we're all kind of doing different things, but we're all trying to be on that same level… I think everyone just kind of brings their own energy to practice. And I think that's really important, because we're not all running on the track together. It's not like I'm running with the guys, but just bringing that competitiveness everyday kind of forces you to be like, 'Alright, I need to be on this level to compete.'"
Worst part of training: "Getting ready for the heat. Last year, I wish I had done more before the trials to be ready for the heat. And I think I did a really good job of it before Tokyo. And so it's just like, well, I have to wear a long sleeve today, even though it's really hot outside. In the past, in Wisconsin, I would have been in a sports bra and shorts when its 40 degrees. It's not exactly fun for me training in the heat. But I think we've gotten it down of how to prepare for that, because it's probably always going to be hot at World Championships at this point."
Best advice received: "I was talking with [coach Dathan Ritzenhein] the other day, and he was like, 'You just have to go into it knowing that you're just as good as everyone else. And you just have to race it.' It's so hard when there's so many good people on the international level that if you go up to the start line and think that someone has already beat you, then you're not going to beat them. Coming into it with an open mind. I think it's been really important that we've done so many good things in training that I think I have confidence in that. So yeah, I'm just excited to be there and like feel ready to compete rather than feeling like you're already beat at the starting line."
Pre-race superstitions: "When I was younger, I probably did have more superstitions, but at this point, I feel like the best you can do for yourself is just to be confident in your own training rather than having superstitions."
Go-to summer jam: "Running Up That Hill" by Kate Bush. "I found that has been going through my head like constantly because I've been watching Stranger Things, but I feel like it's it's just a vibe."
---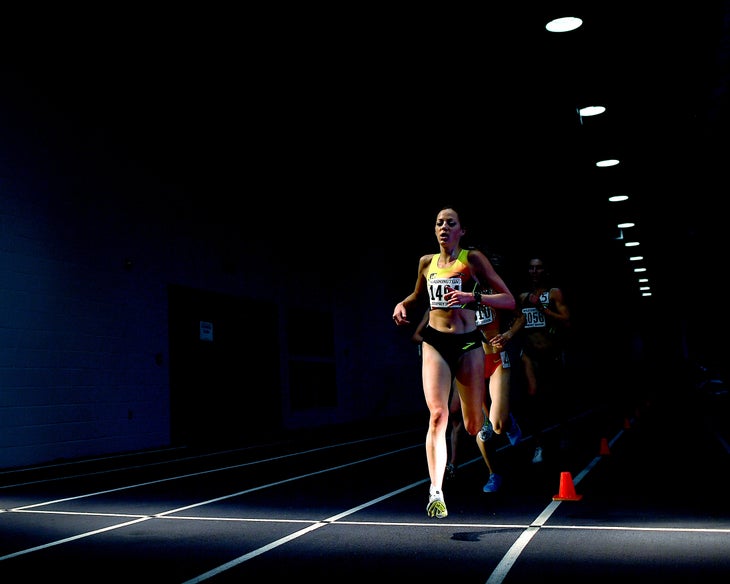 Natosha Roger's gutsy finish in the championships, racing down to the wire with Emily Infeld, secured her place on her first worlds team—after racing in trials and finals for more than 10 years. "It was probably one of the best moments of my life, just because I have put so much energy into this, years, decades," she says."But now that I've conquered that, and the bar has been raised for me, I am ready to create a new story."
For years, it seemed like Rogers' story might have been the well-known tale of when she placed second in the 10,000 meters at the 2012 Olympic Trials, but didn't have the qualifying standard, ultimately not making Team USA. She says she's ready to put that behind her and find "a little more to my identity."
She's worked with Kevin Hanson for years and credits that relationship with her training success. "I've had awesome consistency, which I really have not had before in my career, just like year after year of consistent work under Kevin Hanson," she says. "I'm hitting my fastest workouts that I've ever done going into this, which is good, because I've never competed at this caliber."
Age: 31
10,000m PR: 31:12.28
Best part of training: "I just decided that I wasn't going to take this year too seriously. Just to not care as much and kind of go with the flow and you know, not be straining so much. I think it's just been a lot more enjoyable."
Worst part of training: "My body is not perfect, which I think is normal for anybody trying to finish out a track season that goes into the late summer. I wish that I had full leg extension like for my races, but I just can't seem to—I'm really tightly wound up right now with all the speed work that I've been doing. So I think if my body was in its prime shape then that would be better, but that's living idealistically. I don't think anybody's dealing with a perfect body situation going into the championships."
Best advice received: "People very close to me, like my family, have just told me to like appreciate every moment of it—not let all of the nerves take over. Just enjoying the moment for what it is, taking it in because I've worked so hard to get here and not being so focused on the outcome and just being in the moment."
Pre-race superstition: "I try not to get too caught up in that because that can kind of get in your head. I just like try to be as normal as possible."
Summer jam: "Puzzle Box" by Rezz and Subtronics